Research Notes · 11/20/2020
The Book of Lost Light
Our Research Notes series invites authors to describe their process for a recent book, with "research" defined as broadly as they like. This week, Ron Nyren writes about The Book of Lost Light from Black Lawrence Press.
+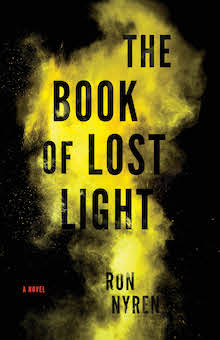 My novel The Book of Lost Light came to me initially in the form of a question: what if a man set out to photograph his son every day of his life from birth onwards? That's all I had to go on. I didn't know why the man was carrying out this project, why it would matter, or what might happen as a result. The gears only started turning when I thought of setting the novel in the past, when people were still in the early phases of figuring out how photography could represent the world.
As I researched, I found one set of photographers exploring the camera's ability to document the physical world in new and more precise ways, another pursuing the expressive and artistic possibilities that the camera opened up. These two very different approaches to seeing the world fascinated me and sparked the creation of two of my primary characters: Arthur Kylander, a photographer intent on documenting the passage of time, and Karelia, his impulsive niece, who helps raise Arthur's son Joseph — the book's narrator — after the death of Joseph's mother.
I made Arthur a protégé of Eadweard Muybridge in 1870s Palo Alto, helping capture images of animals in motion. Muybridge's work answered the question of whether a horse was ever entirely clear off the ground during a trot (yes) and showed that artists had been painting the legs of running horses all wrong for centuries.
Muybridge's obsessiveness appealed to me. He went on to produce thousands of photographs recording the movements of mules, dogs, goats, elephants, buffaloes, camels, pigeons, and cranes, among other animals, not to mention nude men, women, and children carrying out such activities as walking, running, jumping, crawling, lifting a log, balancing on one foot, turning and feeding a dog, dropping to the ground to aim a rifle, stooping to pick up a water goblet and drink, and throwing off the covers to get out of bed. It's hard to imagine a pressing scientific or documentary need for many of these sequences, which made me think about the ways our ideals and actions sometimes diverge without our noticing.
After Arthur gets himself fired, he sets out on his own path. He uses what he's learned to focus on revealing the mysteries of time rather than motion, with his own son as his subject.
In my research of turn-of-the-century photographers, I also found the pictorialists, who painstakingly painted and etched negatives, combined elements of multiple shots in one print, used soft-focus lenses, or otherwise manipulated imagery to create painterly effects. I tried for several drafts to find a dramatic role for Oakland photographer Anne Brigman, who climbed the high Sierras during the summer to camp, hike, and take nudes of her friends (and the occasional stranger she met on the path) in the midst of arresting wilderness landscapes. In her images, a woman emerges from a cleft in a rock, reaches for a bubble in a stream, rises from a gnarled tree like a dryad. Her dreamlike photos caught the attention of Alfred Stieglitz and appeared in Stieglitz's journal Camera Work.
For a 1908 exhibition at Idora Park in Oakland, Brigman suspected that the realism-inclined curator would relegate her works to a dark corner, so she and a few accomplices hung her pieces the day before the curator arrived, leading to an exchange of harsh words between the two, recorded in a San Francisco Call article entitled "Artists in Clash over Fair Nymph." Brigman separated from her husband in 1910, relishing what she called the "absolute freedom" that resulted. She went for barefoot runs on the pebbly beaches of San Mateo and Marin counties each Sunday, and called fear "the great chain which binds women and prevents their development."
In the end, Brigman's photographs and her Oakland studio play key roles in the novel, and her spirit and determination helped me to imagine Karelia. While assisting her uncle's photographic endeavor — skeptically — Karelia becomes a photographer herself, admiring and emulating the work of Brigman and other Bay Area pictorialists like Adelaide Hanscom Leeson and Laura Adams Armer.
As the 1906 San Francisco earthquake and fire fractures the Kylander family's lives and they take refuge with a group of fellow artists across the Bay in Berkeley, Arthur and Karelia's approaches to the world, the scientific and the expressive, inform the different kinds of trouble they each get themselves into. Their counterpointed worldviews allowed me to explore different ways of understanding time and dealing with loss.
When I started writing this novel, I didn't know much about photography — I'd only spent a couple hours in a darkroom my whole life — and it was before the days when everyone had a smartphone that gave them the ability to shoot and share everything we see each day. I found it comforting to learn about the lengths we have gone to, ever since the advent of the camera, to try to pin down moments, both what actually exists in the physical world and our emotional and creative impressions. The amount of energy and invention we bring to this task is monumental — perhaps obsessive — but maybe it's also a marker of our love for the world and for the people, places, and things it contains.
+++
Ron Nyren's
debut novel,
The Book of Lost Light
, won Black Lawrence Press's 2019 Big Moose Prize. His fiction has appeared in
The Paris Review, The Missouri Review, The North American Review, Glimmer Train Stories, Mississippi Review, Fourteen Hills, Able Muse, Dalhousie Review, 100 Word Story,
and elsewhere. His stories have been shortlisted for the O. Henry Awards and the Pushcart Prize. He is the coauthor, with his spouse and writing partner Sarah Stone, of
Deepening Fiction: A Practical Guide for Intermediate and Advanced Writers
, and a former editor of
Furious Fictions: The Magazine of Short-Short Stories
. Ron earned his
MFA
in creative writing from the University of Michigan. He is the recipient of a major Hopwood award, the Farrar Prize in Playwriting, the Roy W. Cowden Memorial Fellowship, and the Andrea Beauchamp prize in short fiction. A former Stegner Fellow, he teaches fiction writing for Stanford University.