Research Notes · 05/15/2015
The Book of Laney
Our Research Notes series invites authors to describe their process for a recent book, with "research" defined as broadly as they like. This week, Myfanwy Collins writes about The Book of Laney from Engine Books.
+
The Inciting Incident: When Laney Was Born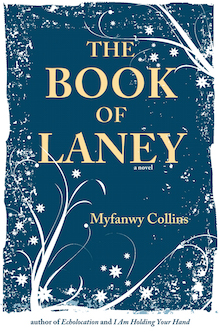 I am up in the early morning obsessing over real estate listings. We have 30 days to move. Temporary housing is a given but before then we were giving finding a house to buy one last try. We seem to live our lives constantly in the realm of one last try. Maybe it's just me. I am tenacious.
It has been eight months of selling and one failed offer before this final sale below asking price. This all seems terribly important to me. To have some roots. As a child, we were sometimes rooted up in the night and displaced. It was scary. I want stability for my child. But this isn't about that. This is about finding some shitty rental for a few weeks.
It's such a bourgeois, annoying concern knowing what happens next. Knowing what I know about all the months and years after that. The investigation, the confessions, the trials.
As I am searching and my child is asleep in one of the rooms above me, another mother in another house with her child in the house with her, is dying, is dead, as the victim of a random and horrific crime a few miles from where I sit and breathe and search and click.
Another mother is always dying. This I know.
My earliest childhood memories were of my mother's screams and cries. My fear that she might die, eclipsing all other instinct.
But there I am clicking through images of the house I live in now, of the house where I write this piece, and this other mother is fighting for her life, is dying, is dead, a victim while her child lies beside, lies above, lies within, lies away from her.
Another mother is always dying.
And as she is dying, her child is away and her only thoughts are of her child and yet she is dying. She is dead.
+
I never felt safe in that house. It should have been perfect for me. We backed up onto woods and a public nature trail through the woods, but there was something that wore on me. The only time I felt these woods knew me was in the days before I gave birth and then a bit after. These were all the golden times of living there.
A few weeks before my son was born, I looked out from my second story office and watched a black bear walk across our backyard. I was too taken with the creature to photograph him. Then, a week or so after my son's birth, a young moose ambled up our driveway.
The animals were at home there, as they should be. Those woods were not where I should have been. A mean highway bruised past those woods. A road pushed through pine forest. Houses disturbed the beaver dam.
I grew up in the northern woods. Think balsam and white-throated sparrows and catamounts. When I go back home, as we do each summer for vacation, I go out into the woods by myself without concern, just as I did as a child.
This is my place. This is where my childhood exists.
You cannot fuck with me there. I am feral. I am maple and I am pine.
+
In those days we packed up our house to move away. I plotted the distance between my house and the other mother's house. I plotted the distance between my house and the house of one of the boys who took part in the crime. He lived just up the road. The house in the corner. The one I passed every day when I ran or walked the dog or pushed the baby stroller. The one I passed on my way to the library.
Just a house.
It could have been Laney's house.
In my mind it became Laney's house.
It was Laney's house.
+
Here is what I came to in my research: I learned about survival. I learned about seeing in new ways. I taught myself how to track animals. I saw everything with my new set of eyes.
I learned this: We do not have to be our families. We can be if we choose to be. We can be if our families build us up and don't break us down. Sometimes we are our families because we can't get away from them. Sometimes we are our families because we feel we have no choice but to be them.
Here is what I learned: Hope lives in nature. I want you to go to the woods. Not preciously in the woods. Go deep, where it is darkest. Listen. I want you to be there alone at night and to feel your heart beat as the stars beat down upon you. Make no mistake; they will beat you. Got there. Go there even if you hate it. Even if you are scared.
Living is in those stars.
That's what I want you to know.
Here is what I learned: There may be an opportunity for you to live in a way that makes you feel safe and calm. It may not be obvious and it may not be readily available to you but I believe it exists and if you can't find it, my hope is that someone else leads you in that direction. I'm not saying that if you don't find that opportunity you have failed, what I'm saying is that if you find or are given or have open to you that opportunity, I want you to take it.
Please take it.
This is how I feel and this is what happened.
Laney was born to me and I wrote this book.
It belongs to you now.
Thank you.
+++
Myfanwy Collins
lives in Massachusetts with her husband and son. Her work has been published in
The Kenyon Review,

PANK

Magazine,

AGNI

, Cream City Review,
and elsewhere. Her debut novel,
Echolocation
, was published by Engine Books in 2012.