Research Notes · 11/29/2019
The Bobcat
Our Research Notes series invites authors to describe their process for a recent book, with "research" defined as broadly as they like. This week, Katherine Forbes Riley writes about The Bobcat from Arcade Publishing.
+
Trauma, Art, Linguistics, Nature: The Research Behind The Bobcat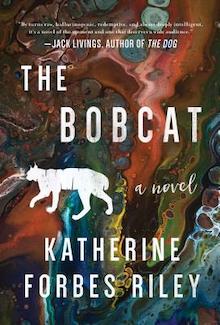 At some point in our lives, deep trauma affects us all. The Bobcat is a story about this universality, and how love, art and nature can stop us from completely shutting down and sometimes even help us come back stronger. There are four main characters in The Bobcat and all of them are traumatized in some way. My research for The Bobcat covered each of these traumas and their methods of recovery.
Laurelie: Laurelie was drugged and sexually assaulted as a freshman at a frat party. This is a common trauma for college-age women (1 in 5) and one they go through mostly alone (90% do not report it). In addition to scientific research, I drew from my own youthful sexual experiences, more than one of which would now be labeled assault. The reader sees the world through Laurelie's eyes, and she sees the world through art. Her art throughout The Bobcat reflects her internal states and inner transformation. She draws on old master works, rendering them as cartoon. My husband, who is both an artist and a professor, helped me choose and render the references so the reader could engage whether or not s/he had prior knowledge of them.
+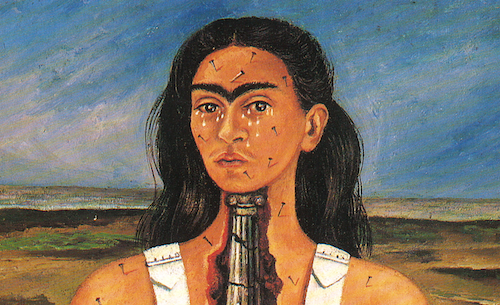 Laurelie is working from Kahlo when The Bobcat begins. Kahlo's work is about pain but also playful or cartoonish. Kahlo began painting in response to horrific injury and also incorporated old masters.
+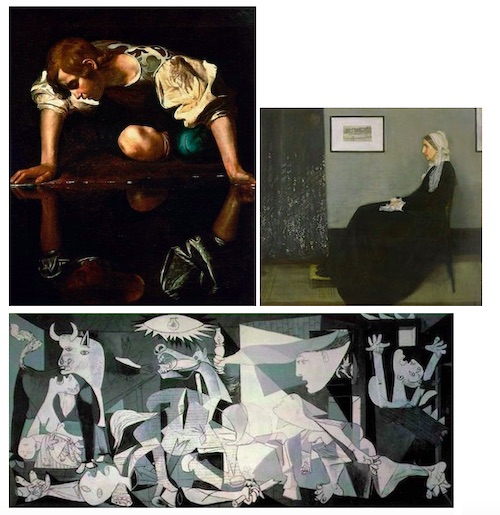 Laurelie's early art references are all about suffering. Whistler's Mother, Caravaggio's Narcissus, and Picasso's Guernica are iconic pieces, but they are also about real, struggling people.
+
The Boy: Laurelie has run from the urban scene of her rape, transferring to a small college in Vermont, a setting modeled on my own. Dreading interaction, she rents a cottage from a family a few miles from campus and babysits their little boy in exchange for her rent. He is two and a half with an undiagnosed speech problem. As a linguist and a mother, I have a deep and abiding fascination with language development, and much of my son's made it into The Bobcat.
+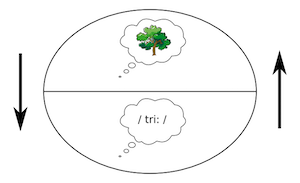 The arbitrariness of the sign is considered the first principle of modern linguistics. Thus can an apple be signified by apple or manzana or ping guo or sunta, etc. A sign acquires its ability to transfer meaning via a convention developed and handed down in a given community. In this way signs can be understood as myths that morph even as they are perpetuated over time.
+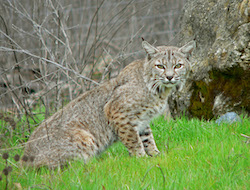 The Bobcat: Laurelie and the boy spend hours playing in the woods by a river. At those times she sees the world through his eyes, unburdened, new. Then one day, a bobcat comes. There are many bobcats living today all over North America, including Vermont. Recently there was one in my backyard. They are large, three times the size of a housecat, and distinguished from the slightly larger lynx by a short tail that's black on top but white on the bottom and a white spot on the ears. They are highly solitary and fear humans. This one is pregnant, and has been shot, which is a common trauma for bobcats, although there are laws in place that are supposed to protect them.
+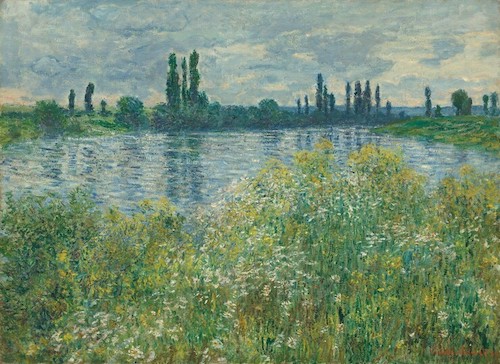 Monet painted rivers masterfully and with the same soft reflectiveness Laurelie felt there.
+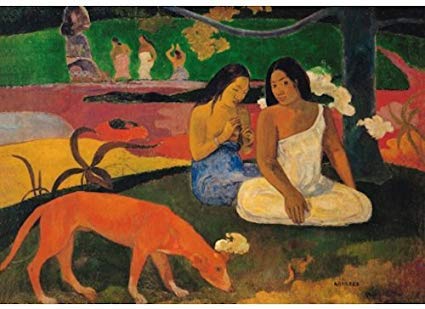 Gauguin's stark vivid colors capture Laurelie's initial shock of awe and fear of the bobcat at her river.
+
The Hiker: A man comes out of the woods too. He has been following the bobcat for many miles, hunting for her, waiting for her to den. He too avoids people, for he is traumatized in a way no one yet understands, but which make his eyes water and his nose flare and his mouth pant. He is so strange that together he and the bobcat cut through Laurelie's man-dread.
+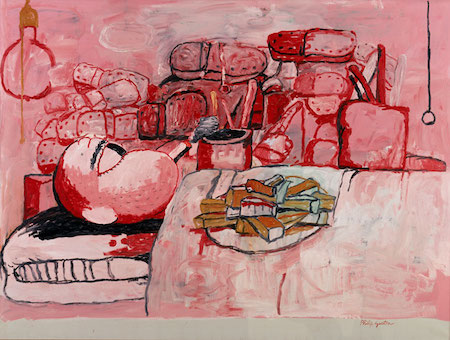 Guston's faces are as fascinating and strange as the hiker's.
+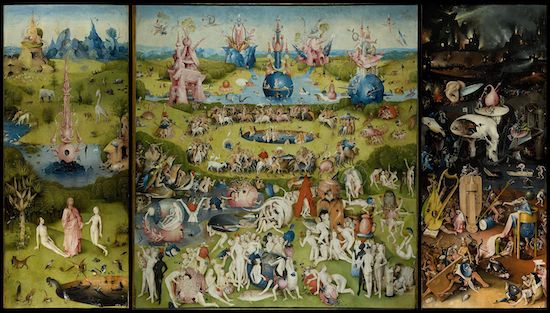 Bosch's Garden of Earthly Delight is as alive as Laurelie's garden the day she waited for the hiker.
+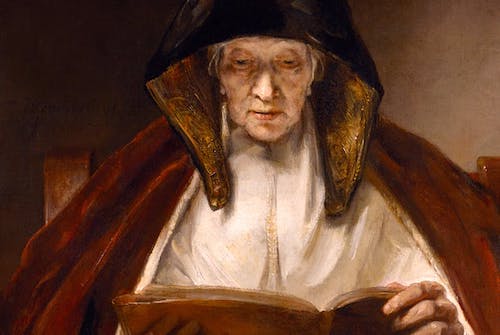 Rembrandt painted the psychological intensity of souls, which is what Laurelie saw in hiker's face while he slept.
+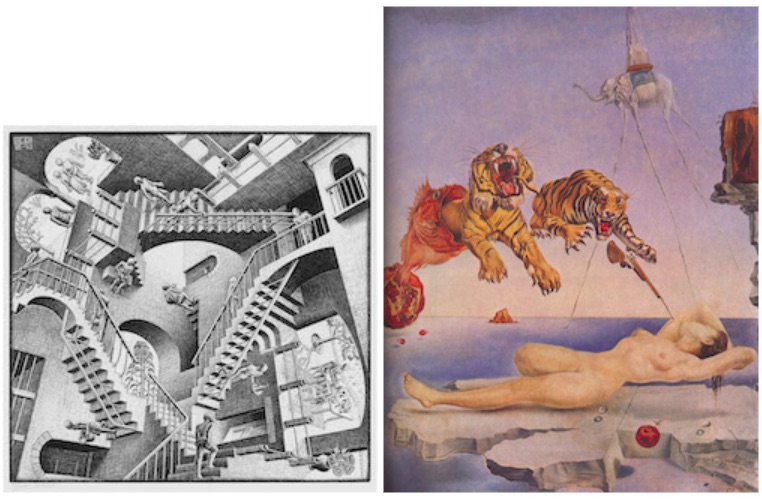 Escher and Dali reflect Laurelie trying to figure the hiker out.
+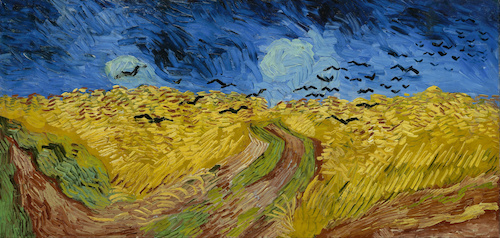 Van Gogh's distortion reflects Laurelie's perception of her own mind when she paints the aftermath her assault.
+
Together: In the woods, the hiker, the boy, the bobcat and Laurelie move toward their own recoveries. But when the boy goes missing, the hiker's trauma is revealed, which, without giving The Bobcat's ending away, involved research on viruses and viral infection.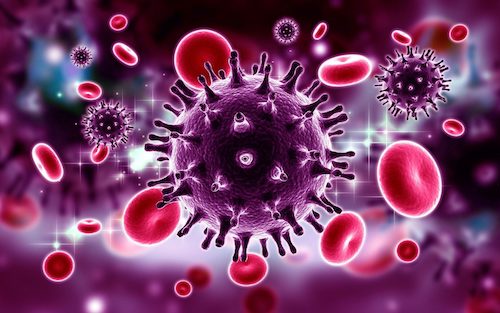 +++
Katherine Forbes Riley
is a writer and computational linguist in Vermont. Katherine's writing appears in the
Wigleaf
2018 top 50 list, as well as
HCE

Review, Ginosko, Gone Lawn, Blue Monday Review, decomP, Fiction Southeast, Noö, Spartan, Jellyfish Review, Conium, James Franco Review, Mulberry Fork, Paper Nautilus, Halfway Down The Stairs, Crack the Spine, Storyscape, Whiskey Island, Lunch Ticket, Eunoia, Literary Orphans, Eclectica, BlazeVOX, McNeese Review,
Akashic Books, and
Buffalo Almanack
, from whom she received the Inkslinger's Award for Creative Excellence. She finished her magical debut,
The Bobcat
, during the 2016-17 academic year, while a visiting artist at the American Academy in Rome. She lives near Dartmouth College, in Norwich, VT.