Research Notes · 03/27/2020
The Beauty of Their Youth
Our Research Notes series invites authors to describe their process for a recent book, with "research" defined as broadly as they like. This week, Joyce Hinnefeld writes about The Beauty of Their Youth from Wolfson Press.
+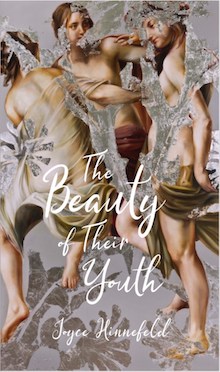 I'm thrilled to have a brief collection of my short stories published by Wolfson Press, as part of their American Storytellers series. For starters it's just a great idea: affordable, carry-able, 100-page works of literary fiction — one might even say pocket-size, or at least pocketbook-size. Remind you of anything? It's time, I think, for a new kind of Pocket Book, that line of mass-market paperback books founded by publisher Simon & Schuster in 1939. (Now all we need, dear folks at Wolfson Press, are some display racks in our local pharmacies and supermarkets. Take that, Amazon!)
I've come to love the format, but I will say that it wasn't easy at first, winnowing a collection down to one hundred published pages. And letting the Wolfson editorial staff do that final winnowing, from the 150 pages- plus of short stories I sent them. At the last minute I threw in a couple extra stories, older ones, one of which ("Everglades City") went back almost as far as my first short story collection, Tell Me Everything, which was published in 1998.
Turns out the folks at Wolfson liked those older stories. Turns out they saw a pretty clear line from those early stories to the more recent story, "The Beauty of Their Youth," that we all agreed would be the collection's anchor.
Turns out they were right. I can see that line — which has to do with the passage of time, with the disruptions and discoveries of travel, with various kinds of reckoning with the past — now too.
Two of the stories are old enough for me to struggle to recall the seed of where they came from, or the research I did in writing them. But there are a few details that I can recall with certainty. When I moved to the Lehigh Valley region of Pennsylvania back in the late nineties, there was a gun store in a little strip mall in Bethlehem that I drove by on my way home from the college where I teach. One day I mustered my courage and pulled into that strip mall and walked into that store, and I asked the woman behind the counter to explain some things to me about guns. I wasn't actually planning to buy one, I told her; I was a writer, and I needed some details for a short story I was working on. Details about what kind of gun a woman who'd never owned, or used, a gun might consider buying for herself. Also details about the kinds of rifles that were available for purchase (I don't remember what I told her about why I wanted to know about that). I didn't tell her that my story was about a mystified German tourist in Florida who is trying to comprehend a number of strange American habits and obsessions — including the American love affair with guns.
I'd like to say that this gun store was a model for the one in "Everglades City," with rows of pink and blue children's rifles displayed on one wall, but it wasn't. As I recall it was little more than a narrow aisle alongside a glass-topped counter and locked display case. I'd read about gun stores of the kind I depicted in "Everglades City" though, just as I'd read a number of articles, by the time I was writing that story, about the shooting deaths of several German tourists in south Florida in the early 1990s.
I remember it made me sweat a little, lying to the woman in the gun store that day. I'm not sure why. I think mostly it just made me sweat to be inside a gun store. Now, of course, I could just do a Google search, watch a few YouTube videos. But that wouldn't be nearly as memorable. No sweat involved there (unless it's that perpetual writerly anxiety about our peculiar search histories).
If I were to write another of the earliest stories in The Beauty of Their Youth, "A Better Law of Gravity," today, maybe I would simply call it fan fiction and seek a home for it someplace online. But if there were fan fiction sites (or maybe more likely, "message boards" or "forums") on that emerging thing called the World Wide Web when I was writing that story, I didn't know about them. All I knew was that I'd loved Carson McCullers' short novel The Member of the Wedding for years, and that I often thought of the characters of Frankie, Berenice, and John Henry and, weirdly, wondered what became of them. Did Frankie go on feeling like she was "coming loose"? That novel's raw intensity, its depiction of a lonely, outcast/outlaw adolescent girl with nowhere to turn in trying to understand her feelings and impulses, has resonated powerfully through the years for a number of women I know. That's how the character of FJ was born: through reading The Member of the Wedding yet again, and imagining its central character five years later, after the "green and crazy summer" when Frankie's twelve-year-old dreams are shattered.
Literary references often show up in my fiction, almost against my will at times; before I know it, in so many things I write, characters seem to end up arguing about writers, or books. In my story "Polymorphous," the central character Joan and her older neighbor (and, in certain ways, her nemesis) Richard bicker mildly throughout the story, as Joan avoids the fundamental question she longs to ask him. Each week she drives Richard from their homes in a rural, but rapidly developing, area to the nearest town's grocery store and library. They check out different books, with Joan preferring fiction and rolling her eyes at Richard's taste in nonfiction; on the day of the story's main action she's checked out a Margaret Atwood novel and a collection of stories by William Trevor, while Richard has opted for "a new book on Frank Lloyd Wright, one on English gardens, and one on interior design inspired by the Bauhaus group, artists he proceeded to tell Joan about in exhaustive detail, paying no attention to her glazed expression or the impatient tapping of her foot below the table."
So there's literature, but there's also art — reading and viewing art are, perhaps, two of my main forms of research. Note the Frank Lloyd Wright and Bauhaus references above, but also the constantly evolving painter at the center of my story "Benedicta, or A Guide to the Artist's Resume." I'm an armchair art historian at best, so for this story I did some reading about Walter Sickert and Thomas Eakins, and I read Ben Shahn and an art critic, I don't remember who, who did, in fact, make interesting use of the words perfervid and sacerdotal. I also pestered my Art Department faculty colleagues with questions about the conventions for an artists' resumes and the experience of art school "pit crits" at Yale.
There were other things at work in that story though, things I recognize a bit more clearly with some distance — having to do with gender, with the female subject and the male gaze, with assumptions about autobiography in the making of art (and literature). But when I place "Benedicta" at the chronological center of that line, from "Everglades City" up to "The Beauty of Their Youth" (another story that dips into the well of visual art, at the end), I can see another kind of research that has shaped these stories, and much of my other work as well. That is the experience of travel, and the close observation of other lives in other places and at other times (south Florida in the 1990s, Greece and Italy in the 1980s and again around 2012). But another kind of travel too: that of a character, like Fran in "The Beauty of Their Youth," who travels through time, and through various versions of the self. Traveling and arriving, this time at a recognition of all she did not, and could not, know in her naïve youth. The sadness of that, but also the true, if fading, beauty.
+++
Joyce Hinnefeld is the author of the short story collection Tell Me Everything (1998; winner of the 1997 Bread Loaf Bakeless Prize in Fiction) and the novels In Hovering Flight (2008) and Stranger Here Below (2010). She is a Professor of English at Moravian College in Bethlehem, PA.