Research Notes · 04/17/2020
Still Life with Meredith
Our Research Notes series invites authors to describe their process for a recent book, with "research" defined as broadly as they like. This week, Ann Lewinson writes about Still Life with Meredith from Outpost19.
+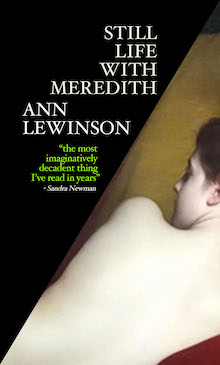 Research for me is generally a haphazard process of taking things in, filing them away and revisiting them years later. My novella Still Life with Meredith, which concerns a museum worker with multiple obsessions — including her emerging-artist roommate — required research on contemporary art, anthropology, Dutch still-life painting and sexual habits on the fringes of the animal kingdom, among other things. Most of the books I read, like Marie Bonaparte's Female Sexuality, Felix Bryk's Neger-Eros, Aelian's deeply wacky On the Nature of Animals and Caryl Chessman's Cell 2455 Death Row, are mentioned in the book, since the narrator has read them as well. But a lot of the research for this book was visual, done in museums and art galleries. Consider these visual aids.
+
Marie Bonaparte's Home Movies
One of my unnamed narrator's main obsessions is Marie Bonaparte, the French psychoanalyst and analysand of Sigmund Freud. The Library of Congress website has five home movies of Freud and his family shot by Bonaparte, chronicling the last two years of his life. This one opens in the summer of 1937 at the home of Ruth and Mark Brunswick. (Ruth, an American psychoanalyst and close friend of Marie's, is mentioned in my book.) Although Bonaparte is credited as photographer, she also appears in front of the camera, along with her chow Topsy. That's her doing the backstroke in the Danube with Mark Brunswick and reading in Freud's waiting room at Berggasse 19 the following winter. Part I ends on May Day in post-Anschluss Vienna, ominously draped in swastikas. Freud would flee Austria the following month.
Part II (scroll down to the smaller window) opens on the terrace of Marie's house in Paris, where Freud and his family stopped on the way to London, where he would live his final years. Marie's husband Prince George is part of the group on the terrace. Their daughter Princess Eugénie, who would have been 27, also appears in this film.
+
Sensation
My narrator's occupation is a peculiar subspecies of art handler I made up — animal wrangler. The germ of this idea came from 1999's controversial Sensation show at the Brooklyn Museum. It's not often an art exhibit makes the front page of the tabloids, but thanks to Mayor Giuliani's threat to cut funding over Chris Ofili's painting of a black Madonna dolloped with elephant dung, the show was a blockbuster. Today the Ofili Madonna hangs in MoMA, without incident. Here's some news footage:
+
Animals in Art
My narrator's formative encounter with art was Robert Rauschenberg's Monogram on the ramp at the Guggenheim Museum in New York. In this Ovation TV program from 1997, art handlers install this 1959 work at the Guggenheim while the artist discusses the origin of the work:

Robert Rauschenberg, Man at Work, 1997 from Robert Rauschenberg Foundation on Vimeo.
This is the Joseph Beuys performance that the narrator claims to have worked on: I Like America and America Likes Me (1974). Beuys declared he would not set his foot on American soil until the U.S. was out of Vietnam, so he was delivered from the airport to the Lower East Side gallery on a stretcher, and saw no one but a coyote. Sharper resolution exists in documentaries online, but to me this is the way '70s performance art should be seen: as a ghostly image filmed off a flickering monitor, with the phone ringing off-screen and droll commentary: "This coyote pissed regularly on The Wall Street Journal."
Annette Messager's taxidermied sparrows in sweaters in the Pompidou must be the single most adorable thing I've ever seen in a museum. The work, from the early '70s, is called Les Repos des pensionnaires, or "Boarders at Rest."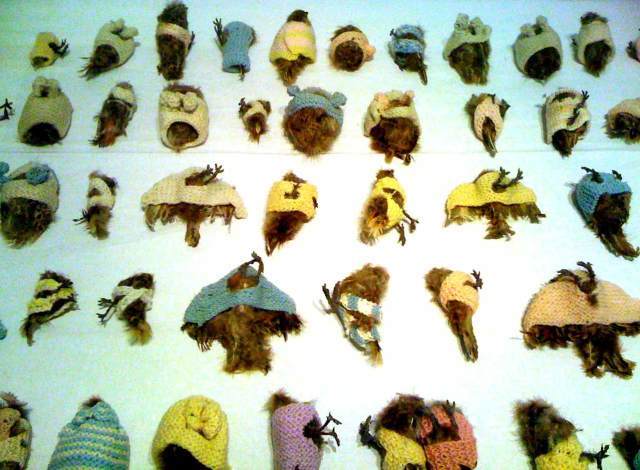 Image via The Museum of Ridiculously Interesting Things
Here's "Merce Cunningham dancing with his Winky-Dinky doppelgänger" in Nam June Paik's TV Garden:
As for the goldfish-in-a-blender, yes, this really happened. Here's a commercial from the Aarhus Museum, one of the museums where this work, Helena, was exhibited. Consider your triggers warned.
+
Dutch Still Life Paintings at the Met
I'm not sure how I first wandered into the Dutch still life room at the Metropolitan Museum of Art — I was probably trying to escape the tourists. This wasn't work I'd ever had any interest in, but I was particularly taken with two large paintings — one of living birds, one of dead ones — both of which made their way into Still Life with Meredith. The first, Peacocks, painted by Melchior d' Hondecoeter in 1683, was intended to show off the wealth of its patron, since peacocks, not being native to Europe, meant serious money. But I was more taken with the little animal-kingdom drama in the foreground.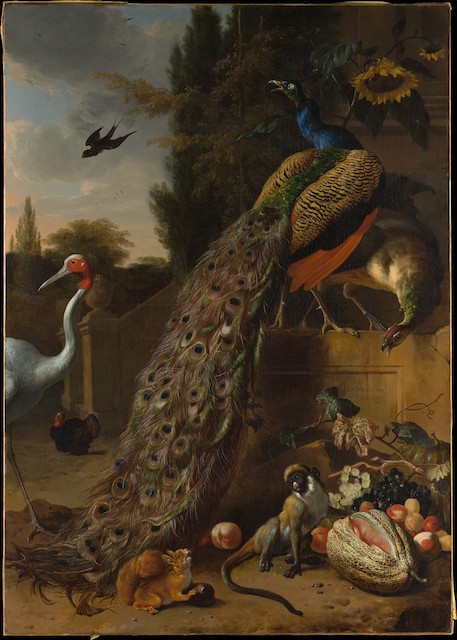 The second was Gamepiece with Dead Heron, which my book refers to as the "Falconer's Bag," painted in 1695 by Jan Weenix, d' Hondecoeter's cousin. The gamepiece, a still-life subgenre, showed off the spoils and the tools of the hunt.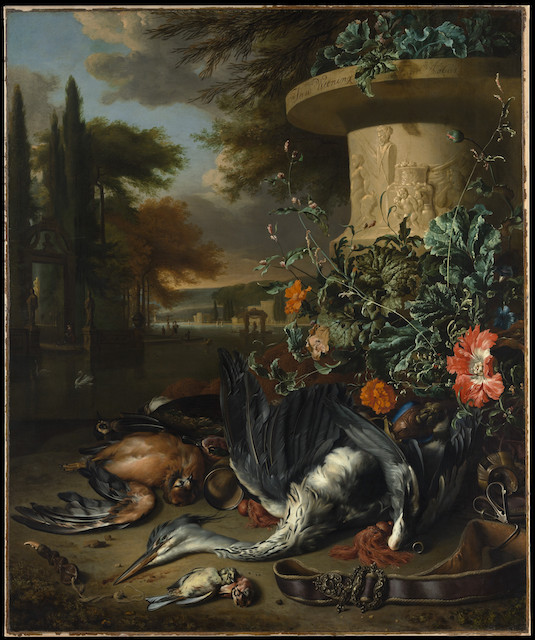 From these fantasies of conspicuous consumption my attention eventually turned to the paintings without animals, or carcasses. In Still Life with Fruit, Glassware, and a Wanli Bowl (1659) you can see an example of one of those Willem Kalf lemon peels the narrator admires.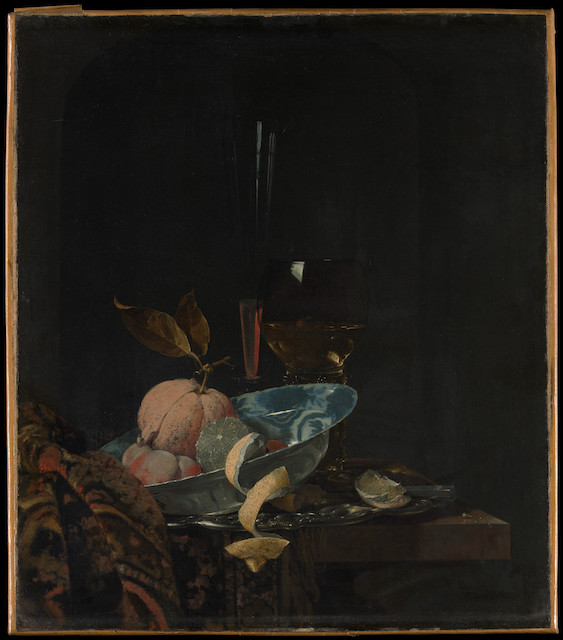 And from the subgenre known as "Vanitas," here's a remarkable painting by Pieter Claesz, Still Life with Skull and a Writing Quill (1628). I'd like to think my narrator would have been really taken with this one, with its drained ink and glass and the faint drift of smoke from that burned-out oil lamp.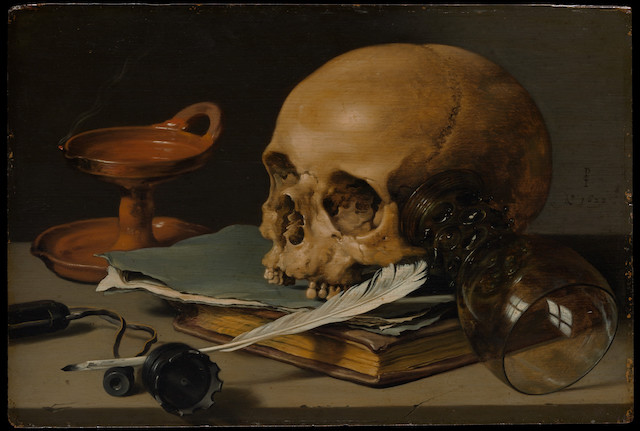 Images via metmuseum.org
+
Warrior Marks
I'm not sure when I saw Pratibha Parmar's indelible documentary Warrior Marks, but I do recall being struck by Alice Walker's candid interview with the old women in this African village. On Kanopy.

Warrior Marks-Clip 1 from Kali Films on Vimeo.
+
Caryl Chessman at San Quentin
This extraordinary CBS radio documentary from 1960, narrated by Howard K. Smith, was broadcast days before the controversial execution of Caryl Chessman after 11 years and 10 months on death row. It opens with the last sounds Chessman would hear, followed by a San Quentin death-watch officer counting the steps to the gas chamber. We hear from one of Chessman's accusers; Chessman lawyer Al Matthews, who also defended Barbara Graham, the first woman executed in California; the warden, who's against the death penalty; inmates in the yard; and a Midwestern armed robber explaining why he sometimes stuffs silver paper in his gun's bullet chambers.
+
Behaviorism and Birds
My narrator has constructed a cruel experiment using birds and a Skinner box, of which none of the psychologists in Learning (1971) would have approved. From Psychology Today's documentary division and released by McGraw-Hill (where I used to work), this fairly loopy documentary explores how humans learn through studies of ducks, pigeons and ring-billed gulls (as well as electroshocked lab rats). That's B.F. Skinner's voice over the footage of a hippie commune — given the date I think we can assume this was one of the many inspired by his utopian novel Walden Two, which imagined putting his behaviorist theories into practice. The film also includes a mock-silent movie about a man conquering his childhood fear of rabbits and, coincidentally, another trip to the San Quentin prison yard. Fun facts: Michael Crichton was consultant, and producer Carole Hart, one of the first writers for Sesame Street, would go on to produce the children's television classic Free to Be… You and Me.
+++
Ann Lewinson's
fiction has appeared in
Agni, Hayden's Ferry Review,
MoMA PS1's Special Projects Writers' Series and other places. A 2014 fellow at the Edward F. Albee Foundation, she is also a playwright, journalist and film critic who has reviewed movies for
ART

news, The Boston Phoenix, The Hartford Advocate
and
The Kansas City Star.
She lives in New York.