Research Notes · 01/16/2015
She of the Mountains
Our Research Notes series invites authors to describe their research for a recent book, with "research" defined as broadly as they like. This week, Vivek Shraya writes about She of the Mountains from Arsenal Pulp Press.
+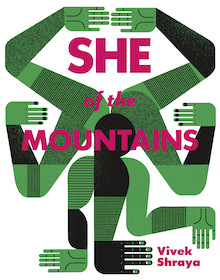 As a fiction and personal narrative writer, I tend to veer away from extensive research. For me, the beauty and joy of fiction is having the freedom to create, and to imagine new possibilities. In my new illustrated novel, She of the Mountains, there is one exception to this approach.
This is a section I wrote, originally called Mathematics, which now serves as the prologue in the book:
In the beginning, there is no he. There is no she.

Two cells make up one cell. This is the mathematics behind creation. One plus one makes one. Life begets life. We are the period to a sentence, the effect to a cause, always belonging to someone. We are never our own.

This is why we are so lonely.

Briefly, ever so briefly, we linger as one. Our true first. Then we divide over and over again, always by two.

Inside the body of another, our heart is constructed. Inside the body of another, our heart drums its first beat.

Other organs form too. Skin stretches, bones harden, teeth bud. Sound is captured. Light is perceived.

If given the choice, we would stay here forever. Sleeping, pure and golden potential. But outside, they wait for us, sing to us, name us. They sculpt expectations we will not live up to, imagine medals we will not win, dream of highways we will not build and hope for reformations we will not make.

Pushed out of the body of another, in sweat and screams, we experience the greatest rejection we will ever know. Out of warm fluid and into rough, biting air. No coo or pat or praise can ever compensate for this violence.

This is why we are so lonely.
This section began, literally, with the heart. I was grappling with the haunting and beautiful reality of the physical heart being constructed within someone else's body and wondering how this might connect to the loneliness that the metaphorical heart experiences post-birth. What is the relationship between the mother's heart and the heart that grows inside of her? What grows after the heart? As one of my feedback givers pointed out: "The biology in this section, the timeline has to be accurate." I became obsessed with embryogenesis, studying via online resources exactly how human life is made from fertilization to formation. I had also serendipitously come across a BBC documentary series entitled The Human Body which was particularly useful in my research, as it allowed me to engage with the information visually.
Beyond the prologue, the book itself features two narratives — a contemporary love story interwoven with a reimagining of Hindu mythology. I deliberately didn't research Hinduism while working on the book as I wanted to allow myself to write in the gaps I couldn't remember. I also wanted to recreate myths through a feminist lens, dismantling the patriarchal aspects that I was uncomfortable with because they perpetuated themes of female submission I had witnessed in my family. But it is important for me to acknowledge that learning about Hinduism was a strong interest of mine, especially in my youth. As a queer brown teen growing up in a white city, the passion and magic in Hindu myths that I digested through the colourful Amar Chitra Katha comic books allowed me to conceive new and safe realities. Each comic book was dedicated to a particular god or goddess or significant event, and I was so addicted to these comics that I even got in trouble from my parents for being too distracted with them. It's strange and marvelous to consider that the many hours I spent pouring over these comics then was quietly setting the foundation for what would become She of the Mountains.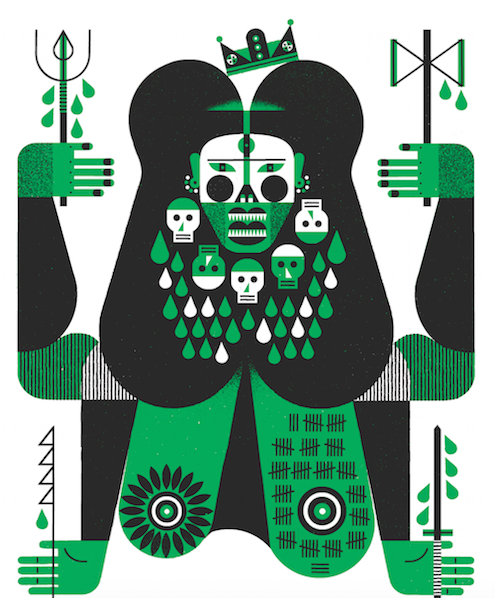 Illustration: Raymond Biesinger
+++
Vivek Shraya
is a Toronto-based artist working in the media of literature, music, performance, and film. A two-time Lambda Literary Award finalist, Vivek's books — including
God Loves Hair
, his illustrated collection of short stories — have been used as textbooks at several post-secondary institutions. His debut novel,
She of the Mountains
, was named one of
The Globe and Mail
's Best Books of 2014. Winner of the We Are Listening International Singer/Songwriter Award, Vivek has also released albums ranging from acoustic folk-rock to electro synth-pop. His most recent is
All of the Lights
, an EP of Christmas and Diwali songs. His film
What I

LOVE

about being

QUEER
has expanded to include an online project and book with contributions from around the world, and was featured on
Buzzfeed
, the
Huffington Post
, and
ELLE

Magazine India
.
Holy Mother My Mother
, his fourth short film, was released in Spring 2014. Vivek has read and performed at shows, festivals and post-secondary institutions internationally, sharing the stage with Tegan and Sara and Dragonette, and has appeared at
NXNE
,
CMW
, Word on the Street, Yale, and Columbia University. He was the 2013 Artist-in-Residence at Camp fYrefly Edmonton and the 2014 recipient of the Steinert & Ferreiro Award for leadership in Toronto's
LGBTQ
community.