Research Notes · 03/10/2017
Rabbit Cake
Our Research Notes series invites authors to describe their process for a recent book, with "research" defined as broadly as they like. This week, Annie Hartnett writes about Rabbit Cake from Tin House.
+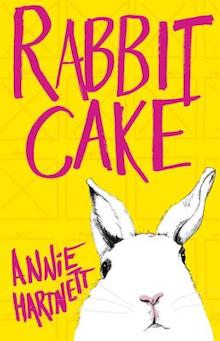 I was twenty-six that summer, which is young by nearly everyone's standards, but there was one job I was too old for and it was the job I had: I was a day-camp counselor. I'd taken the job not because I needed the money (well, I did, but I could have made more per hour doing pretty much anything else), but because I needed to do research for my novel. I'd just started the book that April, it was a novel called Rabbit Cake, although I imagine it was untitled back then. I didn't know much about the book at the time, other than that the narrator's name would be Elvis, that she would be a pre-teen, and that she would volunteer at the zoo.
So I took the job at Zoo Camp, the day camp at Franklin Park Zoo in Boston. My co-counselors were in high school, or in the first few years of college. After camp was over, I would go back to teaching college students at the University of Alabama where I was a graduate student. But for now, they were my peers. I regularly sat on the playground see-saw with nineteen-year-old Kevin, watching the kids play chase while chatting about his love life.
Truthfully, Zoo Camp didn't have much interaction with the zoo animals — in our four weeks there, we only fed one animal, the Bongos, a kind of antelope. The description of that feeding appears in Rabbit Cake. We mostly walked around the zoo, looking at the animals and playing various versions of tag. And we played on the fancy new playground the zoo had just built, a structure that I was extraordinary thankful for. We took bathroom breaks. My back hurt. I taught all my groups a game called Mafia, a murder mystery game I'd loved as a kid, which I eventually got in trouble for teaching. Summer camp rules had changed.
Four years later, there is no summer camp chapter in Rabbit Cake (actually, come to think of it, there was, but it was one of the first things my agent axed), but the zoo remains an important setting of the middle and end of novel. Although I didn't get to interact with many of the zoo animals, it helped to envision a zoo's layout, to know what kind of enclosures the animals have. In Rabbit Cake, the fictional zoo's layout is very similar to Franklin Park's.
And while I made up many, many, things about my fictional zoo set in Alabama and its animals, I did steal a few legendary stories from Franklin Park for my novel — the lion at Franklin Park really did kill a lioness back in 2002, which also happens in the novel. And I stole the name of Franklin Park's porcupine, Snuffles, and the name of pygmy hippo, Cleopatra. I'm sure I stole other names too, but I can't remember now. I tried to change most of the names, until I remembered that I was unlikely to be sued by a prehensile-tailed porcupine.
The zoo wasn't my first experience working amongst captive exotic animals. Six years before I'd started the novel, back when I was still young enough to be a day-camp counselor if that had been the job I wanted, I worked at the Animal Center at the Museum of Science. It was an unpaid internship I applied for because I had nothing else booked for that summer. My job there was to interact with the animals directly: to clean their cages and feed them. Years later, it was my inspiration for setting part of the novel at a zoo, and more of the animals who appear in Rabbit Cake (the three-legged meerkat, the bobcat) are based on animals from the Museum of Science. Taking that internship was such a random choice, as it was really designed for vet-school hopefuls, but I've found that those life experiences — the ones that feel the most unrelated to your writing — are the ones we mine for material much later.
Much (or even most) of Rabbit Cake is not set at the zoo, but the zoo is where I did the most intentional research — so much else of the writing came from I drawing on my other life experiences, those times I wasn't thinking about doing research at all. But I will say, I think I'm proudest of the zoo scenes, and I think it's because of the research I did, both at the zoo and at many, many zoo websites online. I'd also like to thank the people at National Geographic for their wonderful website. And if I was your child's camp counselor, I'm sorry for teaching them that mafia murder game.
+++
Annie Hartnett
is a 2013 graduate of the
MFA
program at the University of Alabama, and was the 2013-2014 Writer-in-Residence for the Associates of the Boston Public Library. She currently teaches classes on the novel and the short story at Grub Street, an independent writing center in Boston. She is at work on her second novel,
Driver's Ed
, which is a darkly-comic story about a sex crime in a small town. She lives in Providence, RI with her husband and their exceptional border collie, Harvey.