Research Notes · 07/01/2016
POP!
Our Research Notes series invites authors to describe their process for a recent book, with "research" defined as broadly as they like. This week, Mark Polanzak writes about POP! from Stillhouse Press.
+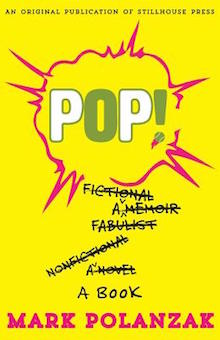 POP! is a memoir of fiction.
It's also about death, loss, grief, not grieving right, pain, and humor. The book operates in three basic modes: 1) The grounding memoir structure. When I was 27 I was asked to speak at a bereavement group meeting for kids who had all lost a parent. I freaked out, because I felt I had nothing to impart and worried that I hadn't grieved or healed properly over the last ten years. The memoir follows the week in my life leading up to talking to this group of kids. 2) Retellings, reimaginings, and re-rememberings of real events from the past. I think back through the time surrounding my dad's death and tell those real stories from my, my brother's, and my mother's perspectives. And then 3) I embed short fiction, actual short stories I wrote from the age of 17 to 35. I analyze them. I annotate. I present the short fiction as the only perceivable way I dealt with the sudden death of my father and its effects on me, my family, and essentially every single relationship I have had.
So, the research I did for POP! was reading over all my old stories, from high school, college, graduate school, vacations, abroad and beyond. I poured over the pieces to find the through line. Usually other people do this to your work — critics and scholars at the end of a great writer's long career — but I wound up doing this to immature fiction from my own life, desperate to find a connecting theme, some sort of progress, a developing, therapeutic arc that I achieved through writing. And, I did find that.
The short fictions crop up throughout the memoir as they relate to the present "real" story — the reader reads a short story, and then they hear how the story came to be, what it means to me, what elements were drawn from real life, why I made the choices I did. I also reveal to myself that although I thought I came out of a life trauma unscathed — proceeding through life's obligations and "normal," "on paper" relationships and career achievements — I actually buried thoughts, emotions, questions, and all the rest of it inside my stories. When taken all together, the central themes and struggles of my catalogue of published, unpublished, and unfinished stories become obvious: death, loss, something missing, a deep wound that demanded attention in any form it could get. It took years to write these stories, and I didn't notice what I was doing when writing them. I condensed a decade and a half of writing therapy into a few years of close examination while writing POP! and discovered what it was that I had been doing all along.
The short video below condenses 455 stories, story sketches, poems, screenplays, notes, and creative clusters written over roughly 15 years into 1:20. Some of these docs are a paragraph long, some are 50 pages, some are complete drafts of unrevised novels and screenplays, some are email documents of story ideas and notes that I noted and sent to myself from who knows where now, some are videos acting out monologues. I went through my stuff to tell the one big story I had been trying to tell along: that is my book POP!, about loss, about grieving right and wrong, about writing fiction, and about writing as therapy. Only occasionally do the stories center on the death of a father character, but the fictive guise led to stories, such as the very last one in this folder (title: "You Can Die at Any Moment"), which is a speculative fiction about death becoming as common as getting a cold, and the sympathy offered, just as serious as consoling a friend with a sore throat. After taking this all in, I needed to write POP! and give the traumatic event all the space it was seeking. I needed to do it with less fictionalizing, less hiding. The book helped me move forward with my fiction and get into some real life healing.
+++
POP

!
is
Mark Polanzak's
first book. He teaches English at the Berklee College of Music and is a founding editor of
draft: the journal of process
. Runner-up for the 2014 Italo Calvino Prize for fabulist fiction, his stories have appeared in
Third Coast, The Southern Review,
and
The American Scholar
, and other publications. He received his
MFA
from the University of Arizona.