Research Notes · 03/20/2015
Our Endless Numbered Days
Our Research Notes series invites authors to describe their research for a recent book, with "research" defined as broadly as they like. This week, Claire Fuller writes about Our Endless Numbered Days from Tin House.
+
A house in London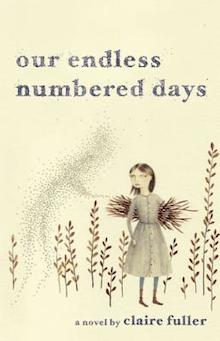 My visit to the National Trust house, 2 Willow Road, in London wasn't planned as research, but the modernist home, designed by Ernö Goldfinger in 1939, was vivid when I started writing Our Endless Numbered Days and became in my mind, my protagonist's family home. If you visit (and you should — it's wonderful) you'll find it a very different house from the one in the novel. My house needed to be big enough for a grand piano, the ground floor needed to open out to the garden, and the garden needed to be much bigger, but for me the atmosphere of both houses is the same. I also looked at other modernist houses that were for sale, using the online virtual tours offered by estate agents and I considered posing as a potential buyer, but never had the courage.
+
A Victorian cemetery
The house in London needed to back onto a wild space that my characters — Peggy and James could explore – and after studying maps of London and their parks I realised that the possibilities for this in such a densely populated area were limited. Then I came across the west side of Highgate Cemetery. A Victorian cemetery that fell into decline in the 1970s and – perfectly for me – was closed to the public during the time when my characters first visited. To see it, you have to go on a guided tour, so I wasn't able to explore as much as I would have wanted, but beyond the gravel paths I was still able to see the ivy-strangled trees, the lop-sided grave stones and uneven ground. The tree that I have Peggy and James play games on really exists but it is next to the Egyptian Avenue, and the monument to Rosa Carlos that Peggy and her brother, Oskar visit, is also there but as an amalgam of the tomb of Carl Rosa and various statues of angels.
+
What's it like if you've been away for nine years?
I read a lot of books — fiction and non-fiction — about what it's like when someone returns unexpectedly after they were believed to be dead. This was something I needed to soak up — I didn't know anyone it had happened to and it didn't feel right to seek out those people. The books which have stayed with me include Emma Donoghue's Room; Alive: The Story of the Andes Survivors by Piers Paul Read; and 3,096 Days by Natascha Kampusch. This last book — an account of Kampusch's kidnap and imprisonment for eight years — provided the idea for the letters and cards that my protagonist receives on her unexpected return, from well-wishers, journalists wanting her story, and people making bizarre and inappropriate offers of help.
+
Music and Pianos
I needed a piece of piano music that was technically difficult but also short and beautiful. I'm not a pianist and so this element of my research came down to following trails around the internet, posting in online forums and listening to many pieces of classical music. In the end I settled on La Campanella by Liszt. And I bought the sheet music on ebay so I could describe the cover in detail.
At the same time, I was researching two types of piano. The first had to be a top quality grand piano that a concert pianist would own, and again through internet searches I settled on an Austrian-made Bösendorfer. And then later, in one of those occasional pieces of wonderful synchronicity that made me feel like I must be doing something right, I went onto Bösendorfer's website and found a video about the making of one of their pianos, which was set to La Campanella.
The second piano was more difficult. This one had to be made by hand using few tools and the materials which could be found in a forest or a cabin. I spent time online looking at how pianos were made and quickly realised that even the simplest one couldn't be created by my characters in the forest, so instead they build only the keyboard. I worried about this for many weeks, examining diagrams of the keyboard mechanism, pressing the keys on my ex-husband's piano to consider the resistance. I wasn't sure it was possible. In the end I realised that I only needed to make sure the keyboard my characters created was believable enough.
+
The physical and mental effects of starvation
I have a friend, Jill, who is a nurse in Accident and Emergency in my local hospital just up the road from my house. She sometimes comes round for a cup of tea and a rest; I make her tea but I often grill her about all sorts of medical conditions that I need to know about. When I was writing Our Endless Numbered Days it was the effects of starvation. Jill told me about the Minnesota Starvation Experiment — a study of 36 World War II conscientious objectors who were semi-starved for six months. Many of the results of this study — a preoccupation with food, poor judgement, irritation, psychological distress, apathy, as well as all the physical symptoms – had a major impact on some scenes, motivation and outcomes in Our Endless Numbered Days.
+
Wild food
I spent the year and a bit that I was writing Our Endless Numbered Days collecting my own wild food and researching food I couldn't find myself. My accountant shot a squirrel for me, but due to the vagaries of freezing and de-frosting I didn't get to taste it. I went on a guided wild mushroom foray into my local woods to learn which ones were edible and which to avoid. I picked blackberries to remind myself of the touch and smell of them. And I watched a lot of YouTube videos on how to catch rabbits and squirrels and how to skin them. I learned how to wash the tannin from acorns to make them palatable and a hundred other things that didn't even make it into the novel.
+++
Claire Fuller lives in Winchester, England. Our Endless Numbered Days is her first novel.