Research Notes · 08/28/2015
On the Island at the Center of the Center of the World
Our Research Notes series invites authors to describe their process for a recent book, with "research" defined as broadly as they like. This week, Elizabeth Kadetsky writes about On the Island at the Center of the Center of the World from Nouvella Books.
+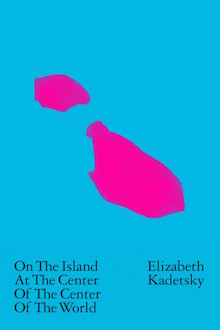 There was something about the surreal odd misery of traveling alone. Then there was the searing, awakening slash by a mauve stinger jellyfish in the Mediterranean waters off the island of Gozo, and after that, a week's flu diagnosed by Maltese locals as jellyfish fever. It put me in an artistic frame of mind.
I suppose it was more of my good-bad luck that no one would talk to me in the space of a six-weeks arts fellowship in Malta during that summer of 2007. Perhaps this owed to the fact I was the only foreigner at the arts center that was my sponsor, and also to the truth that it was an insular culture, literally. My late-night habit quickly devolved. I settled into a five a.m.-to-one p.m. sleep schedule that was interrupted each morning by rattling walls and piercing gong sounds set off during an hour-long succession of church chimes ringing across the city. Duly sleep-deprived, I wandered through the Baroque capital with its dense history and architecture. I sat in cafés or on ancient stone walls and breakwaters observing and eavesdropping. I quickly composed a hundred pages, mostly description.
One day I sat on a foot-and-a-half-high slab of limestone sidewalk while dutifully filling in my notebook. There, I witnessed what appeared to be a hit and run accident. It happened in the lower-income neighborhood where I was staying. The victim seemed to be poor, the perpetrator rich. This ignited a sense of righteousness already inflamed by the fact I was being ignored by my hosts for no good reason. I also attribute it to either delirium or extreme loneliness that I chose, in that split second in which the victim lay on the ground bleeding and the expensive Toyota drove away, to get involved.
What happened next provided the story to tie together the acres of material in my journals. I approached the victim and her two perturbed but strangely unemotional companions, who appeared to be her aged husband and middle-aged daughter. Next thing, I rode in their old Fiat to the hospital, and events transpired much as they do after the inciting episode in my novella On the Island at the Center of the Center of the World.
Like my narrator, I was off on an adventure driven by my own personal motives as well as by the obvious external ones—getting help for the victim, seeking justice. I wanted to write an existential mystery centered on a protagonist who is solitary and isolated and battling her own demons, someone who latches on to someone else's troubles as a method of distraction and perhaps to work out her own woes. From the beginning, I knew that the answer to the questions—who was the perpetrator of the hit and run? would he pay for his crime? would the victim survive?—would be displaced by others—what, at root, ailed the protagonist? would she understand that her lifelong habit of international wandering would get her no closer to the goal? would she learn that one can travel far but never escape the self?
I didn't expect that I'd need to provide my narrator—Netti—a companion, what I so sorely lacked. I gave her an eleven-year old son—Ian. This way, Netti's thoughts to self became part of a dynamic in which she thought aloud in front of him. This developed on the page into a troubled relationship between a sharp and self-aware young boy just coming into adolescent consciousness and his dysfunctional, self-involved single mother. From here the story diverted from my own, and so began its life as a work of fiction. I gave the narrator a fatal flaw—a yearning for good Mediterranean wine—and the characters were off on their way. I watched with bemusement as they walked themselves into "interesting trouble," to use Charles Baxter's phrase.
Perhaps I was lonesome and felt the urge to people my life with fictional characters. There was also a way in which living through the filter, as it were, of a reporter's notebook—writing in real time as I experienced the world—created its own detachment, a kind of out-of-body traveler's fatigue. Conversely, I also felt euphoria. I wrote manically, in a fit of productivity. My saner self today envies that manic one. Now that I have my own son, I rarely have time for the luxury of escape, or of people who will felicitously ignore me.
Does one need to be alienated to write, or temporarily insane, for that matter? I hope not, but I think about some of the authors I was modeling in this novella: Albert Camus, Franz Kafka, Thomas Pynchon, Sonallah Ibrahim. I wonder what gave rise to their paranoid tales in which the world seems to shrink down to claustrophobic double binds and characters who make their own undoing. Were they too wandering, intrigued, alone, on unfamiliar ground?
+++
Elizabeth Kadetsky
is the author of
First There Is a Mountain
(Little, Brown), a memoir of year spent in India studying with the yogi
BKS
Iyengar, and the short story collection
The Poison that Purifies You
(C&R Press), which was chosen by
Vogue.com
as one of the best under-the-radar picks of 2014. Her personal essays and short stories have been published in
New England Review, Antioch Review, Glimmer Train, the New York Times,
and many other venues. She is an assistant professor teaching fiction and nonfiction at Penn State and splits her time between New York City's East Village and State College, PA. Her work can be found at
elizabethkadetsky.com