Research Notes · 04/01/2016
No Moon
Our Research Notes series invites authors to describe their process for a recent book, with "research" defined as broadly as they like. This week, Julie Reverb writes about No Moon from Calamari Archive.
+
And sometimes — just sometimes — a girl on screen might remind him how it was with the Duchess, when she was alive.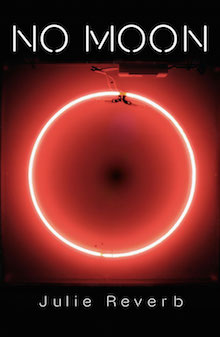 It is midweek, mid-afternoon in the late 2000s. I am sitting next to the literary critic David Winters in a Birmingham porn cinema. The sky outside is marbling grey like bad meat. We don't see it. Nor do we make our way to the library to revise for our final exams. We stay in our seats, glaring ourselves out of darkness.
Two DVDs are being played in rotation. There are tanned blondes, dildos and little dialogue. We down energy drinks and I cross my legs; there's no ladies toilet. A sparse audience of old men sits close to the screen. Every half hour the DVD goes quiet and this love song cranks up.
A pale woman stands in front of the screen and peels a school uniform off her body. She bends over facing away from us and pulls her g-string to the side. When the song ends, she walks up the aisle towards the back of the cinema, carrying her uniform in a plastic bag. She won't look at us. We watch her undress and walk up the aisle several times then head to an all-you-can-eat Chinese buffet.
My book No Moon stinks of that afternoon and what I imagined was actually taking place in the cinema: dreaming and grieving. The book is equally obsessed with the dying network of UK adult cinemas as with coming to terms with childhood's end and the death of a parent.
No Moon is built out of music, sound and saying. It is structured via slabs of voice — from the women-only Nüshu script to sa-yelema, the sung-wept-textual poetic form used to express unspeakable loss. I set out to write something as intense as the crying scene in Mullholland Drive, but with sentences as precise and weighted as Wagner's Tristan Chord from his opera Tristan und Isolde. This hammering musicality propels the text which, like the piano chord, is structured in black and white.
In the early days of writing it I obsessed about an avant-garde opera someone recommended to me in a dream. I couldn't recall the title, just that it had a Greek chorus chanting shards of voice and memory from the last few hundred years. It was pretty much T.S Eliot's The Waste Land onstage. I tried hunting it down online and in opera encyclopaedias without luck (if anyone reading this recognises the opera please get in touch).
Both the dream opera and The Waste Land were more relevant to the writing of No Moon than contemporary UK literature. They were essential to its fragmented structure and preoccupation with language and memory. It is never made clear in the book who is speaking and who 'I' is — only that it must be said aloud, with life-or-death intensity. While deeply emotional, this ricocheting of voice ensures that a self never gets chance to fully emerge.
The Waste Land surfaces explicitly at times — Terry is a teen runaway version of Tiresias. Lucy even says to him "my nerves are bad tonight, don't leave me", quoting directly from the text. No Moon also mirrors the poem's preoccupation with water — and lack of. Prior to his adult cinema management career, Lucy's dad was a celebrity water dowser. He kick-started a 1990s craze with a spin-off novelty single and line dance. But his heady success was followed by a literal drought across the UK, which he was blamed for. As in The Waste Land, water forms an ambiguous presence in the book, one that is not always allied to life and rejuvenation. But its absence is stark, defined by the burning burning burning of Lucy's climactic lament during the cinema's fire.
As a writer, I am more concerned with interiors than characters. However, Billy and Mad Sinbad were sculpted in quite traditional ways. I didn't do anything as ghastly as plot their wants and arcs on post-it notes on my wall, but I did use real-life people as a basis.
I used to work on Caledonian Road in London's Kings Cross, an area once notorious for seediness. At the time of writing No Moon, the road was home to various DVD porn shops, the old Abcat porn cinema (referenced to in No Moon) and a strip pub, where red-faced men would stand outside and mutter sweet nothings as I walked past on my lunch break. On the other side of the road was the radical book shop Housmans. I once saw a Beckett-lookalike — all crags and spikes — walk into the shop. He was wearing a pale rain mac, the quintessential dirty old man uniform. He looked like he belonged to the other side of the road — the side for men who hadn't discovered the internet, who liked to throw quids in a pint glass for women to splay their vulvas, who liked to jizz at a big screen. On the walk back to work, I decided that I would make him cross the road and that the resulting interior-life — his grieving and dreaming — would form part of my book.
The gangster Mad Sinbad — Billy's bête noire — was based on UK celebrity darts personality Bobby George. There is also a dash of celebrity paedophile Jimmy Saville in there, with dialogue lifted from one of his interviews about managing unruly nightclub goers in the 1960s:
I wouldn't stand for any nonsense whatsoever. Ever, ever. I never threw anybody out. Tied them up and put them down in the bloody boiler house until I was ready for them.
I hope neither Jimmy Saville's estate nor my mum read my research notes.
View No Moon's research scrapbook.
+++
Julie Reverb
is London-based writer and former singer. Her fiction has appeared in publications including
The Quietus
,
3:AM
,
Gorse
and
Volume 1 Brooklyn
. Her début book
No Moon
is out now on Calamari Archive; watch the trailer
here
. Find her at
www.juliereverb.com
and
@juliereverb
.