Research Notes · 01/27/2017
Nine Folds Make a Paper Swan
Our Research Notes series invites authors to describe their process for a recent book, with "research" defined as broadly as they like. This week, Ruth Gilligan writes about Nine Folds Make a Paper Swan from Tin House.
+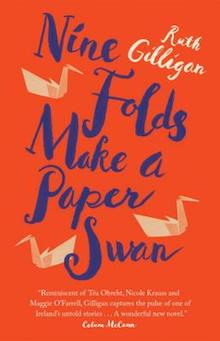 They say that you should "write what you know". And then they say it again. So for my first books I looked no further than my own experiences — my narrow South-Dublin world — trying to shine a new light onto what was ultimately familiar ground.
Over time, however, I realised I wanted to explore. The books I was reading took me to places and periods that were entirely unfamiliar, so why couldn't my fiction do the same? As if in answer, I read the counsel of novelist Colum McCann who says: "Don't write about what you know, but towards what you want to know." Living by these words, McCann (despite also being a South Dubliner) has produced books set amongst the black homeless community in New York; on a Roma camp in Eastern Europe; following a gay Russian ballet dancer during political turmoil. And through it all, McCann insists that being a writer "means embracing empathy. Imagining the life of the 'other'," he says, "is the greatest privilege of all."
It was time for some empathy and imagination of my own.
Growing up in Ireland I didn't really know anyone Jewish, but when I moved to the UK for university it turned out a lot of the friends I made were Jewish. We used to joke that this was no surprise, given the Irish and the Jews actually have a lot in common. Both have been persecuted minorities over the course of history; both boast huge diasporas spread across the world; both enjoy a complicated relationship with religion and culture. So one day I simply Googled whether you could in fact be both — whether these two strong identities had ever been combined.
It was from that moment, really, that my research began. That single Google search pointed towards a dwindling yet significant Irish Jewish community about which I had had no idea. There were Wikipedia pages and newspaper articles; there were ancestral sites and discussion groups; there was a museum homepage and memoir listings (some out of print, some still available). And suddenly I realised what it was I wanted to write towards.
I knew where my empathy was going to take me next.
I began with the easy stuff — the books. I read heavy non-fiction texts like Cormac Ó'Gráda's Jewish Ireland in the Age of Joyce and Dermot Keogh's Jews in Twentieth-Century Ireland; memoirs like Stanley Price's Somewhere to Hang my Hat and Chaim Herzog's Living History. Next I visited the Irish Jewish Museum in Dublin, which houses a vast collection of Irish-Jewish memorabilia — from clippings to artefacts to shamrock-emblazoned kippot. But during my visits — and my readings — it wasn't the facts I found most engaging but the stories; the sheer breath of anecdotes and rumours and histories and myths which surrounded this group, and which they were all too willing to share.
It was time to put the kettle on.
Over the following year I enjoyed endless tea dates with various Irish Jews. I visited their homes in Dublin; I met them in coffee shops off Grafton Street; I followed up with long and nosy emails, relishing the complex portrait of this world that was starting to come into focus. I then travelled down to Cork where Jewish immigrants first arrived at the turn of the twentieth century. And it was between archival rummagings and university visits that I met Fred Rosehill, the self-proclaimed last remaining Jew of Cork. After a preliminary cup of tea (naturally), Fred took me on a guided tour around the former Jewish neighbourhoods. We visited the Cork Synagogue; the area known locally as "Jewtown"; the streets where he lived and played as a boy. Again it was his stories I lapped up most of all, not least the one I had been told by all my other interviewees — that the Jewish immigrants had originally been on boats bound for America, but when they docked the captain had called out "Cork Cork" and they thought he was saying "New York" so disembarked; didn't notice the difference for weeks. The story is most likely made up, but the way they kept returning to it; the way it had clearly been passed down through generations and subsumed into their own identity, was fascinating.
I had discovered my novel's opening scene.
After Cork I went to Israel, where I travelled the country for weeks. I met with the Irish ambassador and his colleagues; drank pints in Molly Bloom's pub; attended events run by the Israel-Ireland Friendship League. I then returned to London where I live, and began visiting local synagogues, attending bar-mitzvahs and other services I had never seen performed, only read about.
By the time I was finished, I had amassed folders upon folders of notes — more than I could ever possibly need. So the challenge now was to distil all of this; to find a storyline that would hold it all together; an engaging cast of characters and a strong, compelling plot. In the end, I decided on three stories, all set at slightly different points in time. This would not only allow me to incorporate more of my findings, but would challenge me to interweave the stories as I went, creating echoes and overlaps through time and space. This in turn spoke to novel's overarching theme of storytelling, as well as some of the more formal/stylistic research I had conducted, particularly with regard to Talmudic techniques and Jewish and Irish oral traditions.
A few months before the book was published in the UK and Ireland, the Cork synagogue closed down for good. It no longer had any attendees, or indeed, any money. A few months after that, its gatekeeper, the lovely Fred Rosehill, passed away. Both losses mark the end of an era, and a dwindling future for the community. I only hope Nine Folds Make a Paper Swan has captured some of those unknown stories; has shone a light into an unfamiliar corner. What a journey of discovery it was.
+++
Ruth Gilligan
is an Irish novelist, journalist and academic. She is a graduate of Cambridge, Yale,
UEA
and Exeter, and now works as a Lecturer in Creative Writing at the University of Birmingham. She contributes regular literary reviews to the
Guardian,

TLS

, Irish Independent
and
LA Review of Books
. She has published four novels to date, and was the youngest person ever to reach number one on the Irish Bestsellers' list.
Nine Folds Make a Paper Swan
is her American debut.