Research Notes · 08/15/2014
Love Songs of the Revolution
Our Research Notes series invites authors to describe their research for a recent book, with "research" defined as broadly as they like. This week, Bronwyn Mauldin writes about Love Songs Of The Revolution from CCCLaP Publishing.
+
Small town, brown dog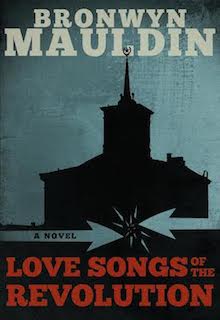 While researching my novel, Love Songs of the Revolution, I took a few hours one bright summer day to explore the streets of Švenčionėliai, a small town in Lithuania. Cottony clouds hung in the middle distance against a clear, blue sky. The streets were dry, but it must have rained recently because a few puddles stood at the edges of the streets. Probably the day before. The air had that fresh, clean look that follows a good rain.
Passing a gravel driveway, I caught sight of a brown dog drinking from a ditch. Something in its furtive lapping felt right for the scene I was writing. I clicked over to the Word file and typed out a placeholder sentence about the dog. Then I clicked back over to Google Street View and kept walking through Švenčionėliai.
I was long past my initial gasp of wonder when I'd discovered that in July 2011 the Google photo car drove through this small town of 6,000 in a country most Americans would be hard-pressed to place on a map. It is, after all, next to Ukraine. Just then I was busy capturing the details of a place I'd chosen months earlier for a major scene because it was conveniently on a railroad line:
Two blonde teenage toughs walk side by side down Geležinkelio Lane, one in a striped sweater that reads, "ICH LIEBE DICH."
An old woman hovers over her husband who is on hands and knees, peering under the rear of their car.
On a dead-end street, a man selling berries and mushrooms stares directly into the camera. I what he's doing from his red-on-white hand-lettered sign: uogų grybų supirkimas. The nosinė under the final U in each word indicates a long vowel.
Švenčionėliai is pronounced "shven-chon-ell-ee-aye." The retired Lithuanian-American professor who taught me how to pronounce all my character and place names was frustrated with the harsh, American way I pronounce my L's. Lithuanian L's are softer. Before meeting him, I didn't even know an L could be harsh.
+
In real life, I've never been to Lithuania. Not in 1989 or any other time. I only set a novel there. In my novel, a man named Martynas finds his wife dead on the kitchen floor. His search to finder her killer draws him into a revolution. I've read books about Gorbachev's failure in Lithuania, the Baltic states in a global context and America's U2 spy plane program in the early 1960s. I found an English-language travel guide to Vilnius published in Moscow in 1985, in the LA Public Library. I've scoured the web for every photo and video I can find from Lithuania in the late 1980s. I've read the few works of fiction by Lithuanian authors that have been translated into English.
I did go to East Berlin, only a few years before the wall fell. I crossed from the West through Checkpoint Charlie. It was a checkpoint then, not a museum, and visitors were required to buy 25 East German marks, the local currency. I spent the day trying to spend them. I needed soap and deodorant, and found neither. Much to my delight, I eventually found a bookstore where I bought an English-Russian Dictionary on Disarmament edited by T.F. Dmitrichev and published by Russky Yazyk Publishers in Moscow, 1987. The cover is brown and tan; the paper smells of smoke. Yes, I'm holding it in my hands right now. That dictionary made it into Love Songs of the Revolution, as did my vague memories of the bookstore. Not specific details, but the feeling I had walking along dingy, half-empty shelves in the shops, looking for something – anything – to buy.
Of all the scenes I saw in the streets of Švenčionėliai in 2011, only the brown dog survived the final edits of my novel.
+
I saw the Google photo car in action once. I was on my matte black Bad Girl bike, stopped for a light at the corner of Grinnell Drive and North San Fernando Boulevard in Burbank. A sedan pulled up to the light. It was wrapped in the Google logo and sported an industrial-sized metal mushroom on the roof. Was the word "photo" visible somewhere? Did I hear the whirr of nine directional cameras focusing at once?
Before that moment, I hadn't known how they made those Street View maps. I just didn't like them. Big G was taking the surveillance society to a whole new level. My instinct was to flip them off and shout, "Stop being evil!" But I didn't. I reached down for my water bottle and took a long drink. It was a hot, dusty day.
If you pull up the Big G Street View for that corner, you won't see me. Maybe the car wasn't shooting pictures. Or maybe I didn't make the cut.
There's also the chance my memory is faulty. Perhaps I did give Big G the finger after all.
+
I've been able to narrow down the likely dates when the Big G photo car drove the streets of Švenčionėliai. The Weather Underground's historical data shows 15 days of measurable rain in the capital, Vilnius, in July 2011. At only 60 miles away, Švenčionėliai most likely saw rain on or about those same dates. There had to be enough rainfall for a brown dog to drink from a puddle the next day, so we can remove the dates when less than one-tenth of an inch fell.
That leaves eight days, one of which must be the day before an old couple's blue car broke down, and a man selling berries and mushrooms on a dead-end street had an unexpected visitor, with a mechanical mushroom of its own.
+++
Bronwyn Mauldin is the author of the novel Love Songs of the Revolution. She won The Coffin Factory's 2012 very short story contest and her work has appeared in CellStories, The Battered Suitcase, Blithe House Quarterly, and Clamor magazine. She also has a short story collection, The Streetwise Cycle. More at bronwynmauldin.com.