Research Notes · 05/11/2012
Kino
Our Research Notes series invites authors to describe their research for a recent book, with "research" defined as broadly as they like. This week, Jürgen Fauth shares a reading list for his novel Kino, recently published by Atticus Books.
+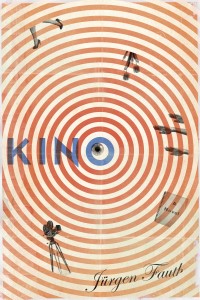 "All it took was a straight face," my narrator Klaus Koblitz says about the outrageous lies he used to tell about his life in the bars and cabarets of Weimar Berlin. And so it is with any fiction: more than anything else, it takes confidence to convince your audience that you're trustworthy.
When I decided to write a novel about a German silent film director, I knew I'd have to do lots of research in order to gain the confidence to pull it off. I'd seen my share of Murnaus and Pabsts, knew a thing or two about Lang and Riefenstahl, but if I wanted readers to trust me, I'd have to accumulate a lot more detail, learn a lot more about the people, places, and events I wanted to set my story among. So I started reading and watching.
I quickly realized that research was both a blessing and a trap: unlike an academic paper, a novel shouldn't show off the amount of work that went into it. You want just enough verisimilitude to let readers know they're in good hands, without constantly reminding them that much of what you're offering is second-hand knowledge — that you've never actually lived in Weimar Berlin, that you weren't there when Fritz Lang filmed Die Nibelungen, that you've never danced at the Kleist Casino either, that the book is made up. It's a fine line.
So, as a peek behind the curtain, I offer the list below, a bibliography of the books I read and consulted for Kino, assembled after the fact and most likely incomplete. Some of these books, like Klaus Kreimeier's The Ufa Story, Otto Friedrich's Before the Deluge, and Mel Gordon's gorgeous, essential Voluptuous Panic, I referred to religiously. Others, like the novels by Roszak and Shepard, I knew better than to touch until I had turned in the final corrections for Kino.
What this list doesn't contain are the scores of movies I watched and rewatched, from Faust to Triumph of the Will, bazillions of Wikipedia and Google Maps searches, and the month of primary research I conducted in Berlin-Mitte, a kind of extended first-hand experiment in decadence and depravity. If you're interested, I am collecting much more of the art, films, photography, people, and events that inspired Kino at the Tulpendiebe Tumblr at tulpendiebe.tumblr.com.
+
Adlon, Hedda. Hotel Adlon. Heyne, 1998.
Bach, Steven. Leni: The Life and Work of Leni Riefenstahl. Vintage, 2008.
Cabaret Berlin: Revue, Kabarett and Film Music Between the Wars. EarBOOKS 2005.
Dash, Mike. Tulipomania: The Story of the World's Most Coveted Flower & the Extraordinary Passions It Aroused. Broadway, 2001.
Döblin, Alfred. Berlin Alexanderplatz. 1929
Dornberger, Walter. Peenemünde: Die Geschichte der V-Waffen. Ullstein, 1998.
Feest, Joachim E. The Face of the Third Reich: Portraits of the Nazi Leadership. Da Capo, 1999.
Friedrich, Otto. Before the Deluge: A Portrait of Berlin in the 1920s. Harper, 1972.
Friedrich, Otto. City of Nets: A Portrait of Hollywood in the 1940s. University of California Press, 1997.
Gersch, Wolfgang. Chaplin in Berlin. Illustrierte Miniatur nach Berliner Zeitungen von 1931. Parthas, 1999.
Gill, Anton. A Dance Between Flames: Berlin Between the Wars. Caroll & Graf, 1994.
Gordon, Mel. The Seven Addictions and Five Professions of Anita Berber: Weimar Berlin's Priestess of Depravity. Feral House, 2006.
Gordon, Mel. Voluptuous Panic: The Erotic World of Weimar Berlin. Feral House, 2000.
Isherwood, Christopher. The Berlin Stories. New Directions, 2008.
Kessler, Charles, ed. Berlin in Lights: The Diaries of Count Harry Kessler (1918-1937). Grove, 2002.
Kracauer, Siegfried. From Caligari to Hitler: A Psychological History of the German Film. Princeton UP, 2004.
Kreimeier, Klaus. The Ufa Story: A History of Germany's Greatest Film Company, 1918-1945. University of California Press, 1999.
Large, David Clay. Berlin. Basic Books, 2001.
Lutes, Jason. Berlin: City of Stones. Drawn and Quarterly, 2000.
Mann, Klaus. Mephisto: Roman einer Karriere. Rororo, 2000.
McGilligan, Patrick. Fritz Lang: The Nature of the Beast. St. Martin's Press, 1997.
McGinn, Colin. The Power of Movies: How Screen and Mind Interact. Vintage, 2005.
Mckay, Charles. Extraordinary Popular Delusions and the Madness of Crowds. 1841.
Metzger, Rainer and Christian Brandstätter. Berlin: The Twenties. Abrams, 2006.
Riefenstahl, Leni. A Memoir. Picador, 1995.
Roszak, Theodore. Flicker. Chicago Review Press, 2005.
Roth, Joseph. What I Saw: Reports from Berlin 1920-1933. Norton, 2003.
Shepard, Jim. Nosferatu: A Novel. University of Nebraska Press, 1998.
+++
Jürgen Fauth
is a writer, film critic, translator, and co-founder of the literary community
Fictionaut
. He was born in Wiesbaden, Germany, and received his doctorate from the Center for Writers at the University of Southern Mississippi. He lives with his wife, writer Marcy Dermansky, and their daughter Nina.
Kino
is his first novel. Follow him on Twitter at
@muckster
.