Research Notes · 09/07/2012
Inukshuk
Our Research Notes series invites authors to describe their research for a recent book, with "research" defined as broadly as they like. This week, Gregory Spatz writes about Inukshuk (Bellevue Literary Press).
+
Flapless Landing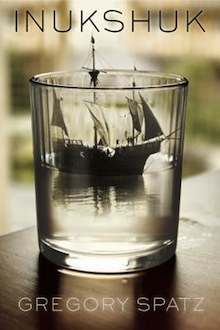 I was on a flight into Bakersfield, California when the flight-attendant came on the intercom to announce that we'd be attempting an emergency landing without wing flap. Flap, she explained, is what allows an aircraft to slow its approach to the runway to a safe speed, and ours had quit working. We'd be hitting the ground at about the rate we were now traveling, and would have to rely entirely on braking and reverse thrusters to come to a stop. This would mean an extended taxi down the full length of the runway. Our nose gear might crash, braking system might ignite or fail, tires explode and ignite, we might see flames outside the window, we might overshoot or skid from the runway.
The band I play with tours regularly, so I fly a lot. 5-10 times a month. I've been through white-knuckle turbulence and on flights where a landing was aborted at the last second due to extreme weather. I'd always imagined, given a situation like this, I'd want to go for my phone — keep it in-hand in case I needed to say goodbye to loved ones, have their voices with me as we went down. Now I wondered. What would I say, exactly? What comfort would it give? Bye, love you, see you in the… I couldn't picture it.
Instead, I found myself focusing almost exclusively on the plane itself, and with a mixture of hatred, prayerful hope and distrust I've never experienced before or since: the streamlined contours and bland décor all contrived to suggest illusions of security, permanence, comfort when in fact it is the most tenuous and confining of realities. A veil, and one that would do zero for us if brakes, tires and reverse-thrusters failed.
At the time, I was beginning research for a new novel — what would eventually become Inukshuk — reading primarily about my distant relative Sir John Franklin, the doomed Victorian Arctic explorer who went to seek the Northwest Passage in 1845 and who, along with all 110 of his crewmen, perished after 5-6 years of cold, starvation, scurvy, cannibalism and lead-poisoning. The single worst and most disastrously failed Arctic expedition on record.
I was interested in Franklin not just because of our family connection and his dramatic/tragic story, but also because he was a writer. In his very Victorian way he was constantly mediating his life experiences with words — books, journals, poems — laying claim not just to whatever physical territory he mapped, but to the image of himself doing so.
Interestingly, there is no written record of whatever befell him and his crew. Though they had been provided weather-proof metal canisters in which to leave word about their movements, nothing beyond a single cryptic letter left in a cairn, reporting Franklin's death and the abandonment of the ships to walk overland, has ever turned up. From the trail of bones and artifacts, the oral accounts from Inuit collected over the years, we can construct a credible enough account, but not many particulars. For me, this has always been the most tragic and evocative aspect of the story — that after sailing into Lancaster Sound where they encountered a whaling ship on its way homeward bound, no direct word from the crew was ever heard.
Equally tragic and evocative are the scattered relics recovered from the crew's 500 mile death-march south over King William Island, dragging man-hauled longboats on sledges, each weighing up to two tons: fiddle-patterned silver, teacups, clothes brushes, seals and sealing wax, prayer books, bibles, Christian songbooks and novels, alongside rope, sails, food and essential nautical, hardware and medical supplies. Easy enough to read that trail of relics as a measure of the depth and stubbornness of the crew's colonialism and their need to conceal from themselves the harshness of the reality they faced, dragging their culture with them into Arctic and then overland into the ice.
I had a lot of time to think about this and many other things in the remaining forty minutes of flight time, but to be perfectly honest, I didn't think about much of anything. I maintained my vigilant, half-incredulous, terrified attentiveness to every detail of the plane's interior, trying to read any of it for a sign, an indication of how we'd do, on landing.
By the time our wheels touched down, my relief to be on the ground again and done waiting must have overwhelmed most of my fears because I found myself weirdly absorbed in the moment. As the flight attendant intoned brace, brace, brace, brace, over the intercom I didn't tuck my head between my knees as instructed. I watched the trees flying by so fast they looked bent. I saw fire trucks and rescue vehicles parked at regular intervals down the tarmac. And eventually, as the overhead luggage rack quit its wild squeaking-chattering, and the ride smoothed, I knew we'd be all right.
We deplaned some distance from the terminal where we were met and silently escorted by gate agents and other ground personnel past news crew vans from all the local stations and into the terminal, after which point everything went precipitously back to normal. The usual drill at the luggage claim. The usual airport security announcements and standing in line for a rental car. Had I imagined all those fire engines, rescue vehicles and news crew vans outside? The abruptness and disjunction of the passage back to normal was at least as jarring and unfamiliar as the combination of hatred, distrust and hope I'd felt earlier, onboard, and still I didn't know how I might convey any of that to the people who loved me and would have wanted to hear — couldn't imagine words that wouldn't deadpan or hyperbolize.
Any philosopher can tell you, there are no veils concealing reality from us, there are only our perceptions, shared and individual, layer upon layer, and no way to see without them. But knowing is one thing, feeling is another. Only later, as I got underway with writing Inukshuk, would I realize how valuable that emergency landing was for me, and the window it provided into envisioning how the crew would have felt abandoning their ridiculously over-provisioned ships, and later handling the medals, books and clay pipes they dragged overland: reminders of home, so essential to keep sane, and yet charged with contradictory emotions — hope, rage, distrust, utter disjunction. All of the feelings I'd walked away with that afternoon in Bakersfield and didn't know how to express until I began imagining my way into a story to surround Franklin's lost voyage.
I'd never go so far as to say that I'm glad to have been through an emergency landing, or that my experience in any way equates with Franklin's. I spend as much of my energy avoiding life-threatening situations as he spent seeking them out in far flung corners of the globe. I'd read dozens of books, exchanged emails with a scholar in Australia, visited Inuvik, and generally amassed more information about Franklin, scurvy, lead poisoning and life in the Arctic than would possibly fit into a novel. Without that flapless landing I don't know that I would ever have found a way to connect as viscerally or urgently with the material.
Postscript addendum: High definition, scalable photographs of the Franklin relics collected at the Royal Museums Greenwich have recently been uploaded and are available for free viewing here.
+++
Gregory Spatz is the author of the novels
Inukshuk, Fiddler's Dream,
and
No One But Us,
and the short fiction collections
Wonderful Tricks
and
Half as Happy
. He has also written for the
Oxford American
and
Poets and Writers
and his stories have appeared in many publications, including
The New Yorker
. He is the recipient of a Washington State Book Award, Spokane Arts Commission Individual Artist of the Year Award, and National Endowment for the Arts Literature Fellowship. A graduate of the Iowa Writers' Workshop, he teaches in the
MFA
program at the Inland Northwest Center for Writers at Eastern Washington University. When he's not writing or teaching, Spatz plays fiddle and tours with Mighty Squirrel and the internationally acclaimed bluegrass band John Reischman and The Jaybirds.