Research Notes · 09/04/2015
Generation
Our Research Notes series invites authors to describe their process for a recent book, with "research" defined as broadly as they like. This week, Paula McGrath writes about Generation from John Murray Originals.
+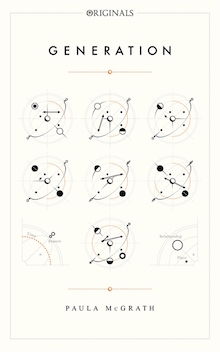 Generation involved two very different kinds of research. First, there was the story itself. I've done some academic research in my time, which is why I'm more than a little sheepish about admitting my research methodologies for this aspect of writing. Because there are none, at least, not at first. With first drafts, I wing it, writing fairly fast, trying to find my character and his or her voice, and through it, the story. When I hit a bump I leave a note for myself in the margin — "What do they eat for breakfast in Japan?" — then I carry on writing. I've discovered that looking it up there and then breaks the flow of the writing, and it's hard to get going again.
If it's something I can find quickly and easily on good friend Google, I'll fill in a few blanks in the afternoon (rice, miso), maybe while my kids are doing their homework. Or I'll email a friend who might know. If it's more complicated — how do you get from Chicago to Sudbury? — I leave it until the next draft.
Most of the characters in Generation travel. Settings include Chicago, Kyoto, Guadalajara, Sudbury, and more, only some of which I've been to, but although ultimately the novel is about its characters, getting place right is important. I often use Lonely Planet; my shelves heave with guides to Sri Lanka, Japan, Greece, Iceland, Tibet — places I've travelled to only in my mind or my fiction, though I live in hope! I'll speak to friends who've been there. I'll read fiction set there. I'll Google. I will search for a small number of anchor details — a brand of sweets, a nuance of local weather — then leave the rest to the reader to fill in. Joyce famously wanted "to give a picture of Dublin so complete that if the city one day suddenly disappeared from the earth it could be reconstructed out of my book," but my aim is quite different: I want to give a sense of place, but one which still feels real; and I want not to jar the reader with an inaccurate detail.
If the missing information is complicated, I'll kick that can down the road for as long as I can, until I'm finally forced by the story — or an editor — to find an answer. Or (and what writer doesn't use this old trick?), I'll write around the problem.
It's all a bit slap-dash, but I think I've been getting away with it…
Then, there's the other kind of research. My novel began life as a short story which would, I thought, form part of a short story collection for my MFA thesis. It was about a German couple, squabbling at a farmers market, as told by Joe, the farmer. To show more of the enigmatic Joe, I wrote a story about his mother, Yehudit/Judy, and just like that my collection morphed into a linked collection. This change in genre created restrictions because now the stories would connect to each other through character and place, if not plot. But it also opened possibilities. For example, a minor character in one story could become the protagonist of another, which was what happened with the next couple of stories. However, when a story about Áine, a thirty-something Irish divorcee, grew past 15,000 words with no end in sight, and insisted on encompassing the earlier stories within its narrative arc, I knew I was in trouble.
Story and form are hopelessly codependent, and even the most interesting story will fall flat if not told in the best way. I had to learn to soften the edges of what I imagined I was doing, to understand that an idea could become a poem, a blog post, or a novel (or a sculpture, a photograph, or a film — though not being equipped in these media, I was limited to words), and to allow the story to dictate its own form. Conversely, as I began research into form, my findings led the story down different paths. This whole back and forth process resulted in some tricky interplay between the part of my brain which likes lists and plans, and the more flexible, creative part.
This phase of research is also known as panicking. The lit crit section of the James Joyce library in UCD confirmed that the problematic story was not a short story by the usual metrics: "unity of effect" (Edgar Allan Poe), few secondary characters, no subplot, closure. Nor was it a novella or novel, according to Brander Matthews, who in 1901 declared that "the genuine short story abhors the idea of the novel. It neither can be conceived as part of a novel, nor can it be elaborated and expanded so as to form a novel," or Joyce Carol Oates, who also defines the short story in relation to the novel, defining the former as a concentration, the latter, an expansion. While my addled brain puzzled as to how could a story could contract and expand at the same time, which mine seemed to want to do, genre theory provided an answer, in the shape of the short story cycle. This hybrid creature could "extend discussions… work on a larger scale… resemble what is accomplished in the novel" (Susan Garland Mann). However, my stories did not all adhere to Mann's assertion that the stories must be "both self-sufficient and interrelated," Robert Luscher, whom I later met at a conference and was able to thank personally for my (his) lightbulb moment, articulated the idea of a continuum within the short story cycle genre, with miscellaneous collections at one end and novels at the other, beyond the mid-point of which the overall narrative begins to assume greater prominence than those of the individual stories. My story was right on this mid-point, teetering over into novel territory.
I read a number of these linked narratives, analysing what worked, and how and why, with new ideas for my own novel — because that was what it was, I realised — percolating away in the background, until the creative brain decided that it had had enough of theory, and it was time to return to writing.
+++
Paula McGrath's
fiction and non-fiction have appeared in
Mslexia, Necessary Fiction, Eclectica,

ROPES

Galway
and
Surge
, an anthology of new writing from Ireland. She recently completed an
MFA
at University College, Dublin, and was shortlisted for the inaugural Maeve Binchy Travel Award (2014).
Generation
is her first novel.