Research Notes · 02/24/2017
Forty-four American Boys
Our Research Notes series invites authors to describe their process for a recent book, with "research" defined as broadly as they like. This week, William Walsh writes about Forty-four American Boys from Outpost19.
+
A Boys Club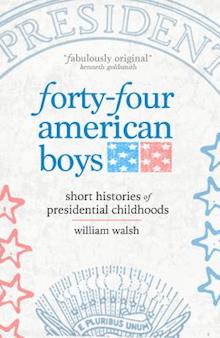 Many years ago, I took one of my freshman comp classes to the library for a field trip. The goal was to teach them some elementary approaches to research. The subject for all of them was Elvis Presley. I wanted them to find three sources on the King of Rock, locate quotes within those sources to support a thesis statement, and document those sources per APA standards.
One student headed straight for the children's room. I followed and asked her, "What's the plan?"
She told me she always started with children's books when she was learning about something new. I had been working on two book-length projects of text appropriation, and I knew that this student's novel approach to research would one day lead to some new project using material derived children's books.
Forty-four American Boys, a book of short biographies on the childhood of each American President (from Washington to Trump), is the product of a few dozen library visits over the last few years with my kids. While they browsed the stacks and played with the puzzles, puppets, games, and ancients computers in the children's room of our town library and libraries in a few surrounding towns, I typed sentences from presidential biographies for early readers and middle schoolers into my iPhone and later cut and pasted the material into Word docs for each President.
When I exhausted the presidential biographies in the children's rooms, I started looking into the books on our Presidents written for adults. I made frequent use of the "Look Inside" feature on Amazon to find more sentences and used Google's book search tool for key words in books that were either out of print or not viewable on Amazon. Project Gutenberg and the Internet Archive were also a great sources for presidential biographies published in the nineteenth century. Sometimes in bookstores, when I came across newly released presidential biographies, I snapped photos—again with my iPhone—of key pages in the chapters on their youths, and later transcribed lines from those photos. All told, lines and fragments from over 300 books on the American Presidents are sourced in the book.
Once I had about 1500 words on a given President, I would begin putting together narratives that brought them from birth through their college years. One of the things that interested me most was seeing how the reverential tones of the children's books played against the harsher editorial tones of more recent presidential tomes, particularly those about Nixon, Kennedy, and Clinton.
Early on in the process, I decided that I wouldn't use the names of any of the boys in the book who would grow up to be President of the United States. I wanted their stories to be both particular and universal to their times. For a while, I substituted their names with their administration numbers. But that was an annoying device, so I stuck with he, his, him, and himself.
In the run-up to the 2016 election, I researched chapters on both candidates. Based on all the polls and the results of the debates, I was fairly certain that the book was going to be called Forty-three American Boys and One Girl. I thought it was going to have a feel-good ending, with America electing its first female President. In fact, all of the cover art options reflected that projected result, and the review galleys the publisher sent out had a final chapter featuring the pronouns she, her, hers, and herself. But alas…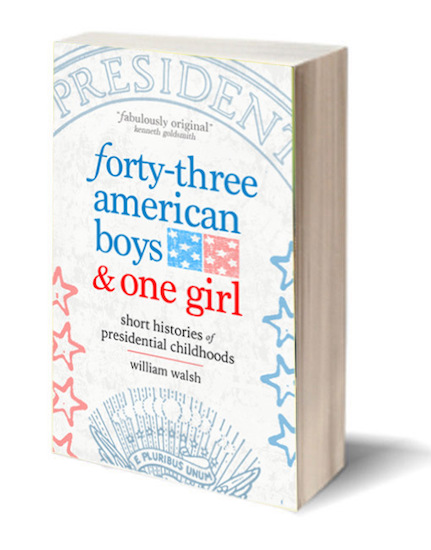 +++
William Walsh
is the author of
Questionstruck, Unknown Arts, Pathologies, Stephen King Stephen King, Ampersand, Mass.
(all from Keyhole Press), and
Without Wax: A Documentary Novel
(Casperian Books).