Research Notes · 04/04/2014
Every Kiss A War
Our Research Notes series invites authors to describe their research for a recent book, with "research" defined as broadly as they like. This week, Leesa Cross-Smith writes about Every Kiss A War from Mojave River Press.
+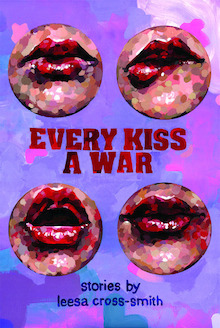 Be very comfortable in second person. Listen to "Crimson and Clover" on repeat. Whenever "Layla" comes on, turn it off because it's five hundred minutes long. Listen to "The Wild Hunt" by The Tallest Man on Earth. "Hold on, Hold on" by Neko Case, "If It's The Beaches" by The Avett Brothers, "Sugar on my Tongue" by Talking Heads. Listen to "Piano Man" on repeat. Listen to a lot of Liz Phair and Stevie Nicks and Nina Simone. Clap along to "Sinnerman" and drink mid-shelf champagne. Hold your baby and stare out into the rain while the police officer's funeral is on television. Picture Tim Riggins in his grey threadbare high school t-shirt, holding a brown baby that isn't his. Remember the skateboarder boys you kissed in high school. The one sticky-lipglossed-girl, too. Daydream about Jack Kerouac and houseboats and having beer for breakfast. Be the water holding up the house. Write take surfing lessons on your life list and never cross it out. Dye your hair Angela Chase-red and write about Jordan Catalano in your journal. Light Nag Champa. Drink a bottle of white wine from Trader Joe's and make tempeh Reubens with Russian dressing and listen to Bob Marley and Peter Tosh. Think of hippie commune names for babies (Camper, Avocado, Bright) and listen to "Cassidy" by Grateful Dead on repeat. "Scarlet Begonias" too. Try to think of different words for colors. Aren't all prayers blue? Go to Nashville and let it be your favorite place. Put your kids in the car in their pajamas to go find the sunset. Go to church and daydream about having coffee with Jesus. Holy wine. Listen to "A Case of You" while it rains against the windows. Make love — have tiny oranges and Maker's Mark mint juleps with sticky mint you grew in your backyard garden — make love again. Listen to August and Everything After. Get married in your pajamas. Buy your bearded husband a cowboy hat and a Carhartt jacket — watch him put it on and walk away. Look at his ass, listen to the jingly keys on the Jolly Rancher-colored carabiner clipped on his belt loop, the knife slipped into his pocket. Remember why you married him and remember it again. Get snowed in and get drunk and smoke. Kiss and fight. Organize your bookshelves by color and let someone see your ugly cry face. Admit you're lonely. Admit you're okay. Toast to whiskey & ribbons. Call your parents if you can. Look up when you hear fireworks. I let him kiss me because fireworks. Listen to Led Zeppelin and take your underwear off. Listen to John Prine and Iris DeMent. Drink red wine, cold. Buy cheap beer and sparklers. Wear a skirt and cowboy boots. Kiss in an empty baseball park at midnight. Go to a skee ball tournament and drink cherry cola. Listen. Really listen. Read e.e. cummings and Nikki Giovanni and sigh. Listen to Muddy Waters and Miranda Lambert and Will Oldham in the kitchen. Kitchen music. Make extra-spicy gin Bloody Marys and tell him something you've never told anyone. Let someone love you — really love you — step out of the shade and let the hot, hot sun of that love warm your face. Confess and bless. Believe. Grow out your armpit hair. Tell him to put his hand between your legs. Put your wild heart between his teeth. Let your smeary mouth be his question mark. Listen to "Wild Heart" and listen to Heart and put on eyeliner at night so it'll be all black and smudgy in the morning. Cut off all of your hair and feed your babies and stare off and freak yourself out thinking about eternity. Roll the windows down, blast classic rock and RUN-DMC. Let the southern-summer-sweet wind wash over you. Selah.
+++
Leesa Cross-Smith is a homemaker living and writing in Kentucky.
Every Kiss a War
(Mojave River Press, 2014) is her debut short story collection. Her work has appeared in places like
Carve Magazine, SmokeLong Quarterly, Little Fiction, Midwestern Gothic
and
Word Riot
, among others. She and her husband run a literary magazine called
WhiskeyPaper
. Find more at
LeesaCrossSmith.com
.