Research Notes · 08/07/2020
Cher Ami and Major Whittlesey
Our Research Notes series invites authors to describe their process for a recent book, with "research" defined as broadly as they like. This week, Kathleen Rooney writes about Cher Ami and Major Whittlesey from Penguin Books.
+
On the Unexpected Joy of Being Told to "Look It Up"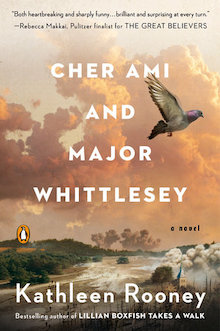 World War I has always saddened and fascinated me with its colossal scale and the destruction it wrought, and the way it opened the door to the subsequent horrors of the twentieth century. But my inspiration for my latest novel, Cher Ami and Major Whittlesey, based on a true story of WWI, came from an unexpected place.
I teach a class at DePaul University called "Drift and Dream: Writer as Urban Walker." Back in 2013, one of the students in that workshop, Brian Micic, turned in a poem about an elderly man sitting on a city park bench that contained an almost throwaway line about pigeons: "This was no Cher Ami story. (Look it up!)" I appreciated the good-natured ribbing — I am forever reminding my students to look things up because looking things up is one of the best ways to learn. So look it up I did.
What I found astonished me — despite my years of reading books and watching films about the Great War, I had never heard of this bird, nor had I heard anything at all about the Lost Battalion, the nickname of the group of American soldiers she helped to save from a friendly fire incident in France's Meuse-Argonne Forest in October of 1918. I also knew nothing whatsoever of that group of men's commander, Charles Whittlesey, a person who gave his all not only in that ordeal but also in his civilian life upon returning to the States.
The size of their bravery in life and the depth of their forgottenness in death made me realize that I needed to tell their stories. Perhaps the most profound moment in my research happened very early on, in 2014, when I went to see Cher Ami in the Smithsonian Institution in Washington, DC. I was stunned by how small and smart she looked, even stuffed, and I kept her picture as the wallpaper on my computer as I wrote.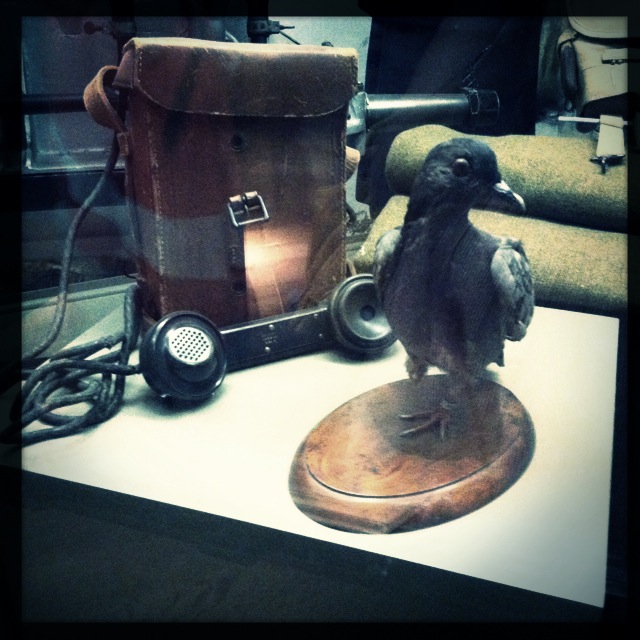 +
Cher Ami really was one of the many highly decorated homing pigeons to be deployed by the United States Armed Forces during World War I, thanks to these birds' reliability and accuracy in relaying information from the front lines to the rear. She really did receive grievous wounds while carrying the message that saved Charles Whittlesey's Lost Battalion. And she really did manage to live on for a few months after that, stitched up by army medics and using a tiny wooden leg. Taxidermied after her death in honor of her high level of service, her body really does remain on exhibit at the Smithsonian in their "Price of Freedom" exhibit.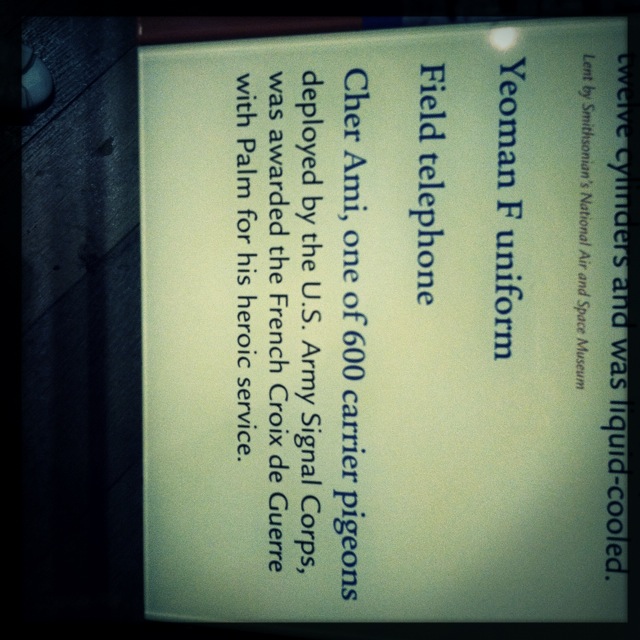 +
And to my chagrin, she really is mis-identified as a male bird, when, in actuality, she was a female. The physical experience of seeing the specifics of Brian's tossed-off reference in real life was immensely inspiring, and I incorporated the Smithsonian setting, the gender confusion, and even Cher Ami's display companion, Sgt. Stubby, a beloved and decorated WWI dog, in the novel.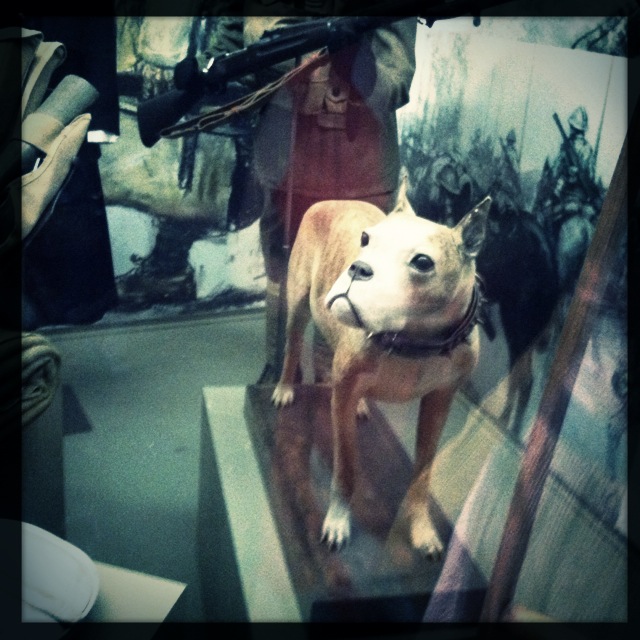 +
Though he is not mentioned at all in the Smithsonian — their WWI holdings are miniscule in comparison to their WWII material — Charles Whittlesey, the courageous and compassionate commanding officer of the Lost Battalion, really did receive the Medal of Honor for his leadership during that harrowing incident. Sadly, upon his return to the States, he really was unable to adjust to the demands of serving as a high-profile war hero. Though I didn't learn about him at the Smithsonian, that initial visit to the museum was key in kicking off my library and book-based research, as well as my subsequent visit to the National World War I Museum in Kansas City, Missouri later on in the process.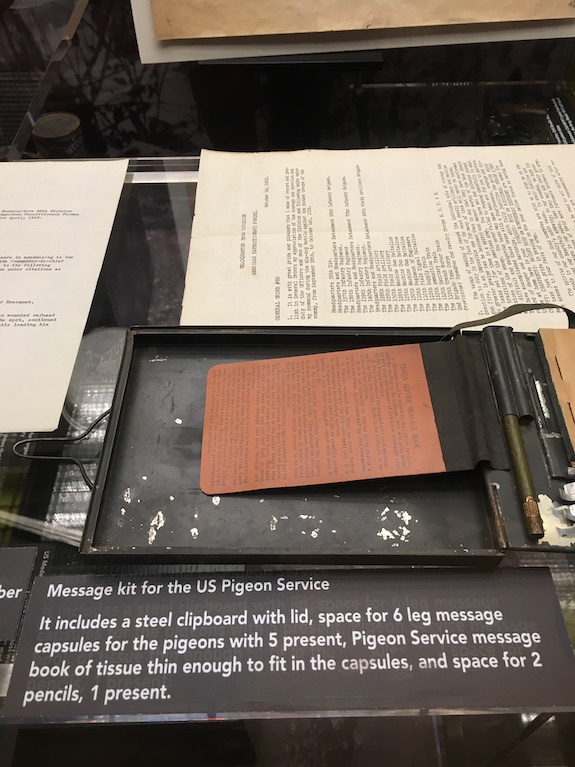 +
As I write this set of Research Notes, the United States are sadly — due to appallingly poor leadership — in the grip of the Covid-19 pandemic, and visits to museums are unwise in terms of public health. But after we get to the other side of this crisis, I encourage everyone interested to learn more about this once famous and now largely unsung episode in American history, perhaps by visiting the Smithsonian and the WWI Museum. In the meantime, I couldn't have written my book without reading the following books, and these should be accessible to any homebound look-it-uppers even now:
Cher Ami: The Story of a Carrier Pigeon by Marion Benedict Cothren (Boston: Little, Brown, and Company, 1934)
Finding the Lost Battalion: Beyond the Rumors, Myths and Legends of America's Famous WW1 Epic by Robert Laplander (Waterford, WI: Lulu Press, 2006)
Five Days in October: The Lost Battalion of World War I by Robert H. Ferrell (Columbia, MO: University of Missouri Press, 2005)
History and Rhymes of the Lost Battalion by Lee Charles McCollum (Chicago: Buckley Publishing Company, 1919)
History of the 308th Infantry: 1917–1919 by Louis Wardlaw Miles (New York: G.B. Putnam's Sons, 1927)
The Lost Battalion: A Private's Story by John W. Nell (San Antonio, TX: Historical Publishing Network, 2001)
Last but not least, unrelated to World War I, but very much related to Cher Ami, I recommend The Pigeon by Wendell Mitchell Levi, published by the R. L. Bryan Company in 1941, for being a marvelous compendium of pigeons and all the remarkable things that they — like humans — can sometimes be capable of.
+++
Kathleen Rooney
is a founding editor of
Rose Metal Press
, a nonprofit publisher of literary work in hybrid genres, as well as a founding member of
Poems While You Wait
, a collective of poets and their typewriters who compose commissioned poems on demand. Her most recent books include the novel
Lillian Boxfish Takes a Walk
(St. Martin's Press, 2017) and
The Listening Room: A Novel of Georgette and Loulou Magritte
(Spork Press, 2018). Her reviews and criticism appear in the
Chicago Tribune, the New York Times, the Los Angeles Review of Books,
and
Chicago
magazine, and her World War I novel
Cher Ami and Major Whittlesey
has just been released by Penguin.