Research Notes · 05/02/2014
Bellweather Rhapsody
Our Research Notes series invites authors to describe their research for a recent book, with "research" defined as broadly as they like. This week, Kate Racculia writes about Bellweather Rhapsody from Houghton Mifflin Harcourt.
+
Write What You Remember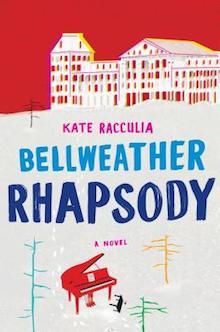 It's 1997. I am seventeen.
It's the November of my senior year, and I am at the New York State School Music Association — that's NYSSMA, to the uninitiated — annual All-State Conference, held in the crumbling Concord resort hotel on Kiamesha Lake. I have not yet seen The Shining but I have seen the Treehouse of Horror parody, so I know I have checked into one hell of a haunted hotel. The hallways are dim and the carpets and curtains are the color of dried blood, and there are many corridors that lead places no one seems to go. I am a bassoonist, and I've been selected to play in the All-State conference band. I'm one of many bassoons in the concert band and am, as such, redundant. I'm also the only student to attend from my district, so I haven't spoken to anyone since arriving. The postcards at the check-in desk show the fitness facilities and a class of middle-aged women aerobicizing. I've eaten nothing but croissants and Sprite and I'm a shy seventeen-year-old bassoonist alone in her room on a Friday night.
I've brought a copy of Hamlet that once belonged to my grandfather, that I think he picked up in Scotland during World War II. He has been dead for five years. I've never read Hamlet, and I don't remember much about this first time other than a marginal note penciled in my grandfather's hand: in Ophelia's final song, he has appended her h_ey nonny nonny_ with "and a ha-cha-cha."
My grandfather's ghost is the only one in the Concord that makes me feel less alone.
+
It is 1993. I am thirteen.
I'm watching Heathers for the first time. On cable, so the worst of the cursing has been bleeped. But the worst of the crime — the poisoning and shootings and would-be bombings, the cow-tipping and date-raping and social manipulation — is entirely intact. It electrifies me. I go to a junior-senior high school, so seventh grade may as well be ninth, and no movie has ever spoken to me so frankly about how absurd and violent high school actually feels. Every joke is a quotable knife — Are we going to prom or to hell? I want to kill, and you have to believe it's for more than just selfish reasons. [Bleep] me gently with a chainsaw! Winona Ryder, hero to smart weird girls everywhere, plays the smart and weird Veronica Sawyer, whose only recourse in this world is to become a killer. With her psychopath boyfriend Christian "JD" Slater, she lures reprehensible a-hole jocks Kurt and Ram to the woods behind the school. JD has told Winona that his plan is merely a prank: they're shooting Kurt and Ram with tranquilizers and dressing the scene to look like a repressed homosexual suicide pact. JD shoots Ram. Winona fires and misses Kurt, who runs. "It was worth it to see the look on his face," she tells JD, who isn't laughing. He chases Kurt back into the clearing where Winona waits with her gun. When she raises to fire, she knows she's killing him. She may say she still believes that it's a prank, but she's lying, and when she shoots him, she's saving her own skin. My hero wants to kill for selfish reasons.
The world becomes much larger and much grayer.
+
It's 1991. I am eleven.
I'm lying on my stomach on the couch in the family room, reading Ellen Raskin's mystery novel The Westing Game for the first time. It's the trial scene, where the young Turtle Wexler interrogates each of the sixteen heirs named in Sam Westing's bizarre will in her final push to solve his murder. When Sydelle Pulaski hauls herself up on her crutches and blows into her pitch pipe, preparing to sing "America the Beautiful," I understand. I run to the kitchen for a pen and paper, and I solve the puzzle — a missing-word puzzle — at the same time that Turtle and the heirs do. True, it's only half of the solution; Turtle wins the windfall without my help. But this book has managed something altogether magical: it has reached into my world at the exact moment I reached into it.
Within a year I will read my first Agatha Christie, And Then There Were None. I will become obsessed with the death of cold governess Vera Claythorne, the tenth and last to die on an empty island, guilted into committing her own murder. I'll make an unwieldy mobile for a class project. Complicit murderers and murder weapons — a stone bear clock, an axe, a syringe, a noose — will dangle in the breeze at the back of my sixth grade classroom.
I am lost forever to books built of multiple characters and multiple mysteries.
+
It's 2012. I am thirty-two.
My friend Jason's father Ron is unlocking the door to his gun club in Plymouth. The club is closed; it's Mother's Day. I don't particularly like guns, but I am morbidly curious about them. More than that, I'm a believer in conducting experiential novel research: in physically doing what I will ask my characters to do, visiting a real place they might go, so that by the time I sit down to write about it, I'm spinning a story out of a haze of personal memory rather than facts abstractly learned. I like to think of it as stacking my subconscious deck. It's the truest way I know how to write, to create an unbroken dream; it's the best way to collect and internalize the tiny details you might never have imagined otherwise. And if I don't have a pre-existing memory to write from, I make one.
Thus far, my experiential research for the novel I'm writing has included a conversation about the coolest motorcycle brands with my best friend's father, Steve, who long ago took me for a motorcycle ride through rural western New York; attendance at several performances of the Boston Symphony Orchestra; and one visit to a rehearsal of the Boston Youth Symphony Orchestra. And this trip, with Jason and his dad, to shoot the hell out of things on Mother's Day.
There's a jackalope mounted on the wall of the gun club. The room is brown and orange, and smells old but familiar, like the back den in your grandparents' house. The firing range is gray, chilly. The headphones remind me of the ones my own father would place over my four-year old ears before plugging the jack into the stereo, but instead of Earth, Wind and Fire I hear muffled explosions. I fire Ron's automatic pistol first. It's almost too easy, like a toy. Ron has borrowed a .38 from a friend, and when I fire it I know it's the gun my character will use.
Once you fire a .38, you don't forget it.
+
Bellweather Rhapsody is a novel about who and what haunts me. The songs I've played that I can't forget and the stories that have changed me. About music and ghosts, complicity and violence, guilt and murder. About being a part of a larger mystery, a single clue in a swarm.
I researched it for twenty-two years.
+++
Kate Racculia
grew up in Syracuse, New York, where she played bassoon in her high school band. She received her
MFA
from Emerson and is also the author of
This Must Be the Place
. You can find her at
www.kateracculia.com
or
@kateracculia
.