Research Notes · 05/30/2014
All the Happiness You Deserve
Our Research Notes series invites authors to describe their research for a recent book, with "research" defined as broadly as they like. This week, Michael Piafsky writes about All the Happiness You Deserve from Prospect Park Books.
+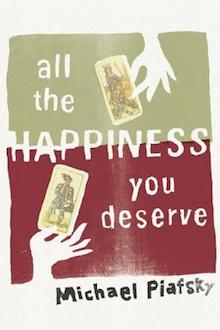 My novel, All the Happiness You Deserve, spans a man's life, from an early childhood in 1950s Missouri through late-middle age. The novel is structured using the 78 cards of the Tarot deck, with each of the cards serving as the basis for a chapter of the novel. So in my case, research played two (often-intertwined) roles in the novel — by helping to provide details about the various chronological and geographical realities of my protagonist's world, and by teaching me about the Tarot cards that serve as the scaffold for the novel's shape.
My historical research tended to be relatively simple and, like so much else today, Internet-based. I've recently gotten into the habit of reading collections of oral baseball history and one of the most noteworthy things about those narratives is how players recounting times before the Macmillan Baseball Encyclopedia was released in 1969 were almost completely unbound by facts, free to say anything they wished under the guise of their expertise. Players from 1970 through 1990 were more restricted but still relatively free since refuting their claims would have required a large and expensive book. But players from 1990 onward are bound to the truth. They can no longer laud imaginary successes and redeem failures whole-cloth. So the Internet has become a double-edged sword. That it makes research so accessible to novelists is a gift, that it makes fact-checking our fictions so much easier, is not.
I've lived in big Northeastern cities and small Midwestern towns and my family is from the Pacific Northwest so writing in a way that made the locations feel authentic presented few challenges. But even still, there were any number of placeholder details I'd throw in during conception, meaning to fix everything in revision, and somewhere over the ten years between first draft and publication, tons of these niggling anachronisms threatened to slip through the cracks. One of the book's middle scenes, for example, describes a trip to a park in upper Manhattan in the mid-1980s. This location had to be transplanted in page proofs when one of my publishers pointed out that she lived in the area during that timeframe and no sane father was taking his young daughter anywhere near that park. Luckily, she suggested Fort Tryon Park and so a catastrophe was averted. This fix was easy but, because of the intricate relationship between the chapters, other tweaks proved thornier.
The basic logistics of my character's life (birth, marriage, fatherhood) were unchangeable. This meant that small, seemingly insignificant changes to one paragraph produced disastrous ripple effects twenty chapters and thirty years later. Early on, I moved the protagonist's birthdate back eighteen months, which was no problem until 60 chapters later someone made a joke about Monica Lewinsky two years before anyone had heard of her. Luckily, sex scandals abound and I could adapt the Tailhook scandal to suit my purpose.
Because the novel took so long to complete, the gap between conception and publication occasionally altered things in surprising ways, like when I wrote an offhand reference to Frost's interview with Nixon. This was designed to induce a tiny jolt of nostalgia but became a namedropped cliché when an Oscar-nominated movie was released two years after the passage was written.
In terms of researching the Tarot, I did what any novice would do — I went to Barnes and Noble and bought out their sale rack. And then I read a dozen books about the Tarot — its history, the meaning behind the cards, even how-to books for aspiring fortune tellers. What became apparently early on was that there was almost no consensus between these books — one authority would blithely ascribe wealth and good fortune to a card that augured financial set-back to someone else. Even those cards we laypeople think we recognize (Death, The Wheel of Fortune) presented contrary implications to different experts. And, of course, nothing could have made me happier. It meant I was free to pick and choose as I pleased, plucking my favorite interpretation of The Five of Wands, building off the feeling engendered by a curve of a woman's shoulder in Strength, and even playing with the reader's expectations of what we think is implied by The Tower. When I needed a list of spreads (the number and order of cards in a reading, and the binding agent for my chapters), I simply consulted my texts and chose whatever sounded grandest. And once, when nothing struck my fancy, I created my own. The mysteries of the Tarot provided me the license I needed to use its cards impressionistically, to simulate authority without getting bogged down in mechanics.
The two facets of my research were quite different, yet both inspired me creatively — the historical information provided an accurate stage for my characters' actions, and the tarological offered a daily wealth of inspirational pictures and phrases and philosophies to trigger my imagination. And indeed, perhaps that's what research really is: a common landscape for readers and writers to explore their shared imagination.
+++
Michael Piafsky is an associate professor and the director of creative writing at Spring Hill College in Alabama. The Montreal native earned an MA in creative writing from Johns Hopkins University and a PhD from the University of Missouri. A former editor of the Missouri Review, Piafsky has published fiction and nonfiction in journals such as Meridian, Epic, and Bar Stories, among others, and an excerpt from All the Happiness You Deserve, his first novel, was published by the Jabberwock Review and nominated for a Pushcart Prize.