Research Notes · 06/28/2013
All We Want is Everything
Our Research Notes series invites authors to describe their research for a recent book, with "research" defined as broadly as they like. This week, Andrew Sullivan writes about All We Want is Everything (Arbeiter Ring).
+
Recipes for research behind All We Want is Everything.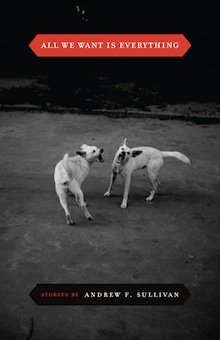 Good King
Start with a bottling. Add some Flintstones vitamins. Dwayne 'Pearl' Washington is a must—do not skimp when it comes to basketball icons. Miami Heat in its debut season will teach you about failure. Mix until every day is Christmas. Smash all the model planes under your bed. It will be ready when all you smell is gin. Forget to take your lithium.
+
Crows Eat Well
Running and meth make more sense together than apart. Do not separate them. All of Ontario's prisons lead back to Kingston. Sunflowers, dead corn and crows provide the hearty base. Sprinkle heavily with public bathroom soap, broken hands and stepfathers lurking outside your bedroom window.
+
Pumpkinheads
Factories form the foundation. Shave off fingers, tattoos, entire hands from the workforce. Do not abandon them, but save them for later. Month-old flowers, safety helmets and the works of Isaac Asimov will usually take the place of a garnish. Keep your hands out of the garbage disposal.
+
The Magician Rides Again
Puke up all the McDonald's fries you can handle, but make sure they are white. Lace with failed jockeys, small town race tracks and a man who once tried to eat a pigeon. Keep cold at all times. Remind everyone Charles Bronson was in Death Wish. This is only available as a carry out option.
+
In a Car in a River outside Peoria, Illinois
Drown a preacher in Midwestern fresh water. Soak for at least six pages. Do not drain. Provide fish, billboards and rabbit-punching fathers on the side. The car should be red, but yellow will do in a pinch. Bloody clothes attached to the undercarriage should be considered an option for experts.
+
Douse everything in a fine white powder. Spray with water. Play a lot of Jimmy Buffett to enhance the mood. Simmer in motor oil and starling feathers. Let soak for two weeks in a garbage bag before pouring into father's motorcycle helmet. Do not sip—learn to swallow the consequences.
+
God Is a Place
Twinkies will outlast everything and everyone. They are your core. Do your best to stock up on Neutral Milk Hotel while ignoring the fan base. This applies to most things you will enjoy in life. Focus on the cold and do not remove the baby until everything is frozen solid. Serves one.
+
Self-cleaning Oven
Take a bad joke and chop it into little pieces. Scatter it over a desert and wait for something to grow. Whatever you find in the waffle house sink should work if nothing sprouts. Douse it in syrup and eat it out of a hot tub with only your hands. Do not wash your hands. Bury the leftovers in a grave or leave them stranded in the parking lot. Don't tell anyone.
+
A Bird in the Hand Is Worthless
Make sure the TV is a Panasonic and that you have three hours to melt it down. Find all the tapes recorded inside a strip club and spool out every image until the pot is full. Stir it with a broken arm and a cast covered in your own signature until it is black and blue. Brad Paisley will provide the ambience. Best enjoyed in California by people who have never been there.
+
Hatchetman
Three parts Faygo and one part Johnny Cash. Wasps drowned in beer bottles work as accoutrement. Fresh ink drips best from a young body and homemade tattoos look better in the dark. Remember some people are buried in Styrofoam, but don't tell anyone you know what dirt tastes like. Let them find out for themselves and don't try to quench their thirst.
+
The Lesser Half of Sir John A. Macdonald
Take a bag of Sun Chips and shatter them. Use them as batter with eggs and pig bristles. Make an atlas from your body parts and shake off all the loose skin you can. Sleep on a bench for a week before attempting to explain this to anyone. Pharmacies will provide you with the necessary ingredients for a good time, but they don't take returns on what you've swallowed.
+
Wrestling with Jacob
Bible pages are thin enough to form a crust that will crumble easily on tongues or pavement. Keep the lights off. Baseball and Russia are about failure and so is baking if you think too long, if you try to connect too many dots. Everyone's name is in the Bible, but that does not mean they all taste the same. Dismantle your cellphone and make sure it dissolves completely.
+
Thaw
A stripper pole like a spire stretching up out of the ruins will overpower any sense. This is how you begin, but you must find enough benign tumors to disguise the taste of flesh. Redress wounds and pour gin inside any gash until it all burbles out in pink foam. Scrape this away and serve it in a champagne glass in the back of a police car. Wait until spring for the timer to go off.
+
Towers
Couches, pop cans, dogs, coyotes, bicycles, bookcases, cordless phones and one teenager must all tumble down into the pit. Surround it with four crumbling towers you can hold in your hands, but do not let them fall in yet. The smell of chicken feed and the inside of a belly button will be required before you dip a hand down into that stew below and pull out a morsel of meaning. It will dissolve in the light.
+
Mutations
Postcards of Chernobyl usually make a meal on their own, but algae provides a better counterpoint. Divorce and separation are not the same, but can you tell the taste apart? Divide and conquer the neighbourhood with rumors you can reuse for breakfast. Make sure you watch enough monster movies to understand that no one will notice the strings. Focus on the leftovers you will have to deal with in the morning.
+
Suction
Segment your vacuum into functional parts. Drunk driving is not necessary, but encouraged. Hungarian delis will have the best salami. Do not assume everyone knows how to make scrambled eggs—you might have to do that part yourself. All these elements will collide on the tongue, but that does not mean you should skimp on presentation. Make sure the vacuum remains a centrepiece.
+
Simcoe Furriers
Bingo cards and dead animals have more in common than you would like to admit. Try to make a sandwich with a lion from a gangster while slathering the whole thing in bingo dabber. Try to make a rug out of a dead father and remember everything is edible if you close your eyes. Put your head inside the lion's mouth and wait for further instructions. Keep waiting. Someone will find you.
+
The Week Football Stopped
There is an oil stain on the driveway. You can do whatever you like with it, but make sure it is oil. Not brake fluid. Football and Jim Brown are building blocks, but the most significant addition will be Robocop and a metal leg. If a raccoon gets trapped in the Christmas lights and dies during the winter, throw that in the pot too. Don't stir anything. Let it stick to the sides.
+
SATIN LIVES!
If you have never boiled a rabbit's head before, this is where you learn. Find five of them. Make sure someone has drawn a pentagram on a nearby elementary school before you start. Cover all the windows in plywood and don't let anyone inside. The smell might overpower any sense of family you might have and it will be hard to explain the mess left behind. Not for dinner parties.
+
Kingston Road
Take a calf drowned in a pond under the ice. Let it linger for a few days before scooping out the filters of motel pools and placing their contents on the pile in your rented room. Grab a few marijuana plants growing above the ceiling tiles and grind them into powder. Find a baby wandering the hall at 4 AM and don't ask any questions. Don't even try to swallow this one. Just run.
+++
Andrew F. Sullivan is from Oshawa, Ontario, and graduated from the University of Toronto. He has worked in a liquor warehouse and a video game store, and is the associate fiction editor for The Puritan. Andrew's writing has been been published in a number of literary journals, including Grain, Joyland, and Little Fiction. All We Want is Everything is his first book.