Translation Notes · 03/28/2014
A Fairy Tale
Our Translation Notes series invites literary translators to describe the process of bringing a recent book of fiction into English. In this installment, Charlotte Barslund writes about translating A Fairy Tale by Jonas T. Bengtsson (Other Press).
+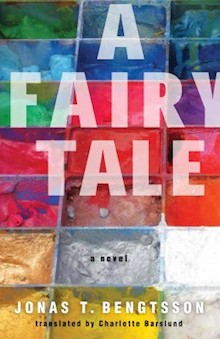 Despite its title, A Fairy Tale is a novel for adults, but told in the first person by a narrator who is six years old when the book begins. The boy lives a nomadic existence with his father, whom he adores. When they hear on the radio that the Swedish Prime Minister, Oluf Palme, has been assassinated, the father tells the boy it is time for them to move again, using a fairy tale in which they are a king and a prince escaping from an evil white queen to explain their itinerant lives to the boy.
The fairy tale model means that the book lends itself easily to translation since fairy tales and folktales are common in most cultures. Such stories have a cast of stock characters and a narrative structure familiar to many readers. We expect our protagonist to face adversity before achieving the happy-ever-after ending. The Danish author, Jonas T. Bengtsson, does indeed employ various fairy tale devices and makes both overt and covert references to several well-known fairy tales in the book. There is a troll like boss and an old woman who lives in a mysterious house in the middle of the forest who may or may not be a witch. The magic element of this book is further emphasized by the nameless places and towns the boy and his father pass through, and sometimes live in. We are also never told the names of the father and his son, but we surmise that for some reason they need to conceal their identities. One might think therefore that the book isn't culturally specific or indeed specifically Danish. The absence of place names avoids the problem of buildings or towns well known to readers in the book's original language, but unknown and devoid of meaning to readers of the book in translation. But the book is rooted in Danish culture, as seen through the boy's eyes. The food they eat, the Christmas traditions they observe, and the branded sweets are all Danish.
The fairy tale comes to a brutal halt when the boy is separated from his father at nine years old and sent to live with his estranged mother. At this point the story becomes much more concrete. It is made clear that we are in Copenhagen through references to streets and buildings which any Danish reader can easily picture in their minds. I'm thinking of, for example, Hovedbanegaarden, Copenhagen's iconic redbrick and wooden central railway station. Here, the translation challenge was how to convey such familiar locations and buildings to the non-Scandinavian reader. I was helped by the fact that cities often have run down areas surrounding large railway stations with bars, prostitutes, insalubrious hotels, take aways, newsstands, and discarded cigarette butts on the pavement.
And yet, the fairy tale element returns. In the novel there is a reference to Karlsson På Taket (Karlsson on the Roof) — a children's story by Astrid Lindgren that, although unknown in many countries, is very familiar to Scandinavian and Russian readers. Late in A Fairy Tale, a character of the same name lives on the roof of an apartment block. There is no direct reference to Lindgren's book in the Danish version, as it would not be necessary, but I decided to slip in an explanatory sentence as this character features heavily in the second half of the story, and I didn't want the fairy tale reference to be missed.
Perhaps the most difficult task was translating the child narrator. As I mentioned above, the boy is six years old when the book begins and his thoughts and words have to be interesting enough to hold the attention of an adult reader for many pages, while ensuring that the character remains convincing as a child. His language has to be appropriate for a child, but still convey complexity and ambiguity to the reader. The reader may see the world through the boy's eyes, but draw a different conclusion as a result of their adult life experience. We, as readers, have to decide for ourselves how reliable of a narrator a child is. Part of the book's dramatic tension derives from the boy's observations and our reaction to them, especially when we begin to realize much earlier than the boy does that this fairy tale is unlikely to have a happy ending.
Additionally, over the course of the novel the boy ages from six years old to nineteen. He is home-schooled by his highly educated father and his language therefore becomes much more varied and complex than the kind we would expect from a child. It was a challenge to be mindful of this development and create a trajectory for the boy's language from childhood to adulthood.
But despite these difficulties, I found that A Fairy Tale lends itself to translation and I believe that it can be successfully translated into numerous languages. Like any good fairy tale, it tells a story which is at once simple and complex.
+++
Jonas T. Bengtsson has published two previous novels: his 2005 literary debut, Amina's Letters, winner of the Danish Debutant Award and BG Bank First Book Award; and Submarino, the film adaptation of which took the 2010 Nordic Council Film Prize. He has also received the P.O. Enquist Literary Prize and was nominated for the Weekendavisens Literature Prize. He lives in Copenhagen.

Charlotte Barslund was born in Denmark and has lived in the UK since 1984. She has translated novels by Peter Adolphsen, Karin Fossum, Per Petterson, Carsten Jensen, Sissel-Jo Gazan, Thomas Enger, and Mikkel Birkegaard, as well as a wide range of classic and contemporary plays.