Book Reviews · 12/16/2013
You Only Get Letters from Jail
by Jodi Angel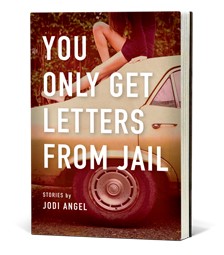 Tin House Books, 2013
The concept of cross gender narration isn't exactly innovative these days, yet when a writer manages to capture something unique in the portrayal of the inner workings of the opposite sex, it's cause enough to pay attention. Jodi Angel's latest collection of stories, You Only Get Letters from Jail, is just the sort of work that demands such attention. Presenting eleven first-person perspectives of mostly teenage boys from lower-middle class backgrounds, Angel deftly moves into the persona of young men seeking to break out of the boundaries that, at this point in their lives, have limited how they are able to identify themselves. These young men seek out relationships with females their own age and older, experiment with drugs, test their limits with friends and family, and—like almost all young American males—covet the best set of wheels possible.
To say that Angel captures the rebellious, independent, and oft-misguided spirit of elder teenagers and early-twenty-something males with a precision and an aplomb rarely seen in fiction of any kind, regardless of the author's sex, might seem dubious, but the stories making up Angel's second collection corroborate such lofty praise; however, the success of these stories doesn't simply stem from Angel's decision to write from the point of view of the opposite sex. You Only Get Letters from Jail contains first rate fiction, crackling with conflict, high stakes, and drama; it's a joy to read and definitely one of the year's best.
"A Good Deuce" exemplifies much of what You Only Get Letters from Jail offers in terms of voice and tone, and as the collection's first story, establishes a distinct feel that extends throughout. Roy, the narrator, has just lost his mother, her death not even twenty-four hours old, and he bides his time hanging around the house with his friend, Phillip, who suggests they drive to a bar he knows that doesn't card. It's a chance for Roy to escape the situation he's in, one complicated by his grandmother's insistence that he join the army now that his only present guardian has passed away. The chance to escape and the promise of drowning his sorrows appeals to Roy, an aimless seventeen-year-old who sees no real future for himself and who bemoans that it was his sister, rather than he, who discovered their mother:
It was Christy who found her, and I wished it had been me—not because I wanted to spare Christy the sight of what she'd seen, but because for the rest of Christy's life she could fuck up or give up or not show up, and nobody would hold it against her because, Jesus Christ, you know her mother died, and she was the one who found the body. Christy had a free ticket to minimum… No one was ever going to keep some slack in my rope. The one who comes in second is the one who is supposed to spend the rest of his life cleaning up the mess.
It's such a dire outlook, wonderfully captured and voiced by Angel, and one that reappears in many of the narrators populating the collection. Already having an absent father, Roy knows of the difficulties that can occur in life, but with the death of his mother and the impending threat of the army, Roy's only just begun to experience what real hurt and change can do to a person.
As the story concludes, Roy finds himself in many ways retreating to reminders of his past and a replacement for what he's lost. At the bar, he and Phillip meet a pair of older girls, and after drinking beer and listening to the Eagles on the jukebox, Roy and Candy head to the car. Rather than torrid, parking lot sex, however, Angel provides a tender moment as Roy seems to find something akin to a motherly bond in the strangest of places:
When I was undressed, she unbuttoned her shirt and pulled me to her and wrapped the open sides of the shirt around me, and she edged down against the door so that we were both lying across the seat and I wasn't so much against her as settled into her, pressed in below her surface.
Readers see Roy, "wrapped" up and "pressed in" to a welcoming body, seemingly more comfortable being acted on than acting himself.
Such complicating enticements are found throughout You Only Get Letters from Jail. In the collection's shortest piece, "Gap," the narrator, Wesley, and his pudgy best friend Bobby—"the worst kind of fat, a deceitful soft, like a cucumber that has been left in the refrigerator drawer too long and looks okay until you grab it and your fingers punch right through it"—sit in Bobby's room, monitoring their budding marijuana plants and thumbing through old Playboys. The boys are young enough to lust after the models inside the magazines and to talk as if they believe in their skill to please such women, but when a door opens—literally—to provide Wesley the chance to begin stepping out of adolescence, he wavers. In search of cigarettes, he happens upon a door cracked open and a view into the bedroom belonging to his best friend's mother, who is naked. It's at this moment Wesley has a choice. If he truly believes in the boastful talk he and Bobby shared minutes earlier, he will choose to step away from the feeling of disappearing into the door and hold his glare; otherwise, he will seek to further vanish, thus contradicting the bravado he exhibited in Bobby's bedroom. The story ends with Wesley resolving this dilemma, and Angel captures the moment with style and assurance.
As she does in all the stories in You Only Get Letters from Jail, Angel manages the scene of a young man ushered between adolescence and adulthood honestly and authentically, detailing the awkwardness and tentativeness—not to mention the oftentimes defiant nature—of undergoing such a transition. It's a defining moment in a boy's life she's depicting, and if there's criticism to be made, it's that since Angel seems intent on portraying such a distinct group of young men, the voices and characteristics of her narrators—not to mention their decision-making process—might seem to blend into one another. But such a view seems misguided, particularly when examining the ways Angel folds her narrator's stories into a much broader world, one beyond a world dominated by the simple fantasies of young men.
Perhaps the best example of this comes in "The Last Mile," which might be one of the most impressive stories found in the collection. Here, a young couple—Tyler and Leeanne—start out much like the beginning of a Springsteen song: she's fifteen and pregnant; he's the product of a broken home and feeling the pressures of her father, who, even unaware of his daughter's pregnancy, still wants Tyler to disappear. For Tyler, it's a life he's seemingly fallen into, one his mother has no trouble connecting to Tyler's father and his mistakes:
My mother said that my father had crossed a line. That there are some lines that cannot be crossed and once they are, nothing is ever the same inside a person or out. She told me that someday I would cross that line, too, because it was unavoidable, genetic, a part of my blood …
It doesn't take Tyler long to find that line and begin to cross it, sweeping Leeanne away from her father and leading both of them away from home. Car problems force them to find a place to live in an unfamiliar town, where Tyler starts work alongside Chuck, an older mechanic. As it turns out, Chuck and his wife, Vivian, have lost a son to a car accident, and Tyler and Leeanne would seem to be ideal substitute children for the older couple if not for Leeanne's anxiety over the kindhearted strangers and Chuck and Vivian's overly enthusiastic reaction to the two youngsters.
But one evening, Chuck and Vivian invite Tyler and Leeanne out for dinner and dancing, and as Vivian leads Tyler, by now a little tipsy, out onto the dance floor, she delicately tries to tease out information about Leeanne, including her age, which Tyler wishes to remain a secret. The scene hinges on Vivian's movements, and despite a subtle sexual tension that might appear to Tyler, she's completely motherly in the moment, suggesting to Tyler that he ought to do what's best for his pregnant girlfriend, no matter her age. In response, he notes:
Part of me wanted to give in to her arms, drop my shoulders, and rest my head against her chest so she could hold me until all of the weight lifted and the lies evaporated from my skin like sweat. 'I love her,' I said.
And yet Tyler stands tall throughout, never yielding to his adolescent impulses. His eventual decision, much more adult-like than what other narrators in You Only Get Letters from Jail must face, suggests the potential for a kind of growth that isn't always accepted by the rest of Angel's protagonists. And yet the story doesn't end here; after all, "The Last Mile" is as much Tyler and Leeanne's story as it is Chuck and Vivian's story, and as the story winds to its end, Angel allows readers to recognize that while her young male narrators might appear conflicted by their situations, those situations don't always resolve themselves in youth. The troubles facing these teenagers are one thing, but if they pay just a little attention to the other couple in the car, they'll see that their looming difficulties will surely not be their last.
Only her second book, You Only Get Letters from Jail suggests that Jodi Angel is poised to become one of contemporary fiction's most enthralling chroniclers of adolescence and the bumpy ride into adulthood. When the teacher of one of her narrators says that he and Holden Caulfield are "two peas in a pod," the teacher might as well be speaking for just about any one of Angel's narrators, yet the stories here contain more grit and more dirt than anything in Salinger's canon. Make no mistake, Angel's voice and perspective is admiringly unique and one all readers should hope to hear more of in the future.
+++
Jodi Angel's first collection of short stories, The History of Vegas, was published in 2005 and was named as a San Francisco Chronicle Best Book of 2005 as well as an LA Times Book Review Discovery. Her work has appeared in Tin House, Zoetrope: All-Story, One Story, Byliner and the Sycamore Review, among other publications and anthologies. Her stories have received several Pushcart Prize nominations and she was selected for Special Mention in 2007. Most recently her story "A Good Deuce" was noted as a Distinguished Story in The Best American Stories 2012. She grew up in a small town in Northern California—in a family of girls.
+
Brian Seemann
is a part-time teacher and bookseller. His latest fiction appears in
REAL

, Forge,
and
Fast Forward.