Book Reviews · 04/23/2018
Whiskey & Ribbons
by Leesa Cross-Smith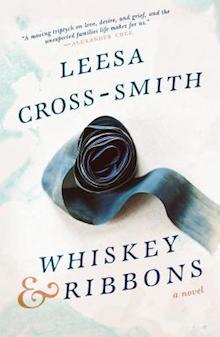 Hub City Press, 2018
Nearly four years after the publication of her short story collection Every Kiss a War, Leesa Cross-Smith, founder and editor of WhiskeyPaper, has followed up with Whiskey & Ribbons, her poignant debut novel.
The story focuses on three individuals — Evangeline, Eamon, and Dalton — tied together by marriage, brotherhood, love, and bereavement. Six months ago, Evangeline's husband Eamon Royce, a police officer, was gunned down in the line of duty while investigating a case of domestic violence. At the time, she was nine months pregnant. Soon after Eamon's death, his adopted brother Dalton moved in with her to help raise little Noah, born mere days after his father's passing. They each, in turn, tell this layered tale.
Cross-Smith discloses the model for the novel's multi-POV format with an epigram wherein she provides three definitions of the word "fugue." Each is pertinent, but it's the musical definition that establishes the arrangement as a "composition in which a short melody or phrase (the subject) is introduced by one part and successively taken up by others and developed by interweaving the parts." This technique allows the material itself to maneuver readers through a tempest of emotion and insight, from storyteller to storyteller.
Evangeline's warm narration takes place in present day as she, her child, and her brother-in-law are snowbound in their home during a blizzard. A dancer, Evangeline's fondness of PBS costume dramas — the endless adaptations of anything Austen or Bronte and everything in between — shows her proclivity for the romantic side of things while also complementing her Victorian corset-level fortitude. Throughout the novel, she struggles with the grief she still feels for her late spouse and the newfound guilt she has developed due to her budding attraction to Dalton, whom she comes to think of as "basically Noah's dad." Perhaps the most poetic of the book's narrators, she says of conversations with Eamon's former partner:
There are a lot of pauses whenever Brian and I talk — slick pockets of silence we slip into. I don't have to say anything and neither does he. Brian was with Eamon when he took his last breaths, so I think some of Eamon is with Brian still. Maybe some of his breath got inside of him and Brian carries that around and that's why we're so quiet so often when we're together or when we're on the phone.

So we can hear Eamon.
Dalton, too, wrestles with heartache. He and Eamon were as close as can be. Since Dalton's dad wasn't exactly in the picture, Eamon's parents took him in after his mother Penelope "took enough pills to stop her heart." Dalton's chapters detail not only his deep fraternal bond with Eamon but also his equivocal search for his absent biological father. When he, a bike mechanic, chooses to cohabitate with Evangeline and become Noah's de facto father figure, it makes sense — and not just because he promised Eamon he'd take care of her should it come to that. "Taking things apart and putting them back together again" has always been a "comfort" of Dalton's. He's a fixer; he makes "broken things better."
Dalton's contributions to the "composition" bridge Evangeline's timeline to Eamon's, whose scenes illustrate the touching moments leading up to his untimely end. He reveals a lot of the backstory crucial to understanding the weight of what's going on in the present: how he and his wife-to-be met, her pregnancy, his fears about fatherhood, and also the Royce family's tender connection to Dalton and Penelope. With Eamon comes a fierce sense of duty. He recalls:
Every decision I was making was in order to protect my family… I'd read in a baby name book when I was a kid that Eamon meant guardian. That's what I was. That was what I got paid to do. That's what I would continue to be. Guardian. Guardian of these streets, this city. Guardian of my home, my little family."
To Eamon, family is everything, closely followed by service. He "inherited the desire to serve" from his father, who had "worked patrol for years when he was younger, and eventually moved up to deputy chief before retiring." Had it not been the force, it surely would have been the military, in the footsteps of his Marine uncles. Eamon is a highly admirable and steadfast guy, and his chapters are in many ways the heart of the story.
Sincerity is a common trait among these three storytellers. Each narrator is written with the ease and flow of an uninhibited voice. This grants all of them their own distinct, while still subtle, style. In the beginning, the chapters tend to be a bit longer, which gives Evangeline, Eamon, and Dalton more room to breathe and also more opportunities to build upon one another. The chapters get shorter and shorter toward the end so as to create a crescendo effect leading up to the book's poignant finale.
On the surface, Whiskey & Ribbons is a modest novel. The prose successfully avoids ostentatiousness; it isn't overwritten by any means. The plot is plain and unassuming, though the truths therein are strong. Leesa Cross-Smith deftly zeroes in on the humanity of woe, the delicacy of memory, and the intricacies of family — and how that all contributes to what we go through when we experience loss and love.
+++
A
PEN
Open Book Award Nominee,
Leesa Cross-Smith
has been a finalist for the Flannery O'Connor Award for Short Fiction and Iowa Short Fiction Award. She is the author of the short story collection
Every Kiss a War
and lives in Louisville, KY.
+
Brandon Stanwyck
lives in Cleveland. His writing has appeared in
Cleaver Magazine
,
The Fiction Pool
, and
Corvus Review
. Twitter:
@BrandonStanwyck
.