Book Reviews · 08/03/2015
Where Alligators Sleep
by Sheldon Lee Compton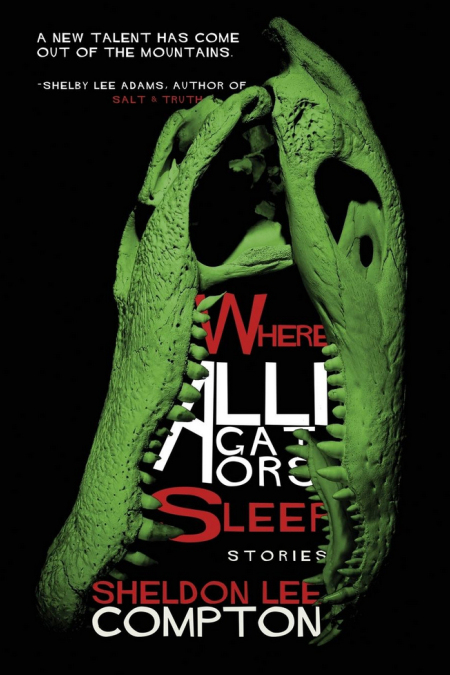 Foxhead Books, 2015
Sheldon Lee Compton's particular approach to Appalachia and its denizens is one of jagged rawness that exposes the open heart of America to the reader. His first collection, The Same Terrible Storm, was one of the standout collections of short fiction a few years back, and his current collection, Where Alligators Sleep, is a fine follow-up. The writer is as rooted in his locale as Faulkner in his beloved Mississippi, or Joyce in his bedraggled and broken Dublin. There's an honesty and integrity to Compton's writing that places him front and center as one of the best short fiction writers specializing in flash and micro fiction.
There are moments in Where Alligators Sleep when the reader is presented with sentences of raw, mutable power, such as in the opening of "Three Times a Loser and Here's Maybe Why":
A strange girl slammed through the front door of my house, running like her hair was on fire, and came to the side of my bed.
I was eight. You may think this isn't true, but it happened.
She must have been fifteen or sixteen. I remember her with wide eyes, not frightened but manic. A current of electricity diving for a ground. A disowned muse who had dropped kicking into insanity and was now sitting on the side of my bed. A face made of all eyes and mouth, blue eyes clear even without moonlight and lips rubbed red and swelled.
This brief, flash sequence closes on the forgetting, but not before the reader is told, "…she coiled back into myth and was gone." Compton's craft is assured and he tells his stories in the clear-eyed manner of a man who knows his turf. The swamps and junkyards, the hospital wards and roach motels, the bars and the pawn shops, are all the domain of a cast of characters who, in their depressed lives and unfortunate circumstances, sear their way into the reader's mind with their truths.
It must be said, there are stories of misery and abjection, stories like "The Body Ricardo," where "The maggots eating the bum we found on the eighth floor were like dry land piranha," and these brief pieces leave the reader witnessing the implosion of ordinary lives. Compton manages to hook the reader in, as if witnessing a train wreck, or a car crash, and reveal the facts about small people living lives of quiet despair. His chiseled prose makes tombstones of these narratives, for the dearly departed who know how the story goes, and can't wait for their written ends.
Compton's stories congregate around pill poppers, drinkers, bums and brawlers, and at times the strains of Tom Waits' fine 3-CD set, Bawlers, Brawlers & Bastards played in the background as I turned the pages and read of another poor bastard, "dead maybe five days." The through line of Compton's collection of stories is strong, and the reader will encounter these disparate characters as they go about the business of living and dying, the maps of their journeys delineated in tight, straightforward prose.
In a way, the story, "A Mountain so Lost," functions as a key to the collection, in the manner in which the reader learns that, "Maps are everywhere. On the palm of your hand, across the terrain of your heart. There are maps of hope and magic, emotion and muscle." The wonder of these three short sentences imprinted upon me as I read the book, and I wrote the words down in my own hand so as to divine a connection with Compton's purpose. As this story closes, the final sentence serves as good advice as, "I should have learned to be patient in my loneliness, still enough to watch a rosebud bloom." Certainly, reading a book such as this, with its layers and layers of difficult lives and despondent characters, the reader might be well served to exercise patience and read the stories sparingly, one at a time, doled out in small measure so as to be enjoyed in the same way one would a fine, peaty glass of Scotch.
One of the music-oriented stories to stand out is "Souvenir," in which the recent dead and the broken-limbed come together in this ruined symphonic space of absolute loss. Compton's terse prose sings in this story, where he presents this scene of recuperation:
A fine song loops from the corner of the room, empty three days after surgery and exactly one week since she drop-headed out the door.
The fine looping song is Track 3 from a Morphine album we fucked and made love to and slept through weekly.
I settle on my broken back and extend my arms and legs until muscles curve like tourniquets over bone. I half-dream the melody, the words in certain combination with the medicine for physical pain.
There's something remarkable for a writer to be able to present so many stories with fractured and disastrous souls, yet to keep alive the hope in the possibility that remains.
The strength of Compton's writing is that he's as assured in micro fiction as he is in short story, and the ability he has to span the long and the short of it is not to be denied. Whereas many of the best stories in the collection are two to three pages, sometimes it's those that span two to five lines that will take the reader's breath away. The collection closes with the micro, "Phantom Limb," and much like Hemingway's famous six-word sentence, Compton's four-line story scales equally lofty heights of narrative wonder.
Compton's work is nuanced, edgy, and tinged with a skein of sadness that pervades every page of Where Alligators Sleep. The stories are raw, filled with a fury that compels the reader to press on and work through the fog, the maggots, and the music of Compton's perfectly realized Appalachian world.
+++
Sheldon Lee Compton's first collection, The Same Terrible Storm, was nominated for the Chaffin Award. His work has been widely published and anthologized, but also may exclusively appear at his blog, Bent Country. He was a judge's selection winner in 2012 for the Still Fiction Award and a finalist in 2013 for the Gertrude Stein Award. He survives in Eastern Kentucky.
+
James Claffey hails from County Westmeath, Ireland, and lives on an avocado ranch in Carpinteria, CA. He is fiction editor at Literary Orphans, and the author of the short fiction collection, Blood a Cold Blue. His work appears in the new W.W. Norton Anthology, Flash Fiction International.