Book Reviews · 06/01/2014
Understudies
by Ravi Mangla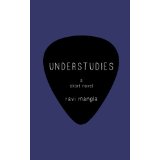 Outpost 19, 2013
Ravi Mangla's Understudies is brief (141 pages), the cover an unassuming cobalt blue with a black teardrop in the middle (a peephole, perhaps?). Two central characters, including the anti-hero narrator, don't have names. The book is told in a series of numbered vignettes, each one about the length of a short flash-fiction. The structure creates a kind of flattening effect, placing no event necessarily above another, at least in the space it occupies on the page. This serves the book's themes and purposes well.
Mangla's narrator is passive in the extreme, living out his days in a dull high school teaching job that gives him little pleasure. He is the kind of teacher—or, at the very least, he is now—who allows his students' papers to pile up and puts on a pot of coffee, only to sit down at the table and give them all A's. He is amiable, and liked well enough by his students to join a garage band headed up by one of them—a good enough boyfriend who snuggles up with his girlfriend, Missy, to watch the gore fest films she craves rather than the romantic comedies he prefers.
It's that "good enough" that is so damning, funny, and sad in this book. The unnamed narrator accepts his girlfriend's announced pregnancy without feigning enthusiasm, and the pregnancy never progresses past the first trimester in the book's telling. We see Missy inspecting the "subtlest of bumps" in the mirror; he can barely look at her, feigning sleep instead of commenting. When the baby is talked about, it is mostly about whether or not the couple will ever allow their child to wear Crocs, or what hipster color to paint the nursery.
The other anonymous character who inhabits the book with a kind of phantom non-presence is an unnamed actress. She moves into a house down the hill on page one, setting the plot in motion. We never see her in anything but outlines; her house is done up in wisteria, and we are told she won a Golden Globe for a "featured role in a paranormal romance" and we know what the tabloids tell us about her. The Graduate is her favorite film. The set-up is sort of Gatsbyish, although there are no real tragic figures because identity seems even slipperier than it does for the characters in The Great Gatsby. Mangla's narrator is compelled to look at pictures of the actress, to read about her on the internet. He is a kind of collector, and has no real designs on knowing her. As he becomes complicit in his friend Chudley's stalking of the actress, he takes advantage of the opportunity to snatch some pictures of her. What follows is less an obsession than a filling of empty space; rather than being driven by passion, he seems to be driven by a desire for escape. The actress is a kind of filler for a void. Indeed, his relationship with her is so focused and internal he does not always recognize her; while in the theatre he mistakes a stranger for the actress, and her loveliness, once held out in relief for us, is thrown back into the darkened theatre; she is just another woman among many.
One of the most emotionally resonant moments in the book comes near the end, when the narrator watches the actress's most recent film, a movie about an "Elizabethan midwife" in love with a young priest who turns out to be a ghost. The storyline, we are told, "was negligible at best" but holds the narrator rapt. We can imagine the haunting music, the gentle cinematography of a foreign land that isn't so foreign with the comforting presence of the actress and her American accent. The narrator watches the film three times and walks home in the glow of a magic evening; even the streets are silent for him. For me, the scene overshadowed what would seem to be the book's climax, when the narrator faces the actress in the hospital after she overdoses; even then, looking directly at her, he doesn't see her – she is a lovely being, sweet and serene even in her coma, with tubes snaking in and out of her body. It is the moment he is alone with her onscreen that Mangla finally allows the book some movie-magic; it is the only moment his narrator seems truly in love, to have had his longings fulfilled.
If the book is to be read like a romantic comedy—and, I think it could be argued that structurally, it follows the same narrative arc as one—the narrator ends up with his girlfriend, encounters strangers and friends alike who add to the plot trajectory, and a romantic rival (the unnamed actress) complicates things—then it is a beautiful send-up of the form. I am reminded of Richard Yates' yearning, stumbling characters. Yet, in this book, as happen in a Richard Yates' story, the heroine does not stage her first date by having him meet her at the top of the New York Public Library's iconic flight of stairs. This is no Gatsby, who builds romantic illusions on a sweet, short romance. The actress never speaks, never has any real agency, and only appears before the narrator after what may have been a suicide attempt. She writhes feverishly on a sumptuous bed in a perfume commercial. She is seen in Photoshopped covers of magazines; perhaps this is why the narrator finds grainy snapshots of her so compelling. She is a fantasy victim. The communing that occurs between the narrator and his actress is built on images, pictures, stories. She is safely within the realm of fantasy at all times. This kind of loneliness is ready for the telling; in an era in which we communicate largely through pictures and blurbs on Facebook, carefully honing our own self-image and participating in the images of our friends and friendly acquaintances, intimacy is a timely theme. And this is loneliness for our times.
And it isn't just the actress who is never really known; we see the narrator's mother, who on the surface seems motherly enough—she makes butterscotch caramel pie and offers steaming mugs of hot chocolate in times of crisis—comes across as distant, affectionately condescending. She seems to prefer Missy over her son. It's no accident that when the narrator finally gets the reassurance from her he craves, it comes from writing to her anonymously on the internet.
We are given glimpses of the classroom and the teacher's lounge, mostly in dialogue. The narrator hangs out with high school kids' in his garage band, initially introduced to them by a kid named Cuisinart. Yes, Cuisinart. What saves the book from being too clever by half is that Mangla creates this world thoroughly, and we are made to completely believe; this is a world in which the characters eat at places called Say It Ain't Tso, and pregnant women go to prenatal pole exercises. Without looking it up, I visualized a kind of pole dancing class for pregnant women, but maybe I just have a dirty mind. Or, perhaps, I'm just following along with the narrator's mindset. It's an absurd world indeed, but perhaps not so different from our own as I'd like to believe.
This is not a callow, too-clever book; compassion peeks in and out in short bursts. It comes when the narrator gives Missy a list of possible names for their baby and she reads; "Moxie, Sarsaparilla, Formica, Rickenbacker, Kingfisher, Geronimo…." And Missy, refusing to participate in the joke this time, says, "Well, if nothing else, I can appreciate the effort." It comes when Missy hands him a fortune cookie that says, "Everything will be beautiful."
The flattening effect I mentioned earlier works on many levels. Throughout the book, seemingly random characters are introduced who are remarkably likeable and compelling, more so, I found, than the narrator's two named friends, Chudley and Palover, who seem to reflect two sides of himself—the clever, distanced self (Palover) and the pathetic dreamer (Chudley). We meet a father who seems to see through the narrator's passivity, who chews him out and doesn't go to the principal because of the "code between men." His sincerity is oddly refreshing. We see an artist who passionately defends the exorbitant price he places on his work, hand-painted grains of rice; these strangers are given as much space in their vignettes as the central characters. As a result, their presence seems as important to the narrator as anyone else's.
Years ago, I fell for the BBC television show The Office. I had never seen anything like it; Slackers, with its quiet pacing and young characters walking out into the bright sunlight of Austin into desultory adventures and non-adventures, had come close. But this was something different. In The Office, the humor and the pathos came in the space in between, that awkward silence and dead space between people who must wake up every day, share coffee together, and get things done. Sometimes the jokes were filling up the dead space, sometimes the laughter came four or five beats too late. I couldn't take my eyes away. I had not seen anything like it and haven't since.
It is an entirely different medium but Mangla's book works in much the same way; the emotional weight of the story comes not from its climaxes, but from their surrounding moments; in The Office, these moments were tightly focused around the florescent hum of everyday life in a singularly unspectacular office. In the world of Understudies, the office is everywhere. In Understudies, everyone is an understudy. We see the world through the steaming coffee swirls of a distant mother's offer of comfort food, through blockbuster schlock, through the beautiful mirage of the books' last gorgeous image, which I won't give away here. Reading Understudies is something akin to binge watching The Office all alone, during a transitional period in your life, with a cheap air conditioning window unit blasting to keep the night heat out. It's that good.
+++
Ravi Mangla lives in Fairport, NY. His work has appeared in Mid-American Review, American Short Fiction, Tin House Online, The Rumpus, Mental Floss, and McSweeney's Internet Tendency, among other publications. He keeps a website at ravimangla.com.
+
Claudia Smith's
short shorts have appeared in numerous anthologies and journals. Her flash fiction collection
The Sky is a Well and Other Shorts
won Rose Metal Press's first short-short chapbook competition. The collection was reprinted in Rose Metal Press's book
A Peculiar Feeling of Restlessness: Four Chapbooks of Short Short Fiction by Four Women.
She is also the author of another collection of flash fiction,
Put Your Head in my Lap
(Future Tense Books, 2009) and a story collection,
Quarry Light
(Magic Helicopter Press, 2013). You can read more about Claudia and her work at her site,
claudiastories