Book Reviews · 07/18/2016
Tyler's Last
by David Winner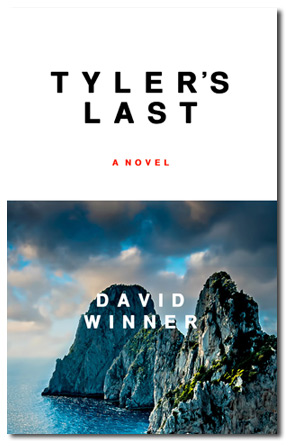 Outpost 19, 2015
Set during the time surrounding 9/11, Tyler's Last is a mesmerizing literary thriller that weaves together two intricate plotlines—one involving Eve, a famous crime writer also known as "the old lady," conceived in the image of Patricia Highsmith, and another involving Eve's favorite protagonist, Tyler Wilson. Tyler is an aging criminal whose life is rattled by Cal Thornton, a treacherous playboy thought to be murdered decades ago on the island of Stromboli. Set between various international locales—Spain, Senegal, and Normandy, to name a few—both characters embark on violent missions driven in equal parts by a search for vindication and obsessive desire.
Ravaged by Parkinson's, Eve is determined to break free of her smothering caregivers and finish the last of her famed Tyler novels before the disease renders her physically and mentally incapacitated. Yet her work is put on hold when she discovers an opportunity to even the score with Tab, a provocative Dutch artist with whom she shared a passionate but ill-fated affair. Haunted by desire and heartache, Eve has spent years stalking Tab without success until an impulsive decision spirits her across Europe to the Netherlands. Though frail and incontinent, Eve remains steadfast in her plans to carry out a home invasion plot against Tab, even engaging the aid of several unassuming henchmen to do her bidding. Their efforts soon take on a tragic, violent turn. Aided by a flask of scotch and a vicious wit, at times Eve's sense of reality becomes confused, compromised by the effects of her disease and the extent of her obsession. With Tab subdued and tied to a chair, for instance, Eve senses that:
Tab doesn't have to speak. The thoughts emerge in the old lady's head as if they've been telegraphed there. This was the upside of her tiresome obsession. Tab speaks so loquaciously in her imagination that she doesn't have to say anything to make herself understood … It takes her just a second to free Tab's right arm. The old lady knows a thing or two about knots, from both her sex life and her novels.
Eve utilizes a similar degree of complicated treachery in writing Tyler's plight. While his beautiful Italian wife abandons him for a French mistress in Morocco, Tyler is left alone to lick his wounds in a picturesque villa in Spain, only to be harassed with phone calls by a man claiming to be Cal Thornton: "'I was on fire when you left me,'" the gruesome voice goes on, 'but you couldn't burn me away.'"
Revenge comes as no surprise considering their shared past. Years ago, Tyler and Cal met during a chance encounter in Sicily and, despite the sexual advances between them, Tyler found it to his greater advantage to kill Cal in a house fire, then steal his identity in order to obtain money from the wealthy senior Thornton. Irate over the threatening phone calls, Tyler is determined to discover the true identity behind the voice that pursues him. Sent to America on an errand by his European-based crime syndicate, he finds himself assuming Cal's identity a second time as Tyler seizes the opportunity to engage in his own mission of investigation and revenge. He visits the wealthy Thornton family estate, disguised as the dead Cal himself, where his plans soon involve murder, the kidnapping of a child, and a desperate rendezvous in Africa.
Never losing an ounce of momentum or the intricacy of its structure, the plot lines of Tyler's Last eventually converge with compelling force and startling revelations. While Eve races against time to finish her last novel, sealing Tyler's fate in a shocking twist of violence and betrayal, she is consumed by Parkinson's and faces the ugly consequences of her actions against Tab.
Both characters are rendered with enough biting wit and dark humor to reveal the rich, often cruel, and vulgar complexity they inhabit. Seemingly oblivious or indifferent to the global effects of 9/11 occurring all around them, the characters move through their lives with a perverse intent to deceive and avenge. A certain ugliness permeates these characters, making them all the more real and compelling to follow.
Themes of obsession and complicated identities run concurrent throughout both plot lines. Tyler is never far from Eve's mind. His invented presence often consumes her, further compromising her sense of reality, leading her, at one point, to attempt leaving her Norman house to Tyler in her will. While in Spain, immersing herself in crafting the novel, Eve meditates on his relentless presence:
Has Tyler followed her here, she wonders, looking around the room for signs of him, or has she been stalking him? They've been dancing their eerie tango since she first assembled him decades before. More than just her favorite character from the thriller books she writes, he was her ideal man.
Tyler is a manifestation of her own desires and violent longings, one who leads her to tragic consequences. Tyler's Last is a compelling novel, a page-turner rendered with an evocative, often sensual voice laced with vivid details and a dark sense of humor that is at once unsettling and highly entertaining. Winner is a gifted writer, and readers, especially fans of Patricia Highsmith, will be captivated by this complex and absorbing book.
+++
David Winner
's first novel,
The Cannibal of Guadalajara
, won the 2009 Gival Press Novel Award and was nominated for the National Book Award. "My Lover's Moods," a short film based on a story of Winner's, played at Cannes in 2007. "A Traveler's Tale," another story, was awarded first prize in
The Ledge
magazine's 2003 Fiction Contest. His work appears in or is forthcoming from
The Village Voice, The Iowa Review, The Kenyon Review
, and several other US and UK journals. His
MFA
is from the University of Arizona, where his story "The Death of Husbands" was nominated for the Associated Writing Program's Intro Award. He serves as fiction editor of
The American
, a web magazine based in Rome.
+
Olivia Kate Cerrone
's Pushcart Prize-nominated fiction won the 2016 Jack Dyer prize from
Crab Orchard Review
. Her stories have appeared in various literary journals, including
New South, The MacGuffin
, and
War, Literature and the Arts
. She serves as a regular contributor to
The Rumpus
, as an Associate Editor for
CONSEQUENCE

Magazine
, and as a writing mentor for the Afghan Women's Writing Project. Contact her at Olivia.Cerrone@gmail.com or visit her at
oliviacerrone.com
.