Book Reviews · 10/13/2014
Thrown
by Kerry Howley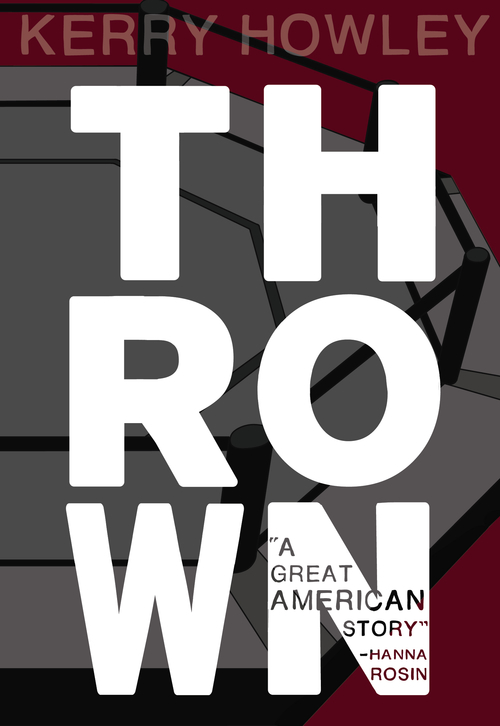 Sarabande Books, 2014
Kerry 'Kit' Howley attended her first cage fight by accident. Fleeing a philosophy conference she opened a door marked, "Midwest Cage Championship"and entered the world of the Mixed Martial Arts.
Through a six-foot chain-link fence Howley watched a fighter called Sean Huffman,
…play fat slobberknocker to another man's catlike technical prowess…there was not a single moment in the fifteen minute fight when he could be said to be effectively staving off The Fire's jabs to his face.
Watching this spectacle Howley experiences something she recognises from the writings of Schopenhauer, Nietzsche and Artaud. She identifies this as ecstasy, and it is this quest for the ecstatic experience as accessed through the medium of violence that Howley shares with us in Thrown.
In fighter's parlance she becomes a spacetaker, a member of an entourage who offers a fighter moral support and free rides in return for back-stage passes and something resembling friendship. The first fighter she follows is Sean Huffman, whose face she had witnessed being remodelled during her first fight. Huffman is looking to rebuild his career following a divorce and is intent on joining his peers in the Big Shows in Vegas. A thirty-something on the way down, he is more famous for his doughy stomach and ability to take a beating, than for his prowess as a fighter.
Howley recognises a kindred spirit. She notes that, like him, she has frittered away years of her life —in her case in pursuing dry academic goals—and is now looking for a way up and out. She hopes that Huffman would, "bring me inside the world of ecstatic experience, that we might both finally be on the way to the truths we were seeking."
She acknowledges early in her experiment that those in the fighter class had almost no interest in discussing the philosophical aspects of their profession. Nonetheless, when Howley presses Huffman on what it felt like to get beaten up, she receives a profound reply. He says, "It feels like waking up."
As the experiment progresses, Howley becomes lonely. Fights for Huffman are few and far between and she begins to worry that it will collapse should Huffman get injured or simply wander off. Defying spacetaker etiquette which dictates loyalty to only one fighter, Howley decides to follow a young fighter called Erik "New Breed" Koch.
Despite being a small town boy whose interests are limited to fights, food and the early cinematographical output of Arnold Schwarzenegger, there is something about Koch that fascinates Howley. It might be his preternatural slenderness and ability to destroy other fighters, or that, unlike Huffman, Koch harbours realistic ambitions of fighting José Aldo, the reigning champion in his weight division.
Whatever the reason, Howley successfully makes a space for herself in his entourage and is on hand to witness the sublime behind-the-ear right hook that propels Koch onto television and into the Big Fights.
What makes this book so delightful is the way Howley injects herself into the story at the right moments. She consciously manipulates the irony of being a philosophy student amongst cage fighters and enjoys presenting particularly erudite conclusions at the peak of the violence she so vividly describes. She also has a talent for interpreting dialogue and articulating its deeper meaning. Before entering Koch's orbit she notes,
I had heard tell of Erik Koch long before we met, in that tossed-off way local fighters refer to men with whom they crave proximity. ("Oh yeah, I trained with New Breed a while back," an associate of Sean's said, using Erik's nickname to further insinuate a familiarity I was sure he did not have. Note too the lack of temporal specificity typical of garden-variety dissemblers.)
If this book has a sub-plot it is the author's attempts to convince her academic superiors of the validity of her work. Her gradual exit from academic life is every bit as gripping as the fight scenes, as is her realisation, played out over the course of the book, that she is no longer a detached, wry observer but the genuine article, a spacetaker in name and role.
Howley never quite returns from her odyssey, but she offers the insight that these fighters have little to share about what they do. Their moments of intimacy arise spontaneously in the cage, and there is no way to render the ecstasy of a rear naked choke into mere words. She envies them this and we, the reader, envy her proximity to them. Such is the power of this story that our own lives seem lacklustre in comparison to those of the fighters and we leave their world with regret at the end of the book.
Howley has written an insightful, arch and compelling story, made more meaningful by the sacrifices she made to get it.
+++
Kerry Howley
has written for
Harper's, The New York Times Magazine,
and other publications. She holds an
MFA
from the University of Iowa and teaches creative writing at the University of Tennessee at Chattanooga.
+
Matthew Wake is the owner of Books Books Books, an independent bookshop in Lausanne, Switzerland. He holds 4th dan in kendo, the art of Japanese fencing.