Book Reviews · 05/05/2014
Threshold
by David Hartley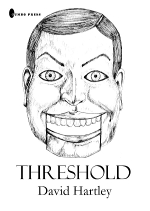 Gumbo Press, 2013
Through a journey that minutely, carefully, and assuredly tears at the sinews of reality, David Hartley's 13-piece flash fiction collection Threshold transports the reader into an eerily strange landscape. Occasionally darkly hilarious, frequently sinister, always poignant, the stories act as brief but beautifully descriptive tourist postcards to a neighbor's garden, outer space, alternative worlds, and more. The titles ("The Diaphragm Dancer," "Hinterland," "The Golden Silence") evoke dimensions of powerful meaning, their simplicity a pensive intake of breath before following the lilting pace of Hartley's magnificently chilling, delicate language.
Ordinary activities dissolve into horror imbued with intensely disturbing implications, the exact portents of which remain elusive. As the presumably adolescent narrator of Threshold climbs into a neighbor's backyard to retrieve a ball with which he and his friends had been playing, he feels that "every bush hides eyes and every eye is on me." The familiar disintegrates into the unknown, and essential human constructs such as individual choice or mind-boggling contemplations of existence are cogently integrated into the stories with impressive subtlety, intelligence, and sensitivity of touch.
As well, the pieces with science fiction or dystopian elements do not indulge in genre convention but rather are used to investigate the complexity of human life within the container, a glass jar perhaps, of what can be clinically observed but not understood from the outside.
We talk through the narrative; a wrecked planet re-wrecked, their perceptions shifted when we succumbed to defeat, when we stopped the shooting and the shouting. They sheathed their tendrils too, silenced their guns, muted their screams. And then; nothing. No mothership. No mass enslavement. Just one race of creatures staring at the other. And now these desperate reconstructions, these gentle experiments, trying, we assume, to understand us – trying, perhaps, to find the best way to apologise.
You keep saying how lucky you feel, both hands cascading across the swell I put inside you. I keep saying sorry, but I'm not quite sure for what.
The fleeting and flickering snatches of definitives, completion, absolutes, are maddening, thrilling, delicious. The understatedly fabulous passage below relates the daily transformation of an otherwise prosaic news show cast and crew into stone, until, gargoyle-like, they return to animation for the next episode.
Bye for now, said Bill. The lights faded, the crew shuffled and cameras swung. Lucy drew breath to speak, but had to hold it when her eyes fell upon Bill's hand. It was turning to stone. The transformation buckled up his sleeve, across his face and also across the face of Annabel. From this epicentre, a great curse of stone rippled out fixing all things into place, a statue plaza of local news. Lucy skipped back as it shot beneath her feet, but she remained flesh. Within an instant, all things were grey and fixed; the only movements came from falling fragments where the swell of solidity cracked into place on the ceiling.
A very few pieces verge on if not actually take on the heavy mantle of parody, as in the passage below. Yet even in the hilarity of the ghost's trivial and typical horror movie threats, there is a queer undertone of pathetic wistfulness that begs for pity.
You get to choose where to haunt so I pick your parents place, these fizzling fingers primed for revenge, my wisping arms super-charged with poltergeist powers. I envisage myself appearing in the bathroom mirror; a fleeting glimpse of my bloodied snarl as your mother takes one of her stubbornly long showers. I'm going to flick on your dad's tools at midnight, let the drill drop square into his dog's head, pin the carcass to the door of his precious workhouse, spin the hands on the clock as he weeps for forgiveness. I will be satellite interference on the Adult Channel, an unseen mouse fraying router wires, ecto-fluff clogging sinks and drains, cracks in crockery cutting lips, slicing toes.
Though undoubtedly striking, the frightful last image is a bit excessive in its grotesquery in contrast to the fantastic interweaving of the macabre and the fragile, the inducing of "a shudder electric" by Hartley's best writing (which is very good indeed).
He bowed, deeply, and then proceeded to sew his lips together. Blood cascaded down his chin and pattered to the floor. He whimpered with the audience, drew heavy breaths through his nose as they gasped. At the end, he fainted.
The dummy turned its head and blinked. "Do I have your attention now?" it said.
As a whole, Threshold is a highly impressive collection of intricately crafted, poetic flash fiction on the fringes of absurdly penetrating fabrication, thoughtfully expressive in brevity and compressed space to the extent that numerous other creative literary works with weightier word counts can appear unwieldy, rattling, or rambling in comparison.
Exceptions, "pixilations" and "shimmers of frame-rate,'' indications of rough coding amidst the otherwise smoothly interwoven lines, startle the initially noncommittal reader into vivid awareness. The dark current of creepiness in Hartley's writing, threading throughout like varicose veins, runs in contrast to the musical tinkle of his presentation, something like an elegantly trained ballerina dancing in a graveyard or a mother reading her child to sleep by the light of a sinister red moon.
+++
Writer of short fictions and even shorter film reviews,
David Hartley
is a founder member of the Manchester Speculative Fiction Writing Group and one fifth of the writing collaboration #Flashtag. His work has been widely published online and in print, and he was the winner of the Lancashire Writing Hub 2012
NFFD
Flash Fiction Competition.
+
Winnie Khaw
is a book reviewer for
Fjords Review, The Philadelphia Review of Books,
and
Nostrovia!Poetry.
Her work is featured in various journals, including
After Nyne magazine, Pirenes Fountain, Magic Lantern Review, Palooka Journal, The Philadelphia Review, Eclectica,
and the Kungfu Theatre podcast. Beginning summer 2014 she will begin a low-residency screenwriting
MFA
at Hollins University, and in fall she will be attending Wisconsin-Eau Claire as a full-time English MA student.