Book Reviews · 11/02/2015
The Voiceover Artist
by Dave Reidy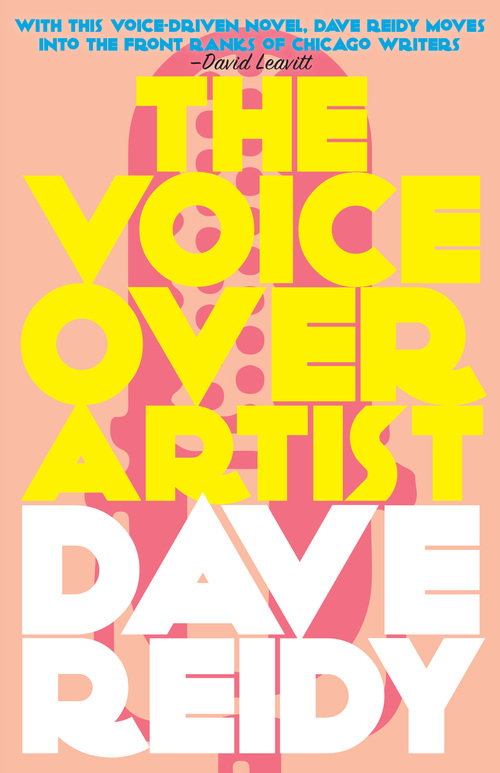 Curbside Splendor, 2015
Dave Reidy's The Voiceover Artist explores the complicated relationship between two brothers: Simon Davies, a voiceover artist, and Connor Davies, an improv comedian. Even though they both seek to make careers of their voices, they cannot find the words to resolve the conflicts between them that have grown since childhood, which Simon spent silent — first by choice and later by necessity. Simon went silent at age seven due to an incident at a bar when his father, Frank — also a stutterer — failed to defend him against drunks who made fun of Simon's stutter. Simon's silence has built walls between himself, Connor, and Frank — walls that Simon tries to break down as the novel progresses.
The novel follows Simon as a young adult, after he's recovered his voice through listening to the radio and has decided to become a voiceover artist. Simon, Connor, and their father have communication issues as the boys reach adulthood. Simon feels his father prefers Connor, as Simon and his father don't speak. Simon and Connor take these issues to separate corners of Chicago, and their father drinks these issues away at the local Four Corners bar.
Even now that Simon can speak to his brother, he doesn't know how to say what he needs to say. They must relearn how to communicate, and they spend much of the novel circling their issues before attempting to solve them. Reidy writes, "I let a barking dog in the neighbor's yard fill the space where Connor was expecting a laugh. You don't go two decades speechless without learning how to use silence the way Connor used humor: as a weapon."
Reidy writes the novel from the perspective of multiple first-person narrators: Simon; Connor; their father, Frank; their mother, May; Simon's agent, Elaine; and Simon's ex-girlfriend, Brittany, among others. Multiple first-person narrators provide the reader with multiple perspectives on the central conflict of the novel — botched familial communication and the attempts to heal old wounds the miscommunication has caused. The multiple perspectives also remind the reader that family problems arise from the conflicting motivations of decent people with varied values. Reidy accentuates this idea by providing the same scene from multiple perspectives. For example, the reader first learns about the incident that caused Simon's silence from Simon's perspective, and then later learns more about the incident — and the motivations for his father's inaction — from Frank himself. This intentional repetition complicates both character motivations and the central conflict of the novel.
Simon's voice seems the most honest, and many of the novel's most resonating moments come from Simon's chapters. For example, Reidy introduces the reader to the conflict between Connor and Simon through Simon's perspective. Reidy writes, "Off stage, Connor wanted no part of intimacy. Even the questions he asked me were electrified prods he waved to keep me from getting too close." The reader learns through Simon's perspective of a pivotal moment in high school when Connor, to impress a girl, does an impression of the then-silent Simon.
The multi-voice narration leads the reader to wonder if Reidy is trying to say something about the nature of silence. Silence engulfs Simon as a child, and shrouds Simon and Connor's relationship as adults. As a child, Simon used a made-up sign language to communicate — his mother made him apologize to Connor with a fist over his heart — but the signs won't work as adults. The brothers must find a way to break the silence, to say what needs saying in voices not amplified for radio or stage. Simon and Connor finally find this opportunity at the end of the novel — or, Simon realizes that he is going to have to use his voice to forgive Connor his wrongs. Reidy writes, "With my old radio in my hands, I could see that my relationship with Connor awaited a transfiguration that only my voice could provide."
The novel is strongest in the forgiveness that Reidy gives his characters. Each character seems redeemed in the novel: Simon realizes his relationship with his brother can be salvaged through honest communication, Frank and Simon attempt to patch their relationship through the mutual silence with which they feel comfortable. Through redeemable characters Reidy offers readers hope.
This hope comes through most poignantly in a scene Simon and Frank share at the end of the novel. Simon begins to see Frank in a new way at Four Corners, the same bar where Simon was made fun of as a child. Reidy writes, "This was the man I'd fought for years in silence, worn down now by time, liquor, and a loneliness that was, at least in part, of my making." Simon grows as a character in this last scene, and the reader finds hope in the silent reconciliation he shares with Frank, "…a reconciliation of the only kind my father and I could have made: the kind that didn't require either of us to say a word."
By using first-person, the reader is brought in close to the emotional turmoil of the story — the reader feels the embarrassment with Simon as he learns that his brother slept with his girlfriend, the joy that Simon feels when he gets his first voiceover job, and the peace he feels when he realizes that a real voiceover artist is one who creates characters from scripts — who brings humanity into the recording. Reidy's novel does something similar. His focus on character and voice draws readers in, and, in plain language, forces them to confront the communication problems present in their own families.
Confront your issues and forgive each other, Reidy seems to be saying. Put your fist over your heart. Apologize.
+++
Dave Reidy
's fiction has been published by
Granta
and other journals. His first book,
Captive Audience
, a collection of short stories about performers, was named an Indie Next Notable Book by the American Booksellers Association. Reidy works at closerlook, inc., where he is the VP of Creative. He lives in Chicago.
+

Allison Pinkerton
received her
MFA
from the University of Central Florida. Her work has appeared in or is forthcoming from
Fiction Southeast, The Review Review
, and the
Ploughshares
blog.