Book Reviews · 08/04/2014
The Uncertainty Principle
by rob mclennan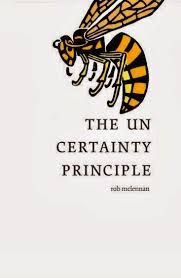 Chaudiere Books, 2014
Here is some of what you can expect to find in rob mclennan's new book of stories: "A vegetarian, he claimed, not because he loved animals, but because he hated plants."
I'll go ahead and say it for him. You're welcome.
But someone browsing the pages of mclennan's The Uncertainty Principle before buying may make the terrible mistake of assuming by a visual count that these are a collection of quickly jotted flash or sudden fiction pieces. Unfortunately, this is not an uncommon position for browsers to take when seeing really, really short stories.
Let's be honest, phoning it in can be done. But just because you write two-hundred words and add a title does not make it a story. This form, though perhaps not having gained the full respect it should have at this point, is a difficult enterprise to master. Not entirely different from poetry or "true" songwriting (See: Townes Van Zandt, Tom Waits).
In this case, the potential buyer of mclennan's latest work, published by Chaudiere Books, would be losing out if they were to place this collection back on the shelf (or delete it from their online shopping cart, as it were).
mclennan, already accomplished in several forms, may well have managed to redefine the flash, not to mention the micro-flash form, with The Uncertainty Principle.
These untitled stories offer a wide range of subjects and speak to them in a variety of different ways spinning from the philosophical – "I've wondered if I would actually want to live forever, and the only concern I have is memory. Even a simple life accumulates." – to the outright funny micro-story – "Radium tastes like buttermilk. #DontHaveFactsToBackThisUp."
When I first looked at this book I noticed the lack of titles and selfishly worried as to how I would refer to each story when talking about it here. Good grief. Yes, that's right. The world revolves around me and my little needs. All the while, mclennan is slinging not only philosophy and humor, but horror-perfect stories like this, here in its entirety:
According to the newspaper, a man had heard that parts of the female form were desirable to others, so he butchered his wife and tried to sell sections as pork. The police in the market soon realized what he had done, and discovered the rest of her body in the couple's modest cottage. This story should make you feel sad for the world, and for the poor woman. No human deserves such a fate. This story should make you afraid. This story is true. This story I couldn't begin to invent.
Like I've mentioned, this collection will invite and offer something for just about every taste – the deep to the funny to the something else altogether, as with the Google scavenger hunt mclennan sent me on with his wonderful story detailing how the grandfather in the film The Lost Boys was actually a vampire himself.
It was the grandfather, played rugged, warm and soft-hearted by Barnard Hughes, who crashed through at the end, pushing two stakes that would kill the head vampire, turning the tables and saving the narrative. Did anyone catch it? The bottles of thick dark liquid, his "root beer" that no one allowed, his unexplained absence through most of the film, his collection of taxidermy? Even the fact that his daughter thought him dead at the offset, when their lost car arrived, the old man lying, sprawled out, on day-lit porch. How else could you explain any of this, but for the fact he was a vampire too?
For all its seeming widespread subject matter, possibly the most impressive aspect of this collection is mclennan's ability to convey a sense of childlike wonderment throughout the many short pieces. Reflections on classic movies inspiring readers to remembrance and nostalgia in some pieces to outright playfulness in others will, however, give readers plenty to contemplate as they work through the collection. And this light approach works even better with some of the more politically-minded or darker stories. There is an innocence apparent in these stories that provides any subject, especially when fused with mclennan's rapid fire wit and skill, just the right universal resonance.
The simple and final point is that mclennan tells us stories and does it well in The Uncertainty Principle. He takes the advice from one of his own stories in the collection, which, told as a conversation between him and those numerous friends of writers, says:
Write a story about this place, they tell me. Oh, the characters here, you could write a whole book…You should really write a book about us. You really should.
Okay, he did. And killed it.
+++
rob mclennan
is the author of more than twenty trade books of poetry, fiction and non-fiction. He won the John Newlove Poetry Award in 2010 and was long-listed for the
CBC
Poetry Prize in 2012. His most recent titles include
notes and dispatches: essays
(Insomniac press, 2014), the poetry collection
Songs for little sleep,
(Obvious Epiphanies, 2012), and a second novel,
missing persons
(Mercury Press, 2009).
+
Sheldon Lee Compton is the author of the collection The Same Terrible Storm, which was nominated for the Chaffin Award in 2013, and the upcoming collection Where Alligators Sleep. His writing has been widely published and anthologized. He was a judge's selection winner in 2012 for the Still: Journal Fiction Award and a finalist in 2013 for the Gertrude Stein Award. He survives in Eastern Kentucky. Visit him at bentcountry.blogspot.com.