Book Reviews · 05/12/2014
The Reluctant Cannibals
by Ian Flitcroft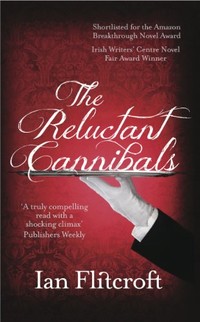 Legend Press, 2013
The Reluctant Cannibals is Ian Flitcroft's first novel. The story is set in Oxford in 1969—far enough from the present day to allow a certain suspension of disbelief over the characters' behaviour and significant, as Flitcroft has said, because the field of scientific cookery was thought to have been born in 1969 when Nicholas Kurti, Oxford Professor of Physics, gave a lecture at the Royal Institution called "The Physicist in the Kitchen." Kurti was later credited with being the father of "molecular and physical (as he called it) gastronomy."
This is a wonderfully entertaining novel—fast-paced enough, in short chapters, to keep an interest in the story but absolutely crammed (as befits Flitcroft, who is a scientist) with detail. Detail about Oxford life in the late 1960s: the University, the town, its streets and pubs, various colleges, students, servants, tutorials, the river, food. We are given in full the menus of the Trinity and Michaelmas term dinners.
The novel is peopled with essential figures: various dons, the college Porter, the Master, the Chaplain, the University Vice-Chancellor. And among the mostly sympathetic characters, two—mostly unseen but very present—are historical figures: Jean Anthelme Brillat-Savarin (d 1826) French epicure and author of La Physiologie du Goût and its translator Mary Frances Kennedy Fisher (d 1992), American food writer and critic.
The structure of the novel is interesting. The cover blurb clearly sets the scene, ending: "These are just some of the challenges these culinary explorers must overcome in tackling gastronomy's ultimate taboo: cannibalism," which the reader already knows from the title. Before the novel starts, the author explains more in his acknowledgements, followed by the constitution of the Shadow Faculty of Gastronomic Science and its membership, with two footnotes—another "scientific" addition of which there are 16 in the novel.
There is no real suspense in the unfolding of events here, no deus ex machina (but see below, for more on God); rather the reader is given all the facts and follows the gentle telling of the story. After the end of the novel per se, there is an epilogue, an appendix (a brief history of the Shadow Faculty of Gastronomic Science), a post scriptum and "On gastronomy and the origins of this book" by the author. So the reader has much information in addition to the text of the novel itself. The author's scholarship is evident but lightly worn.
The characters we meet are wonderfully observed. The hero is Arthur Plantagenet, Professor of Ancient History and devoted gastronome. After the death of a guest at the Michaelmas dinner,
Arthur Plantagenet was the only person in the room to remain quite calm. He emptied his wine glass and murmured to no-one in particular, 'What a bloody marvellous way to die.'
When he is told that he has little time left to live, Plantagenet wills his left leg to the members of the Shadow Faculty of Gastronomic Science with the instruction that they are to cure it and serve it at dinner.
His close friend of many years and the one possibly most affected by Arthur's death and his duty as executor is Augustus Bloom, Lecturer in Physiology and Tutor in Medicine:
It is true that Dr Augustus Bloom was in possession of a medical degree, but it was obtained with little in the way of practical experience and his years in academia had dulled whatever limited resuscitation skills he had ever possessed.
Others include the Master of St Jerome's College, Lord Faulkner: "This was just the sort of well-chiselled academic sparring that he had hoped for on coming to Oxford"; Professor of Modern History George Le Strang, a Frenchman: "Any drink where there are more ingredients from France than England must be a good thing to his mind." The Vice-Chancellor Dr Kenneth Ridgeway ("a man on a mission to modernise Oxford and bring us all into the twentieth century") and Detective Inspector Cornelius Granger, closer to the real world, are threats to the successful execution of Arthur Plantagenet's last wishes but are tricked into defeat by clever subterfuge.
My favourite caricature is the College Chaplain, Lecturer in Divinity and gifted organist Rev. Charles Pinker whose worries about the morality of anthropophagy leads to an informal conversation with God. One night, when he is kneeling before the altar:
'Charles, I have heard your prayers and I know what worries you.'
'You do? Oh, I'm sorry, of course you do, Lord,' said Charles, bowing his head a little lower.
'Your soul and the souls of those that travel with you are not in peril. You have been asked to help a soul of the departed in his eccentric but personal quest. Far worse has been done in my name. Curiosity is no sin as long as no-one suffers. Go in peace.'
'Thank you, thank you, Lord. May I call on you again?'
'You are most welcome, and thank you for all your prayers. I may not always reply, but I shall always listen.'
That God has taken to replying to his prayers was a great solace to the chaplain, though it would lead most men to doubt their grip on reality. True to his word, God never replied again, but Charles prayed every day for the rest of his life.
St Jerome's College (fictional) encapsulates a world of Anglo-French (and Anglo-Scots/Anglo-Irish/Anglo-ex-colonial) rivalry, of port and crosswords, anecdote and learned discussions. There are even ghosts. It is a very male world. Apart from Mary Frances Kennedy Fisher, there is a dearth of women: only Martha in the covered market, the ward sister at the Radcliffe Infirmary, a small serving girl at dinner and the head housekeeper Mary O'Sullivan. And a very English world: "Oxford is simply divine," the American writer says, "Bizarre, dysfunctional, but divine." "We English prefer the word 'eccentric'," says her host. And the Solicitor, Edgar Barringer, sums it up:
"It would be a sad day if we were to lose our admiration for eccentricity, Cornelius. We've lost most of the empire and seem intent on misplacing the rest. Last week we even lost Tonga [footnote 14]. If we end up discouraging all forms of eccentric behaviour then we might as well give up and call ourselves Americans."
So is the novel eccentric? Thoroughly. Is it funny? Hilarious—to my English taste. Cultured. Mouth-watering in places.
Flitcroft says he has a growing collection of food-related short stories covering a range of topics from a lobster in love with a young girl, an oyster's perspective on being eaten, to the girl who died because she didn't eat enough cup-cakes. He is working on his second novel to which I look forward. Meanwhile I must agree with Arthur Plantagenet, who has sent the readers of The Reluctant Cannibals a 'Message from the grave' on Goodreads, 18 October 2013: "That Flitcroft chap did a half decent job of writing it all down."
+++
Ian Flitcroft studied medicine at Oxford University, and then went on to complete a D.Phil in Neurophysiology. He is a long term member of the Slow Food Movement in Ireland, a collector of old culinary-related books and an avid cook and wine collector. Flitcroft now works as a consultant eye surgeon in Dublin, where he has lived for over 10 years. He is a contributor to the New Scientist Magazine and the best-selling book Do Polar Bears Get Lonely and he writes an award-winning blog Journey to Starlight, which was made into a graphic novel and published by One Peace Books, (2013).
+
Susan Jupp has worked in academic publishing in Canada and France and as an editor and communications specialist in international non-governmental organizations including the World Economic Forum, International Save the Children Alliance and Global Forum for Health Research. Originally from the United Kingdom, she has lived in Switzerland since 1977.