Book Reviews · 06/01/2014
The Otherwise Fables
by Oscar Mandel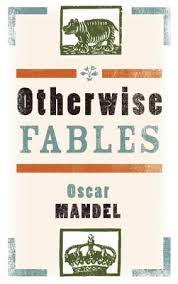 Prospect Park Books, 2014
The Otherwise Fables by Oscar Mandel is a complete collection of the writer's fiction, divided into three parts: "The Gobble Up stories," "Chi Po and the Sorcerer," and "The History of Sigismund, Prince of Poland." Although the reader can recognize Mandel's writing style throughout the collection, his style is subtly different in each part. There are doses of James Thurber's wit, a little of Marcel Ayme's paradoxical thought, some of Aesop's powerful simplicity, and even a dash of Umberto Eco's literary aphorisms.
The emptiness of fullness, the fullness of emptiness (from "Chi Po and the Sorcerer").
The first part of the book includes 47 short stories, first published in 1966. Some of them are so short we can undoubtedly consider Mandel, if not one of the pioneers of flash fiction, then one of the writers who helped extend the reach of this form into the literary sphere, giving it its exact proportions and dimensions: extreme brevity, meaningful conciseness and an often purposeful ambiguity.
"The Gobble Up Stories" are like short tales that want to teach something, but is this really what they want to do? Did Aesop want to teach something? Did the French Jean De la Fontaine want to teach something? Probably. But we can't be so sure that this is the final goal of these stories. Oscar Mandel plays with his stories in a masterful way. These are stories with an intense theatrical texture, not only because of their short length but mostly because of their lack of didacticism or their profoundly strong supporting net of stylish language and imagination.
To put it differently: reading one of these short stories feels like jumping into the clear blue sea of an exotic island; we can have a look at the bottom of the sea but we can never be sure of what's down there approaching us, a flock of friendly fish perhaps or the jaws of a hungry shark. Each story ends in a way that may leave us both more confused about any real moral value of the story but more relaxed as well. Adieu Moral Value, why should you always exist?
"I have proved that I am better than you," concluded the rock.
"My superiority over you is established," settled the sea.
At that moment, a seagull landed on the rock.
"You heard us," cried the rock.
"Yes, you heard us," cried the sea. "Which one of us is right?"
"Everybody is always right," sang the seagull. "That's what words are for."
And away he flew.
The second part, "Chi-Po and the sorcerer" is the most playful part of the book. A small novella written with great wit and first published in 1964. Although its initial title was Chi Po and the Sorcerer: a Chinese Tale for Children and Philosophers, it is easy to see that this is not a simple tale at all. There is a deep philosophical thread running through the whole story.
As the story proceeds and the sorcerer teaches Chi Po, and before revealing his secret to him, two questions arise. Is art another form of life? Is life another form of art? Maybe there are no borders between them. Perceiving the world in the same way an artist could perceive it, may become the secret of a happy life. And leading a simple life, in harmony with nature and other people, may become the helping step for a good artist, a step that will help his art evolve.
"Are these not hints of malfeasance in office? Bribes
received in kind? Administrative gluttony? And spinach—
is anything more insulting, more common? Spinach, sir!
Almost cauliflower, if I may allow myself the word."
There are certain parts in this novella that brought the great Witold Gombrowicz to my mind. Not only for the wit of the eloquent language but for the funny paradox expressed in some of the ideas as well. Oscar Mandel wanted to play a little in this story. Play with what can be considered the aristocracy of intellect.
The third part of the book is the novella "The History of Sigismund, Prince of Poland." Oscar Mandel wrote it as a play in 1988. A sophisticated tale about the nature of alternative possibilities. Possibilities that try to test the power of free will, moral responsibility, and the necessity of cruelty. The hero, Sigismund, carries the secret of his fate in his very own name. The Polish prince has a German name meaning ''Victory through protection'. But who has to be protected? Or whom does he have to protect?
As the story goes on, we find out that what we should be most careful of is our own self, our own fears and our own impulses. Who is more dangerous? Sigismund or his father the king? Or maybe the prophecies? Should we plan the future based on the fears of the past? The novella becomes a kind of frightening nightmare tale, able to reveal the true nature of things, which is exactly this: Things don't have a certain nature, we ascribe them one, our deeds acquire a real essence only through our actions and not through their evasively flowing philosophical aspects.
The incredible trick in this story is that all people taking parthave two faces like Janus, the Roman God. One face looking at the future and the other looking at the past. Only that future and past here intertwine a common inconspicuous tissue as if a tainted glass that doesn't allow the reader to see clearly who would become what.
History is capricious.
Sometimes it is twisted this way or that by a man, or even a
woman. Other times nothing that a man, or a woman, does
can compel it to change the course it is bent on taking. What
is to be concluded? I say one thing remains: Let each of us
take care of the soul he has.
Oscar Mandel provides readers with a very elaborate perceptiveness in human nature. Sharp and witty, his stories can take us to some profoundly strange places where we may catch ourselves wondering about the slightly discernible limits between wisdom and silliness. In other words, the reader is able to understand that what we consider as silly may be wise. And vice versa. This perspective gives not only a playful tone to the stories, but offers a deep insight to what really matters in human communication. Mandel's prose is ethical without being didactic and that's because he certainly believes in the importance of morality in everyday life. But not a shallow, stiff morality. His perception of what is moral consists of one rule: Innocence can be malicious and maliciousness can be innocent. No matter what is the exact subject of his story each time, this phenomenically simple but brightly subtle approach to the relationship between innocence and maliciousness runs through his writing.
Another unifying motif of the collection is the unimportance of time. Time seems to have a certain elasticity for Mandel, mainly in terms of patience and its results. Time can be about eternity and a single instant at the same time. A moment can be endless. Infinity can fit inside a second.
These kinds of contradictions give Mandel's stories a unique style. He infuses his writing with the idea of two faces, much like Janus, the Roman god of passages and bridges who is often depicted as looking both at the future and the past. And so like Janus, Mandel reveals himself to be a great bridge constructor in the philosophical dimension of writing, skilled at revealing the meaning in apparent paradoxes
+++
Oscar Mandel is an acclaimed Belgian-born American author and scholar who has published on numerous topics in English as well as in French. He has written on the subjects of literary theory and art history, translated plays, and authored his own poetry, drama, and fiction. He is a Professor Emeritus of Literature at California Institute of Technology, having taught as a professor there for over 40 years. Learn more at oscarmandel.com.
+
Avgi Meleti is Greek. She is the author of the novel Lydios (LegumeMan Books, Melbourne). Her short story "Autumnale Aequinoctium" is also under publication in a collection of short stories by TheSiren publications, in London. Some of her poems and short stories have been published in The American Aesthetic Journal, in Stone Path Review and in other Greek Journals. She has studied English Literature and holds an MA in Education and civilization.