Book Reviews · 08/31/2020
The New American
by Micheline Aharonian Marcom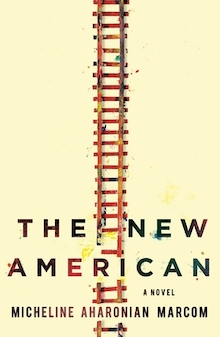 Simon & Schuster, 2020
Millions of undocumented immigrants entered the U.S. as children. Known as "dreamers," they are a largely hidden and often forgotten population. In the evening news, the dreamers' collective story is frequently politicized, leaving a blind spot for the general public. Unless one knows someone in a dreamer's situation, it can be difficult to understand the issues they face. In order to remain informed and responsive to the harsh realities of those who live with the constant threat of deportation or who have been deported, as well as the thousands of migrants who seek asylum through the U.S./Mexican border every day, we need to learn about individual histories and experiences. We need faces and narratives, voices and stories. We need to understand who migrates, where they've come from, and why they've come. We need to know, as James Baldwin cautioned, "what's happening on the other side of the wall." We need books like The New American, by Micheline Aharonian Marcom, which sweeps you into an uncomfortable reality, expands your heart, and helps you see through the eyes of a dreamer fighting to regain a lost promise. The world within its pages is unflinching and cruel but brims with hope and beauty. A catalyst for connection and empathy, The New American is also an immersive page-turner that will keep you reading eagerly to its conclusion.
Marcom's The New American follows the harrowing journey of Emilio, a college student at UC Berkeley who is looking to make his way back home to California from his birthplace of Todos Santos, Guatemala, where he has been deported. Emilio leaves the town of Todos Santos as abruptly as he arrives, carrying nothing but a green backpack with a change of clothes and a few small comforts, the clothes on his back, and all the money he owns hidden in his pockets and the insoles of his shoes. As a reader, you are at once captivated by the sudden novelty of a Guatemala he no longer remembers as he crosses into and through Mexico, which Emilio is seeing for the first time; empathizing with his loss and how it would feel to grow up with a mother, a sibling, and a comfortable life to lose it all so abruptly; and fearful for Emilio's safety, learning with every passage of the dangers he faces along the way, from the "delinquents" who rob and terrorize, the police who do the same, the "migra" who would drag him to a holding cell, or an army that serves the violent, profiteering mission of drug lords.
While lesser novels would attempt to magnify and capitalize on such larger-than-life challenges faced by migrants to the southern U.S. border, the majority of whom are fleeing from Central America's Northern Triangle, Emilio's plight is far from sensationalized in Marcom's careful hands. Marcom's first novel, Three Apples Fell From Heaven, was inspired by her maternal grandparents surviving the Armenian genocide in 1915, and The New American is driven by a similar motivation to tell a story that seems to be ignored or misunderstand, one where justice and injustice have fallen out of balance. Drawing from years of research and meticulously collecting firsthand interviews of Central American migrants who fled to the U.S. for asylum — part of her work as founder of The New American Story Project — Marcom writes from a well of knowledge about lived experiences, returning to a theme her grandparents faced, of fleeing and finding safe harbor. She writes from the bare bones, imparting the most basic and essential components of Emilio's crossing with ethereal beauty and truth: the searing, relentless sun, the clawing persistence of hunger, the vulnerability of walking without money or belongings, and the gut-wrenching rod of a fear that never leaves him:
The green bushes brush against their bodies as the land begins to darken, the light to lessen in the sky, and they are weary and anxious now because of the waning light and their fear gives them renewed energy to walk farther, faster, each step as fast as Emilio's legs can make the stride, and foot down, foot up, ignoring thereby his fear, his feet, their chafe and burn.
Marcom does not leave out the mundane aspects of riding atop the network of freight trains known as "The Beast," resulting in an authentic and heartbreaking account of what migrants experience on the "train of death." Among the dangers, Emilio and his newfound companions face the boredom of waiting and the repetitiveness of hopping and hanging on, their joints and bodies slowly eroding from discomfort, starvation, sleeplessness, and anxiety as they catch train after train over a period of months. Marcom uses her deep knowledge of the Central American refugee crisis to capture these gritty details with luminous clarity, realism, and, often, breathtaking sensuality. The narrative is transfixing, the momentum in pace with the train along its tracks as we, like the migrants the book portrays, feel the pulse of hope and the possibility to make it against every devastation.
Emilio and the friends he makes along the way, each of whom is fleeing the dangers in their home villages for the promise of asylum, are characters the reader will root deeply for and empathize with. If hundreds of thousands of Central Americans like them have risked their lives to make this journey, including a surge of unaccompanied minors in the last decade, this book puts the desperation into perspective, outlining the driving motives and bleak alternatives that make mass migration a reality. Like all important literature, this book will make you ponder your place in the scheme of the complex issues at play — rethinking the ease with which you might travel across borders, vacation in third-world countries, or pass by suffering, losing faith in your wherewithal to help alleviate it in a significant way. As the young characters in The New American find sanctuary in migrant safe houses or travel across the town of La Patrona, where gray-haired senoras distribute life-giving bags of food and water to the weary migrants on the cargo trains, you are reminded of the revolutionary power of a simple kindness:
Emilio…smiling…notices the movement on his face and realizes how he has not smiled very much these past weeks, and how charity really is very simple: a piece of fruit from a boy's hand; a black plastic bag filled with baggies of warm rice and beans from a senora's. Water.
In addition to a book about migration and the global repercussions of national policies, The New American is, at its heart, a novel about love, friendship, and identity. The word "dreamer" is only mentioned once in close to three hundred pages. Instead, the dreamer of this book is not simply the political identifier, but the one who dreams. Throughout the novel, Emilio's dream intervals act as transitions between sections, just as dreams take us across the journey of waking and sleeping. As a literary technique, they are moments of narration in which to process, conjecture, and step off the Beast "who talks nonstop in her diesel tongue, her susurrations, her throaty clanks and squeaks and mournful horn blowings" to an interior dimension. In Emilio's waking hours, he clutches a smooth, white stone from a California beach. Like a talisman, the stone links his old and new realities, reminding him of the past that has led him on his journey to "get it all back" and motivates him to return.
As Emilio loses and finds himself through the course of his 1,450-mile crossing, he is no longer the student that he was; he now carries the knowledge of life beyond his former protected Bay Area. He learns that love is a reflection of who you are, and that all you've been through with the ones you love binds you. Each day of his journey, he learns what it means to be perceived as new, and to become new once again, and we are transformed alongside him.
+++
Micheline Aharonian Marcom
was born in Saudi Arabia and raised in Los Angeles. She has published six novels, including a trilogy of books about the Armenian genocide and its aftermath in the 20th century. She has received fellowships and awards from the Lannan Foundation, the Whiting Foundation, and the US Artists' Foundation. Her first novel,
Three Apples Fell From Heaven
, was a
New York Times
Notable Book and Runner-Up for the
PEN
/Hemingway Award for First Fiction. Her second novel,
The Daydreaming Boy
, won the
PEN
/USA Award for Fiction. In 2008, Marcom taught in Beirut, Lebanon, on a Fulbright Fellowship. Marcom splits her time between California and Virginia where she is a Professor of Creative Writing at the University of Virginia. She is the founder and Creative Director of The New American Story Project [NASP], a digital oral history project focused on unaccompanied Central American minors who journeyed thousands of miles to reach the US. Visit
NASP
at
NewAmericanStoryProject.org
.
+
Renee Macalino Rutledge
is an Institute for Immigration Research New American Voices finalist and 35 Over 35 honoree, and her debut novel,
The Hour of Daydreams
, is a 2017 Foreword
INDIES
Gold Winner and Powell's Top 5 Staff Pick. She works as a nonfiction book editor for Ulysses Press and is currently completing her second novel.