Book Reviews · 05/13/2019
The Lonesome Bodybuilder
by Yukiko Motoya
Translated by Asa Yoneda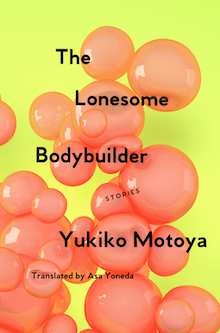 Soft Skull Press, Fall 2018
A boutique fitting room. A bus shelter bench. A conference room in a telecom firm. The tales in The Lonesome Bodybuilder place the reader in seemingly ordinary settings — so ordinary that when the strangeness encroaches in the form of alien customers and umbrellas that make businessmen fly, Yukiko Motoya's narration blends the bizarre so seamlessly into its mundane backdrop that we easily accept it. This matter-of-factness lends a certain believability that helps us to digest Motoya's commentary on the female experience and unhealthy partnerships. Achingly normal characters clash with wonderfully strange creatures in stories that somehow feel unsettlingly familiar. Motoya's velveteen voice caresses the reader with the kind of all-knowing sympathy one can only describe as akin to the hug of a random girl you've just sobbed about your troubles to at a bar.
Motoya echoes other acclaimed contemporary Japanese authors whose works reflect a distinct modern Japanese literary approach of reaffirming traditional subject matters such as past and self-consciousness while exploring newer topics like urban alienation. A playwright-turned-novelist with multiple Japanese literary awards to her name, Motoya has always written about women and estranged relationships. Her work, beloved by her Japanese audience, receives praise for her daring fusion of the absurd, the fantastical, and the real to urge readers into asking important questions about self, relationships, and people.
Translated for American publication in 2018, The Lonesome Bodybuilder features ten short stories and one novella. The book opens with its namesake work, "The Lonesome Bodybuilder," in which a woman becomes inspired to start bodybuilding only for her husband to remain blind to her changing body. The stories in the first half of the book take on a lighthearted tone even as they deal with real emotions. The novella, An Exotic Marriage, inserts itself in the middle of the book. San, a housewife, notices her husband's facial features shifting, falling, and jumping on his face as the two of them grow to look more and more alike.
The stories that follow "An Exotic Marriage" assume a darker quality. This second half exposes us to blood, gun violence, and intense physical fights. The stories evoke a world-weary cynicism and even a sense of dystopia. "Straw Husband," Motoya's swan song, depicts a woman's rocky relationship with her nitpicking husband, who's literally made of straw. At one point after an argument, she fantasizes about setting him on fire. The circular ending of the story elicits a sobering awareness that history is doomed to repeat itself.
But it isn't just that the heroines of Motoya's tales face down shapeshifting, straw-bodied husbands who swallow and reduce them to obedient husks of themselves. Motoya also masterfully plays on storytelling devices to make her point. In "How to Burden the Girl," Motoya introduces a pink-haired manic pixie dream girl through the eyes of a lovelorn male neighbour and immediately subverts her into an incestuous monster who cries tears of blood. Instead of simply expressing horror at the girl's villainy, our male protagonist, not unlike the men that manic pixie dream girls are written for, is infuriated that she has turned out to be no "different from other women." The story is an antithesis of those male writers whose female characters seem to always stick to the trope of a beautiful girl who doesn't know She's Beautiful. Motoya doesn't merely challenge the reductive roles women are placed in — she holds those who write these roles to culpability.
Imagerial oppression isn't the only kind of oppression Motoya alludes to. Toward the end of the book, we see one story told from two sides in "The Women" and "Q&A." In "The Women," a man is challenged to a riverside duel by his girlfriend. Upon arrival, he notices with adawning horror that the riverside teems with animalistic women dragging their docile partners around on leashes. The women, his girlfriend included, physically transform into "legendary beauties" of male fantasy before his eyes — feet sprouting stiletto heels and mouths oozing red lipstick. Despite his begging her not to, his girlfriend forces them to go through with the duel.
Then, as if Motoya is letting the reader in on a secret, she includes a question from an anonymous woman in "Q&A" confiding in an advice columnist about her physically abusive boyfriend. The columnist advises her to challenge him to a riverside duel; to drift between life and death until he is frightened into leaving without checking to see if she is dead. What we initially read as a story about a woman's insecurity and her subsequent emasculation of her boyfriend is revealed to be a very different tale of abuse and escape. The disparity between the two versions of the riverside duel is Motoya's demonstration of the stark incongruity between the way men and women view the world. Where a girlfriend sees an opportunity for freedom from abuse, the boyfriend sees petty insecurity and emasculation.
Motoya doesn't specifically discuss sexual harassment and abuse in The Lonesome Bodybuilder. But she recognizes the activist adage that "when you're used to privilege, equality feels like oppression." So what if men lose a bit of their power in women's self-actualization? So what if they feel emasculated by female liberation? Motoya's solidarity comes in the form of shifting the focus onto the women in her stories; the men are often left unnamed.
It also manifests in the thematic implications of her stories. The titular bodybuilder's husband won't notice her growing muscles. The office worker in "I Called You by Name" agonizes over an ex-boyfriend, surrounded by male coworkers. San in "An Exotic Marriage" literally morphs into her husband. These female protagonists grapple with men who occupy too much of their physical and mental spaces. The bodybuilder describes how her husband's hands are "as slender as an artist's, and my arms are chunky like a wild beast's, thanks to my training. Passersby always do a double take at the contrast between our physiques …" Motoya's figuration of the woman's masculinized body and its tendency to intimidate others while it empowers her reflects a breaking out of the socially acceptable role of a woman and the consequences of this liberation.
Aside from her commentary on womanhood and relationships, Motoya's writing, reinforced by Asa Yoneda's translation, merits praise. Lines such as "I've wasted too much of my life waiting around for ambivalent beings like you" and "How had I ended up married to a completely different species of being from me?" carry a sincerity that only strengthens their compassionate effect.
The Lonesome Bodybuilder serves as a wonderful read whether you seek an immersive escape or a read that offers a nuanced perspective on the social world. The stories are as strange as they are comforting; as unsettling as they are honest. Motoya writes for the women who have been slighted by a world that devalues them even as it expects too much of them. For the women who carry the weight of identities that have been imposed upon them; endlessly trying to please and salvage half-hearted relationships. Reading Motoya's writing feels like waking up from a vivid dream — the vestiges of the dream cling for the first few moments of lucidity, making you see everything through a weird, hazy new lens. It's within this liminal space, not quite moored in reality but not quite embracing fantasy, that The Lonesome Bodybuilder exists.
+++
Yukiko Motoya was born in Ishikawa Prefecture in Japan in 1979. After moving to Tokyo to study drama, she started the Motoya Yukiko Theater Company, whose plays she wrote and directed. Her first story, "Eriko to zettai," appeared in the literary magazine Gunzo in 2002. Motoya won the Noma Prize for New Writers for Warm Poison in 2011; the Kenzaburo Oe Prize for Picnic in the Storm in 2013; the Mishima Yukio Prize for How She Learned to Love Herself in 2014; and Japan's most prestigious literary prize, the Akutagawa Prize, for An Exotic Marriage in 2016. Her books have been published or are forthcoming in French, Norwegian, Spanish, and Chinese, and her stories have been published in English in Granta, Words Without Borders, Tender, and Catapult.
+
Grace Kwan studies Sociology and Professional Writing & Communication at the University of Toronto. Her speculative short fiction and prose poetry has been published in multiple anthologies and magazines, and she currently contributes to The Thirlby.