Book Reviews · 04/28/2014
The Heart of June
by Mason Radkoff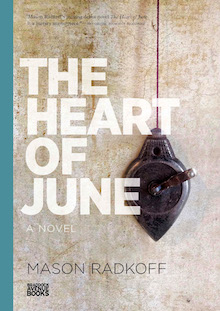 Braddock Avenue Books, 2013
Mason Radkoff's sometimes luminous debut novel, The Heart of June, recounts a late-bloomer's coming of age. Walt Farnham, a grad school dropout in his mid-forties who lives in an apartment above his ex-wife's garage, supports himself by half-assedly doing renovations and carpentry in a historic section of Pittsburgh. Readers meet Walt at an awkward moment in his life. At forty-six, he has settled into a holding pattern, frightened of change. He's left a litter of unfinished home improvement projects in his ex's house and around town. He seems unable and uninterested in finishing any handyman jobs for his clients, such as the doctor's wife to whom he still owes "a few cabinet door pulls" and "one last section of crown molding" that gathers dust in his ex-wife's garage.
Nevertheless, demand for Walt's handiwork among the well-to-do denizens of his historic neighborhood remains high. He muses that clients continually seek him out because they like to confide in him while he works, making him "an unintended therapist of sorts" who "would care for their secrets." Beloved yet marginal, Walt feels "like he'd been kept only for nostalgia — a one-speed bicycle that had earned lingering affection." This outmoded bike simile from the novel's first page proves apt since Walt — in spite of his status as an endearing neighborhood fixture — has fallen into obsolescence. His incomplete projects are everywhere he turns, such as a house on Amberson Avenue that he measured for a window installation. He had calculated a price for the eager owners but failed to send them the quote.
In the opening chapters Walt learns that his stasis is coming to an end. Despite his ex-wife's prior willingness to indulge his inertia, it now appears he's finally reached the limit of her patience when she hires another contractor to work in her home. Meanwhile, his benefactor and erstwhile foster mother, the imperious June Bonwell Creighton, charges him with an extensive renovation of her mansion's parlor that he doesn't feel up to completing. With Miss June's imminent death looming and other relationships shifting in his life, Walt must come to grips with how he's been scraping by in a state of incompleteness himself.
While this isn't new narrative territory, it's hard to imagine two more affectionate portraits than those of Walt and of his adoptive mother, Miss June, a starchy widow to whom his father was devoted. Orphaned in his early teens, Walt comes under the wing of June as he grows to adulthood. Radkoff mostly resists the inclination to drench Walt's relationship with her in sugary sentiment. Many years on in their relationship, the two continue to trade barbs in an endless game of insults. When Walt complains that he never saw the point of hanging the heavy winter shutters on her ancestral manse, named Hardwick, Miss June responds, "'Mental acuity was never your strong suit.'" Their verbal jousting belies the intimacy of family even if Walt doesn't realize it yet.
Radkoff also pays loving attention to the avenues and neighborhoods rich with Pittsburgh history, rendering poignant the loss of those structures and spaces that have disappeared into the maw of urban renewal. Take, for example, this description of Miss June's street, once known as "Millionaire's Row":
A century before, both sides of Fifth had been lined with elaborate houses commissioned by the titans of Pittsburgh's steel and glass industries, though most of those great structures were demolished after the Depression, making way for brick apartment buildings that offered tiny windows and security door buzzers — safe nests for worried spinsters. Fifth Avenue was no longer cobblestone, and its streetcar tracks were no longer there to carry well-coifed women downtown to shop at Gimbel's and Horne's.
A significant plot point revolves around the fate of Miss June's stone mansion, a holdover from the "Millionaire's Row" era, and Radkoff's knowledge of local history, renovation, and carpentry all beautifully deepen the novel's sense of place. The mansion, like Miss June herself, is emblematic of a bygone and more traditional era, and readers' desires to learn the fate of Miss June's Hardwick will carry them to the concluding pages.
Readers may have reservations about the fact that The Heart of June contains too few surprises. Although audiences of literary fiction don't come to a novel like this in search of daring plot twists straight out of a Chris Nolan movie, characters here develop along predictable lines in the course of the story, coming off as a bit too predetermined by the author's hands. For instance, as soon as a freshly divorced and comely woman arrives on the scene to write the history of Miss June's family, readers will easily deduce that she will wind up as a partner for Walt. There are moments when their potential union is threatened, but the obstacles seem easy to surmount and almost perfunctory. Devotion and love are rewarded and evil, in the form of a greedy relative of Miss June's, is punished. For a novel that often effectively plumbs the self-contradictory depths of its characters, these developments flirt with being too facile.
In the end, though, the emotional heft and lovingly rendered details carry the novel. Its pleasures lie in exploring characters like Walt and Miss June, richly embellishing their intertwined lives. Readers will feel they've spent the better part of a year in this Pittsburgh neighborhood, from autumn of one year to following summer, among its people, with whom they'd be glad to remain a while longer.
+++
Alex DeBonis's work appears in The Ilanot Review, decomP, Esquire.com, American Book Review, and Small Press Book Review. Though his roots are in the Midwest, he teaches fiction writing, literature, and composition in West Tennessee, where he lives with his family.