Book Reviews · 10/02/2017
The Fabrications
by Baret Magarian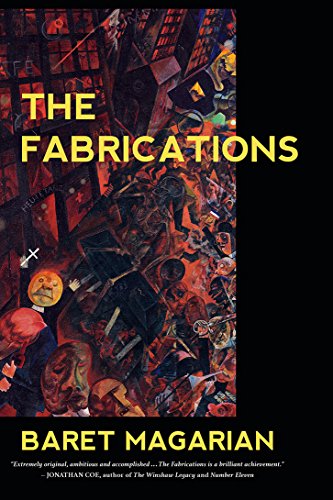 Pleasure Boat Studio, 2017
The simplest introduction for Baret Magarian's The Fabrications is to say that it is a novel of satire for an era of irreality. It is a difficult task to satirize the absurd—Hunter Thompson's observation comes to mind, that satire becomes impossible when reality itself becomes twisted—and one wonders on reading The Fabrications if the author did not often balk at the task of parodying a densely mediatized society that only grew more ridiculous as the novel approached its publication date.
The story of The Fabrications commences with Daniel Bloch, a successful writer of unoriginal books, who seeks to change his profile and his self-image by writing something of literary merit. Daniel chooses as his subject his sort of, kind of friend Oscar Babel. Oscar is a young painter who no longer paints and works lonely shifts as a projectionist in an old-fashioned cinema. The purpose of Daniel's project will be to open a new chapter in his own career and to show Oscar how he could harness his gifts to become a success. Very rapidly, Daniel's writings begin to seemingly manifest their conceits in the real world, creating a bizarre and unexpected escalation of Oscar's status. The implication is that every successful artist might secretly wish to be a messiah, and that achievement and recognition lead inevitably to the formation of a cult of personality.
From the early stages of the novel, situations and conversations veer between the openly absurd and the privately poignant. Daniel Bloch and Oscar Babel are both malcontents, burdened by insecurity: Daniel over his hacky writings and troubled personal relationships, and Oscar, with his narcissistic dissatisfaction and acute spiritual paralysis. In the following excerpt, early in the novel, Oscar tells Daniel, in a crowded theatre bar during intermission, that he intends to quit his current job at a cinema:
"What will you do?" Bloch yelled
"Not sure – I've got plans."
"Are you enjoying the play?"
"It's a bit morbid, don't you think? I'm not really in the mood. I'm more interested in that story about me. How's that coming along?"
For an infinitesimal period of time Oscar had the impression Bloch was no longer there with him. His body, his clothes, remained but the living, breathing entity contained within had been suspended. He might have been a waxwork model. Then the moment passed and the spark of life was restored.
"It's…different," he bawled. I've drawn on my own personality. I brought what I've got so far. Two chapters. Thought you might like to have a look."
They discuss the pages briefly once Oscar has read them, then they leave the theatre early for a late swim in a pool where a new model car has been immersed as a publicity stunt.
The Fabrications wears its absurdity on its lapel, unabashedly. The central characters have a well-fabricated interiority which contrasts them with incidental or supporting characters who play more like Candideian allegories. For readers unfamiliar with the vagaries of arts and literary scenes, this style of comic exaggeration might seem a bit rich, a bit too on-the-nose, but there are painfully accurate caricatures on show, even before we get to the monstrous publicity agent Ryan Rees, who becomes the Colonel Tom Parker to Oscar's Elvis.
An apt example might be Webster, introduced in a scene from Chapter 3, who runs an antique stall. He is characterised, from Bloch's point of view, as such:
His flabby face seemed to reflect a slumberous mind. During a conversation his remarks were always a little to the edge of things, never quite managing to embody the precision of relevance. This slightly displaced quality was reflected in the fact that when he spoke he always did so out of the corner of his mouth, his lips drooping at one end to make him mumble. This habit had been formed when he was a small boy and a female cousin had spied him urinating … and announced her presence with hysterical squeals.
As well as funny and stinging lampoons of corporate ad-speak and the aesthetics of the publicity stunt, Magarian makes intermittent postmodern flourishes with The Fabrications by visually aping the format and presentation of newspapers, press releases, and webpages, and periodically makes astute critical observations on works of art and media which do not exist outside the world of the novel. The effect is to couch the deliberately ridiculous in the utterly plausible. Formally, the novel sits somewhere between naturalistic satire, an extended parable, and an immersive, epistolary experience: we read a review alongside a character, then zoom out to see what they do in response. The naturalism falters when characters give elaborate accounts of themselves through protracted dialogue, but in these instances, the absurdism catches them as they fall out of range of the conventionally plausible. Oscar Babel, in particular, is written as having a need to confess and apologize for his perceived failings. As his relationship with Daniel intensifies and alters, and he loses the control over his life he had resigned before the novel began, he begins to mature and seek the consolations we all seek, not least of which is the opportunity to know love, and to be loved. The silliness of the world is not compromised in order to convey this or other character developments.
One possible bone of contention for the reader might be the curious role of female characters in the novel: although far from underwritten, there is a sense that the main story is a story of boys at dangerous play, who only grow or degrade according to their relationship with the women from their past or their present. This is mythically satisfying but some may find it tokenistic. Characters such as Najette are well-rendered but curiously opaque, maybe reflecting the haplessness of the men the book is centered upon. This is not necessarily a failing of the novel so much as a peculiarity that warrants closer reading.
The Fabrications begins as a satire of the marginal and the malcontent and develops into a farce on the hubris of using creativity to evade or escape the self. Critics of media will find many lines and passages laugh-out-loud funny, and artists will see themselves or their fellow travelers and may not like what they see, if they forget their sense of humor.
+++
Baret Magarian
is Anglo-Armenian. He was born and raised in London and currently lives in Italy. He began his career by writing features and reviews for 
The Times, The Guardian, The Observer, The Independent
 and
The New Statesman
, then published fiction in 
World Literature Today, Journal of Italian Translation
, the online magazines 
El Ghibli, Sagarana
, and 
Voyages
. His poetry has appeared in the Florentine magazine
Semicerchio
 and the Australian anthology 
Contrappasso
. He has worked as a translator, musician, lecturer, book representative, fringe theatre director, actor, and nude model. He has recorded an album of acoustic rock, composed and performed piano music in the vein of Alkan and Jarrett, and recently staged his monologue "The Pain Tapestry" in Florence and Turin to great success.  His writing has been praised by Jonathan Coe, the British novelist; by Bruce Hunter, the Canadian poet; and by Mia Lecomte, the Italian poet and critic.
+
Ruairi Conneely
is a writer and poet based in Dublin, Ireland. He has written community and feature journalism (NewsFour, This Greedy Pig), film reviews (The Movie Waffler), profiles of poets and artists, and has performed his own writings at showcases and venues like The Monday Echo, Gallery X, the Collective at Ranelagh Arts and The Icon Factory to name a few. His most recent publications are poems in the
FLARE
broadsheet from Dublin's Sunflower Sessions and a short story for the horror anthology
Break the Walls of Heaven,
, available to buy
POD
on
lulu.com
. He talks to himself in public on Twitter as
@RMConneely