Book Reviews · 04/11/2016
The Best Small Fictions 2015
Edited by Tara L. Masih and Robert Olen Butler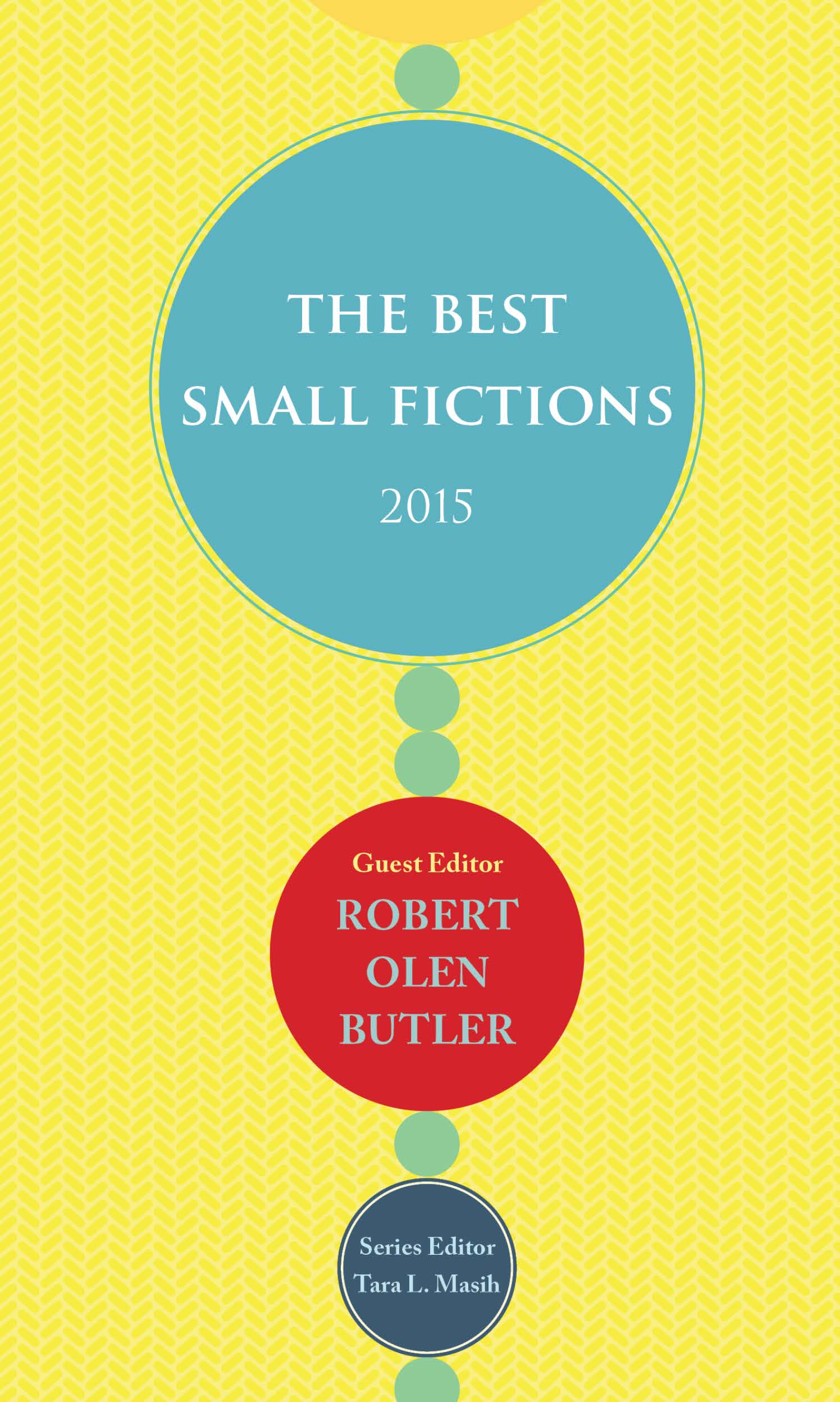 Queen's Ferry Press, 2015
The Best Small Fictions 2015 is an essential anthology, the first of a new series showcasing the best very short fiction, in a variety of forms, published in a single year. Fifty-five acclaimed and emerging writers, including Stuart Dybek, Michael Martone, Emma Bolden, Ron Carlson, Bobbie Ann Mason, and Rusty Barnes are among some of the brilliant voices included. Edited by Tara L. Masih and Guest Edited by Robert Olen Butler, this diverse selection of stories is as rich and unique in content as it is in form. With the shortest piece at twenty-seven words, the stories in this anthology depict the impressive power of the very small prose form. Known by its various names–flash fiction, microfiction, short shorts, to include a few—the greatest small fiction is rendered with an exacting craftsmanship and a condensed style filled with truth and emotional power that echoes from the tightest, smallest spaces.
The popularity of the small fiction form continues to shape trends and opportunities in the literary world, from journals to academic programs focused on the teaching of its particular craft. Great independent publishers like Red Hen Press and Curbside Splendor proudly feature flash fiction collections among their titles, along with the mighty Rose Metal Press, which is devoted entirely to the hybrid form. The Best Small Fictions joins an important tradition of anthologies, such as Sudden Fiction and Norton's Flash series, that feature the masterful possibilities of this exciting form, while helping connect this work to a larger readership.
The stories included in The Best Small Fictions anthology are driven by a breathless, white-hot immediacy, conveyed especially through voice. In his introduction, Robert Olen Butler remarks how these pieces "enter us briefly… they leave us imprinted with freshly experienced truth," and instructs readers to "take your time with these please. A few at a sitting. Read them slowly. They are small but brimming with our shared human experience." Such advice is especially keen when considering pieces like J. Duncan Wiley's "A Notice from the Office of Reclamation," which brings a chilling depth to an otherwise dry safety notice against exploring mine shafts, or the raw and mesmerizing voice of Emma Bolden's "Before She Was a Memory," which transports readers to a hospital morgue as a mother identifies her decapitated daughter.
The storytelling possibilities of small fictions are brilliantly exemplified in the wide range of pieces included in this anthology. Despite their brevity, these stories connect readers to incredible circumstances and haunting situations rich with complexity. "Let's Say" by Julia Strayer weaves together the crushing fates of two mothers, unknown to one another except in the brutal aftermath of an unintended moment of violence. Likewise, in "Scarlett Fever" by Stefanie Freele, readers are absorbed into a vivid portrayal of loss and yearning, as two identities are blended together in hallucination, dislocating both the reader and character's sense of reality:
Simultaneously, she is seven years old dressed in a white sweaty nighty and forty-seven years old covered in sweaty snow pants, a down jacket, and her husband's blue long johns, the one with shredded ankles … Thinking of seven—when she is forty-seven and has pneumonia—of this itchy nubby couch spattered with peanut butter and crumbs, the high window with the white pressing light and the hope she placed on the light in that window, fix me.
Written under the vivid, masterful eye of Rusty Barnes, "Nights in Paradise" blends together dark humor and suspense, propelling the reader through three disparate sections that are loaded with surprise and wit:
That little shit of a delivery boy. She'd get him this time. She loaded her shotgun with her dearest unspoken wishes, made a plate of lemon cookies for afterward and waited. About four a.m. he showed up and she shot at him, but missed. He lay on her front porch like an asthmatic baby, mouth opening and closing. That's right, she said. Suffer. The news is important.
Another virtue of this anthology is its international scope, as it includes such prominent writers as Hiromi Kawakami, Danielle McLaughlin, and Jane Swan, among others. The anthology also features fascinating interviews with author Michael Martone and Phong Nguyen, the editor of Pleiades, an international literary journal, where several of the anthology's contributors first published their pieces. The Best Small Fictions 2015 is an important new anthology that offers a much-deserved spotlight to a rich and exciting form of literature. The 2016 issue is set to publish this fall.
+++
Robert Olen Butler
has published twelve novels and six volumes of short fiction, including
A Good Scent from a Strange Mountain
, which won the 1993 Pulitzer Prize for Fiction. A recipient of both a Guggenheim Fellowship in fiction and a National Endowment for the Arts grant, he also won the Richard and Hinda Rosenthal Foundation Award from the American Academy of Arts and Letters and was a finalist for the
PEN
/Faulkner Award. He has twice won a National Magazine Award in Fiction and has received two Pushcart Prizes. His stories have appeared widely in such publications as
The New Yorker, Esquire, Harper's
, and
The Paris Review
. They have also been widely anthologized and translated into nineteen languages. Over the past fifteen years he has lectured in universities, appeared at conferences, and met with writers groups in 17 countries as a Literary Envoy for the U. S. State Department. He is a Francis Eppes Distinguished Professor holding the Michael Shaara Chair in Creative Writing at Florida State University.
+
Tara L. Masih has won multiple book awards as editor of The Rose Metal Press Field Guide to Writing Flash Fiction and The Chalk Circle: Intercultural Prizewinning Essays. Author of Where the Dog Star Never Glows: Stories (a National Best Books Award finalist), she has published fiction, poetry, and essays in numerous anthologies and literary magazines (including Confrontation, Hayden's Ferry Review, Natural Bridge, The Los Angeles Review, Night Train, and The Caribbean Writer). Several limited edition illustrated chapbooks featuring her flash fiction have been published by The Feral Press, and awards for her work include The Ledge Magazine's fiction award, finalist placing in the Reynolds Price Fiction Awards, and Pushcart Prize, Best New American Voices, and Best of the Web nominations.
+
Olivia Kate Cerrone
's Pushcart Prize-nominated fiction won the 2016 Jack Dyer prize from
Crab Orchard Review
. Her stories have appeared in various literary journals, including
New South, The MacGuffin
, and
War, Literature and the Arts
. She serves as a regular contributor to
The Rumpus
, as an Associate Editor for
CONSEQUENCE

Magazine
, and as a writing mentor for the Afghan Women's Writing Project. Contact her at
Olivia.Cerrone@gmail.com
or visit her at
www.oliviacerrone.com
.