Book Reviews · 07/30/2012
Shut Up/Look Pretty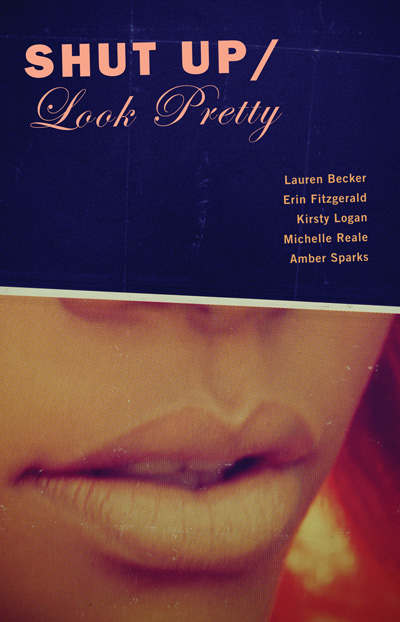 Tiny Hardcore Press, 2012
As I read Shut Up/Look Pretty, the thought that kept popping up in my mind was that if Charlotte Perkins Gilman and Bret Easton Ellis made a bunch of literary babies, this would be the result. Equal parts feminine, poetic, visual, rich, frustrating, and haunting, this collection of stories from Lauren Becker, Erin Fitzgerald, Kirsty Logan, Michelle Reale, and Amber Sparks has a bit of something for everyone.
Arranged by author, each given a title for their respective section, the stories collected here do not offer a specific theme, nor do they fall into any specific genre, nor do they directly engage with the anthology's provocative title except, perhaps, as a rebuke to the epithet. Becker (Things About Me and You) and Fitzgerald (This Morning Will Be Different) present work that can easily be called flash fiction, meaning few of their stories go over a page and a half. While there is a definite spark in the writing, the lack of narrative arc can make it hard for a reader to follow along. Like much of Bret Easton Ellis's work, the description is superb and engaging, but the stories themselves defy interpretation and close reading. The reader is barely into a character, just beginning to make friends and enjoy the moment, when suddenly they are kicked out, left wondering what they experienced.
A good example of this dreamlike atmosphere is Becker's "The Hamburger Story." A female narrator shares her thoughts upon reading her ex's new book and finding that the main character is a thinly-veiled representation of herself:
I didn't like her. I like the name. You know I hate that name. I always thought you were funny. Maybe even more than you were mean. All you seem to remember is that I was mean… I'm not so mean that not happy that your face is on the book for me to step on. Are you still that mean? He is not mean at all. I would never throw a hamburger at him. I liked that part best.
This example is a fair indication of the style that abounds in this book. There is no clear hint of motivation or inciting action in most of the stories. These are merely captured moments, snapshots made of words instead of pictures. I came to think of Becker's and Fitzgerald's stories more as prose poetry than fiction. While it was difficult to figure out what or who I was encountering in each piece, I liked being there. The flow of language is outstanding, even if it sometimes lacks the clarity many look for in order to relate to what they're reading. Fitzgerald's description of the setting in "Waiting Room" does not exactly lend to interpretation of the overall story, but is still so vivid that it creates atmosphere as well as emotional connection:
Sometimes, I pace from the bulletin board to the coat closet. I lie on the shelf meant for hats, when no one uses hats or coat closet shelves anymore. I read magazines that tell me what I already know. I move the big wooden beads along the metal rods on the white table… The beads are shiny and juicy looking. There's such a satisfying click when each bead reaches the end of its path. Even the mothers who bring their own tissues and hand sanitizer sometimes push them from one end to the other, when no one else is looking.
This method of characterization through non-personal description is one of the standout qualities throughout this collection.
Many of the stories, while not necessarily inviting or gripping, are sure to haunt the reader's mind. In particular, Amber Sparks's "The Stages of Human Decay" (part of A Great Dark Sleep) will definitely remain embedded in the memory. Told in second person, "you" die in the first stage. What is so remarkable is the way Sparks so deftly describes the feeling of death:
Your heart, it seems, has become a fish. It leaps, flutters, flops sideways a few times, then stops. You fall down.
Just an hour ago your muscles were loose and limber… Now your thighs and calves are tightening, rigid, blood pooling underneath the skin. Your brain cells are losing their structural integrity. In other words, your brain is slowly turning to jelly…
While uncomfortable to read, the lyrical realism shines as brightly as a funeral pyre. Sparks has the uncanny ability to draw you into the deep, dark recesses of her world, and make you like it, even when you aren't comfortable being there.
Michelle Reale touches more on the state of the feminine than the reader may realize on the surface. In What Passes for Normal, Reale illustrates various types of women people generally do not notice—women on their smoke break, women in failing marriages, and, most notably, teenage mothers. In "Girls with Barrettes," young mothers take their babies to the park to meet up with the babies' fathers, tucking bottles of beer into the diaper bags, presumably to entice the fathers into a sort of quasi-comfort. The description in this story stands out for its visual cues, as well as the strained emotionality it evokes.
To pass the time they place the babies in the infant swings where they slump as if hung on hooks left to dry… Their tiny young bodies, looking prematurely old, lift momentarily and come down with a thump.
Reale treats the babies as sad props, wrenching out every last bit of apathy the young mothers feel for their condition as too young, too single, too desperate. In fact, most of the stories in Shut Up/Look Pretty touch on a sense of stark desperation. It comes to such a point that the reader feels desperate just to finish each story and move on to happier things. While that seems negative, and can be, depending on the reader, it does speak to the authors' ability to create emotional connection through an extremely short piece.
Kirsty Logan's Local God is a little different from the others, a piece that is not quite a short story, but not quite a novella or novelette. In nine short chapters, she paints the bleak life for her character, a (presumably) male protagonist who may or may not also be the antagonist, Francis Faskally. This story is confusing in a Fight Club kind of way. Is the main character going insane? Is he already insane? Or does he just have an unhealthy obsession with the lead singer of his band that disrupts his sense of personal identity? In some chapters, Francis appears to be an actual person. The main character interacts and converses with him, opining about Francis' "overactive libido" and appearance:
His hair is a tumbleweed mess. He's got a cut on his bottom lip, which makes it swell to a pout. His t-shirt is inside-out and his shoes don't match. He looks like he's answering a casting call for generic rock star.
However, other scenes make it seem as if Francis is an apparition, a tool for the main character's projection of his own stasis in life. The story starts with Francis not showing up for their band's gig. Tibor, the other band member, convinces the main character to sing in Francis' absence. Yet, when the performance is described, it seems like Francis is there, even though the narrative never shows him arriving. This is the main indicator that he may not be real, even if the rest of his scenes treat him as an actual being, not a mentally conjured one.
While the works in Shut Up/Look Pretty are outstanding in their capability to capture the reader for the (typically less than) five minutes it takes to read each story, this is not a book that invites staying for a while and making yourself comfortable. This is not the book you curl up with on the couch for a leisurely day of reading and relaxing with a cup of tea. The lack of strong narrative arc, that inviting flow that encourages you to continue turning pages so you can get lost among them, is not easily found within these pages.
That said, however, if you are looking for a book you can carry with you to read in quick snippets while waiting in line, riding public transportation, or between appointments, then this should most definitely be on your list. The descriptive voices and haunting images will help to blur the edges of the mundane activity of everyday life. While you can't escape deep into the stories, you can lose yourself in their macabre treatment of your own reality.
+++
Lauren Becker lives in Oakland, California. She is editor of Corium Magazine and writer of fiction that has appeared in places in places including Juked, The Los Angeles Review and Wigleaf.
+
Erin Fitzgerald's
fiction has appeared in fine literary journals such as
Necessary Fiction,

PANK

, Wigleaf, jmww,
and
Referential.
She is editor of
The Northville Review,
and she teaches, writes, and lives in western Connecticut.
+
Kirsty Logan's
writing has been published in around 80 anthologies and literary magazines, and broadcast on
BBC
Radio 4. She co-edits the flash fiction magazine
Fractured West,
and writes a weekly column for
IdeasTap.
She also reviews books for
We Love This Book.
+
Michelle Reale is an academic librarian. She is the author of four chapbooks of fiction and prose poems. Her work has been published in numerous publications both online and in print. She has been twice nominated for a Pushcart Prize.
+
Amber Sparks's début short story collection, May We Shed These Human Bodies, will be out in September 2012 from Curbside Splendor. Her fiction has been featured in various publications, including New York Tyrant, Unsaid, Gargoyle, Smokelong Quarterly, and elimae. She is also a contributor at lit blogs Big Other and Vouched, and lives in Washington, D.C. with a husband and two beasts.
+
Jillian M. Phillips
is a poet and
MFA
candidate at the University of Nebraska. Her work has been published or is forthcoming in
Feminist Teacher, Jerry Jazz Musician,
and
Cellar Door,
among others. She lives and writes in Northwestern Wisconsin.