Book Reviews · 03/30/2015
Shorter Days
by Anna Katharina Hahn
Translated by Anne Posten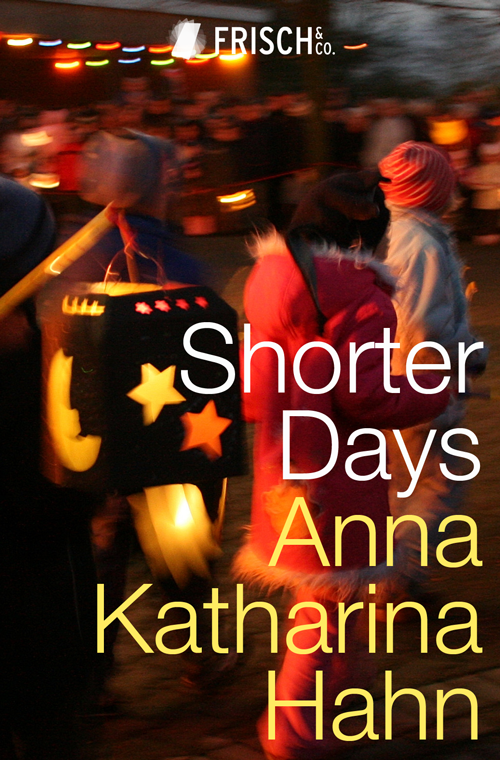 Frisch & Co., 2014
Anna Katharina Hahn's novel Shorter Days, long-listed for the German Book Prize in 2009, is told from the perspectives of a small group of residents—Judith , Leonie, Luise, and Marco—in a contemporary Stuttgart neighborhood. Sections from Judith and Leonie, two mothers of young children, alternate for the first half of the book until the pattern is broken by the entry of voices from the periphery of their lives.
A sense of claustrophobia pervades the novel. Judith, whose mind the reader enters first, is trapped by a hunger for relief in the form of nicotine and sleeping pills. We meet her inside her apartment, a kind of comfortable tomb. She tries to control her urge for self-destruction by orchestrating a perfect Waldorf preschool experience for her two young boys. Hahn's densely detailed descriptions of Judith's apartment, her cigarettes hidden in a "shiny silver box, warmed by the dying fire within," her need to air out the smoky dining room, leads her thoughts back to her Hackstrasse days, when she lived as a student in the eastern part of the city and smoked and took pills indiscriminately from first waking until sleep. Judith's marriage is built on leaving that time behind, but it haunts her:
"Hackstraße bullshit" also meant her desire to be a mummy, stiff and motionless in the surrounding darkness, wrapped up tight in resinsoaked bands, a bunch of dried herbs in her mouth, her racing, tormented heart, contrary to the burial regulations, billeted in a hieroglyphic-encrusted alabaster jug in the innermost chamber of an underground dwelling.
Judith's sense of death-in-life contrasts with her efforts to give her young boys a wholesome childhood by raising them without television or plastic and with daily experiences in the natural world. Tense control of her environment is a thin membrane between the present and the time in Hackstrasse when she careened toward death.
In contrast, we meet Leonie outdoors with her young children at a Halloween Festival. She struggles with guilt for enjoying a full-time job in communications at a bank. Near the end of the evening, her five-year-old daughter Lisa begs her to go with her inside a Haunted House, which would require the grown woman to crawl into a child-size tunnel. Leonie explains she is too big, but her daughter is not appeased, and they leave the festival in a state of meltdown familiar to parents of small children. Leonie's inability to enter the Haunted House has significance in a novel in which so many of her neighbors are symbolically contained by the places they live.
Leonie needs her time at her job but feels she betrays her children daily by working. And yet, when she is with her young girls, she is fully present to them. Leonie is at home with the chaos of children and their physicality:
Feli hides her face in Leonie's neck, her hair soft as precious fur. She's heavy, much
heavier than Lisa was at two. A burning in the tendons of her knees and shoulder blades warns Leonie against carrying this much weight. She knows that she ought to encourage Feli to walk, and especially to climb the stairs, but she can't resist the temptation to press this little creature to her body, this tiny being who was breastfeeding only a year ago, to listen to her garbled words that still can't convey complexities or malice. She often carries Feli—not just to enjoy the warmth and flexibility of her child's round body, but also to assuage her guilty conscience. Leonie, who loves her work, would never admit that it also troubles her. But now, with Feli in her arms, the truth is obvious: It does, every day.
While the novel examines the interiority of motherhood in the foreground, it is also smartly observes overlapping cultures in Stuttgart. Religion vs. secular life, the past vs. the present, the way class and history inform people's judgments of each other—all of this comes into play in the novel. When Leonie enters a church, she prays for her family, her old way of being in the world, which is in conflict with her secular life now. The church brings this conflict to our view:
Simon is much more curious than Leonie, who managed to pass by the church with thirteenth-century frescoes in Heumaden, her old neighborhood, hundreds of times without succumbing to the allure of a sign that advertised "the only known representation of a female demon in Würtemburg." It was only in the week before the move that she, already feeling a bit nostalgic, finally entered the bright room, which smelled curiously of apple pie. … Leonie was disappointed by the sexless body of the demon, dumpy and inchoate. A barely visible bulge was the only hint of a breast; the clumsy figure, without bosom or buttocks, looked like a silhouette pasted on the wall. "What were you expecting, a pin-up?" Simon teased her when she gave him her indignant report.
The alternation of Judith's and Leonie's contrasting points of view propels the reader forward until the pattern breaks when Leonie shows up unexpectedly in Judith's backyard garden, to Judith's dismay. We see, in scene, how differently the two mothers behave with their children. Then, as though this point has been fully made, the novel moves to Marco's perspective. He's one of the boys in the neighborhood who lives "squished into 375 square feet of a high-rise on Olgaeck" with his mother and a boyfriend he calls "Pornstar." Soon after, the reader moves to the perspective of Judith's downstairs neighbor, Luise, whose section opens with this, about her husband: "Wenzel is completely buried under the covers," another sort of entombment.
As though a tight lid has been pried open, the canvas widens, and Judith and Leonie are in a larger context. The plot builds more quickly even as it stays close to interior thought and description of place. Shorter Days isn't the sort of novel that one reads for plot payoffs; the movement of minds is its engine. I prize this novel for its dense, visual detail, its descriptions of rooms, walled gardens, small places, and its cool look at identities left behind upon entering motherhood. Hahn has made a novel that is both visually lush and emotionally claustrophobic. When the characters collide there is no touching, no real relief.
+++
Anna Katharina Hahn
was born in 1970. Her other works include the collection of stories
Kavaliersdelikt (Petty Crime)
, for which she was awarded the Clemens Brentano Prize in 2005, and
Am Schwarzen Berg (The Neighbors)
in 2012. In 2010, Anna Katharina Hahn was awarded the Heimito von Doderer Literary Award.
+
Laura Knight Moretz
is a fiction writer in Winston-Salem, NC. She won the 2012 Rick DeMarinis Short Fiction Prize, judged by Charles Baxter, and has an
MFA
in fiction from Warren Wilson College.