Book Reviews · 04/09/2018
Restless Souls
by Dan Sheehan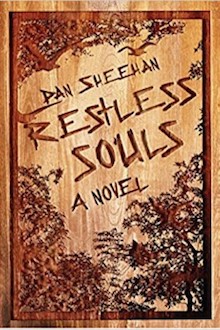 Ig Publishing, 2018
Male culture in America and elsewhere is at the center of a critical storm in 2018, at least when it's not being hauled off in handcuffs or fired. This may not be the best year for the release of a bro-book. Still, for lovers of a good story, and those interested in a subtle revisioning of masculinity, Dan Sheehan's novel delivers the goods.
Restless Souls follows three young Irishmen, Karl, Baz, and Tom, on their road trip across the sea to California in the mid-'90s with their dead friend Gabriel's ghost in tow. There, they reckon they'll find a cure for Tom's PTSD to keep him among the living. Karl, the primary narrator, has seen too many Irishmen and women die young from despair, and he's haunted by the fear that their Tom will end up a suicide like Gabriel did. Baz, a good-humored fellow with a taste for the drink, shares the fear but sheds it from time to time in the name of fun.
What all these four men have had trouble shedding, though, is their reticence, what poet Seamus Heaney called "the tight gag of place." Their relationships with one another depend on shared wounds they rarely discuss, even though opening their hearts and minds seems like the only thing that will save Tom's life.
The novel opens in Dublin as Karl and Baz pick up the wounded Tom at the airport. They expect Tom to be in bad shape, but when they first lay eyes on him, he's even more fragile than they feared.
Tom moves in measured steps. It's taken him an age to walk the few paces across the green linoleum floor to where we're standing, a distance every other passenger has covered in something approaching a run. We don't hug because that's not really how we are, and because even in his current state he must know how estranged we've become. Still, I put my hand on his shoulder as we shake and try to stare through whatever fog he lives under now. His hand is limp and calloused and dwarfs mine.
Karl's bold plan to take Tom to California for treatment at a facility that specializes in PTSD is on the table once they get Tom home. As Karl reads from the facility's touchy-feely brochure, Baz rolls his eyes, Tom is catatonic, and Tom's mother argues for the traditional approach to tragedy: stay put, do nothing, and hope for the best.
In alternating chapters, Tom narrates, via diary entries, the horrors and tender moments of his years in the besieged city of Sarajevo. He arrives there as a young man looking for adventure, meaning, and a chance to bear witness to injustice and suffering. He finds all of these along with love, death, dismemberment, and other atrocities:
Five that I could see were missing limbs. Tiny stumps, blood seeping through the bandages and gauze. One boy in a slashed blue Italian football jersey was being held down by two knackered orderlies. His left leg was burnt black, flesh and fabric melted together.
Of the four friends, Tom alone has left the bitter comfort zone of Dublin and gone into a strange new world that requires him to reflect on his motives. While Tom is taking notes about the siege for his diary and bandaging wounds, Baz and Karl, and Gabriel before his death, are mired in a Dublin morass of resentment, chronic underemployment, crushed dreams, and low expectations. After Gabriel's death, Baz and Karl do their best to fend off grief with self-deprecating humor and stereotyping of other mourners:
A pair of foghorn lummoxes wandering round a graveyard talking nonsense. This is what mourners want to encounter when they make their weekly pilgrimage. I move to one side and bow my head as a couple of blue-haired fossils float by, but they cluck at us like toe-poked hens all the same.
Although little of the novel's time is spent in Dublin, the author gives a vivid impression of Ireland in the slough of its national despond, just prior to the miracles of the IRA ceasefire, the admittance of Sinn Fein into government, and the Irish economic boom. But it's only upon their arrival in California and in their shamanic trip through the desert that the tight gag of place begins to loosen, and the men's deep loyalties and emotions gain some expression. No one, as it turns out, is quite who he seems to be on the surface, not even the man who runs the trauma facility.
Facilitating that loosening is the ghost of Gabriel, who appears to Karl in the desert in a chapter that is reminiscent of Father Zosima's appearance in The Brothers Karamazov. Like Zosima, Gabriel's ghost delivers a message that Karl needs to hear.
This is a moral novel, concerned with questions of right and wrong, but it is not one that explores both men's and women's questions. Some readers may be put off by the dearth of multi-dimensional female characters. Others may be put off by how the novel avoids mention of the sexual assaults that were common Sarajevo siege-era atrocities. The humor and lyricism of Restless Souls, however, engrave an almost irresistible invitation to join these characters on their journey to touchy-feely land and make it easy to suspend prejudice and disbelief to follow them there. Once along for the ride, readers will be willing to stay put and hope for the best.
+++
Dan Sheehan
received his
MFA
from University College Dublin, and his fiction and nonfiction have appeared in numerous American, British, and Irish newspapers and journals, including
TriQuarterly, Guernica, Electric Literature, The Irish Times, The Irish Independent, Notes From The Underground,
and
Icarus
. He currently works as an editor at
LitHub
, and lives with his wife, the writer Tea Obreht, in New York.
+
Michele Leavitt, a poet and essayist, is also a high school dropout, hepatitis C survivor, and former trial attorney. Her essays appear recently in The Rumpus, Guernica, and Catapult. She's the author of the Kindle Singles memoir, Walk Away.