Book Reviews · 09/24/2018
Pretend We Live Here
by Genevieve Hudson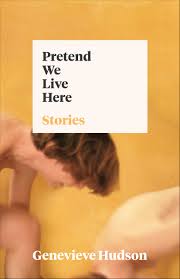 Future Tense Books, 2018
Book discovery is a mysterious thing. In 2018, book lovers have Goodreads, Booktube and Bookstagram; overflowing waves of colorful spines in bookstores; the funky algorithms of Amazon; the vast deep well of literary journals and plethora of publishers small and large; the surprisingly literary world of Twitter. The books of the world can blur together into a single vibration until it seems like there is too much to choose from, yet nothing at all.
Genevieve Hudson's small debut story collection, Pretend We Live Here, could easily get lost in the shuffle, but it shouldn't. Seeing it on writer Melissa Febos' Instagram page put it on my radar, prompting me to pick it up when I saw its joy-yellow cover on a table at my local indie bookstore. Turning to a random page gave me a story about a van full of vegan activists carting jars of menstrual blood to splash on the sides of a corporate building in vague protest, and the spare language and subtle humor made me snort-laugh in the middle of a room of quiet browsers. That moment felt like kismet—this book needed to be read.
Hudson's writing is incredibly readable. The sentences are uncomplicated in structure, often conveying simple facts, but with these sentences she constructs atmosphere, relationships, characters, and settings—from the American south to Amsterdam—that glow with richness. In "Date Book," a tiny chronology of a relationship in seasons, she writes,
November, they say, is the cruelest month. Don't believe them. It's hot July with her bike grease, her stringless flings, her flat tires, her tendinitis of the wrist. The sun burns us right in the face.
In the opening story, "God Hospital," a young girl finds herself in a dreamy, lush, eerie pocket of the deep south, about to have her rotting tooth pulled by a pseudo-Jesus figure. In "Transplant," a narrator with eyes in the back of her head describes the sunset they experience with a date:
The sun is hot oil burning down the horizon, and its blood is orange. If there's one thing Alabama's good for, it's gruesome sunsets.
The stories in this collection are also saturated with queerness. The subversion of mainstream gender and sexuality norms is organic, explored through the first-person view of characters whose quirks and vulnerabilities make them beautiful and easy to empathize with. The narrator of "Bad Dangerous" describes a butch lesbian at a bar with reverence:
Butch's mustache looked dapper with her new glorious afro. I told her so. I told Butch how Frankie and I were going to have a baby. She loved the idea. Slapped the bar. Said she would crochet a onesie for us. Said we could have the baby shower right there.
In the same story, our narrator muses about their own gender:
Sometimes putting on boy clothes does not make me feel more like a boy, but more like a girl, as if the hipless long coats or flat-chested shirts draw attention to all the things I'm not instead of infusing me with a kind of androgynous serum.
A scene in which an androgynous parent-to-be admires another's gender presentation in a bar—historically, an important gathering place for queer people—while the crocheting butch plans a baby shower perfectly captures a moment of queer experience. The story crosses society's lines, zig-zags across them in a lighthearted dance.
The think-y queer is a character not given enough attention in literature. The queers in Pretend We Live Here are typical in that they often suffer from anxiety, unrequited love, and bleeding hearts, but these qualities are treated as charming, alluring, even admirable.
"Holes" is perhaps the strongest story in this rock-solid collection. In it, a character recovering from throat surgery longs for her first love, Tonya. The title fits the story perfectly: holes are everywhere. In the narrator's body, cut open; in Tonya's body, scarred from a childhood surgery; in her heart; in her ability to communicate; in her memory; in Tonya's current life, a shell of her former self; in the sense of a missing twin or soulmate. Mouths and vaginas and even the band Holes are in this story. It explores the idea of something missing, of scars, and of messy healing in such a taut and resonant way as to almost fill itself.
Pretend We Live Here is weird, magical, dark, heartwarming, and hilarious. It is a slim volume that cuts like a knife and leaves a mark like a tattoo gun. A dazzling, delicate piece of art that brands itself to the reader's skin, leaving a searing memory and a sense of gratitude for the journey.
+++
Genevieve Hudson is the author of A Little In Love With Everyone and Pretend We Live Here. Her work has appeared in Catapult, Tin House, The Millions, Lit Hub, Bitch, The Rumpus, and Hobart, among other places.
+
Sarah Neilson
is a freelance writer, book obsessive, athlete, queer pop culture maven, vegan recipe developer, photographer, and podcast host based in the Pacific Northwest. Her writing can be found on her blog,
Third Sunday
and
scattered across the internet
. Her radio voice can be heard on her podcast,
Gal Pals Watch
.