Book Reviews · 06/04/2012
Notes from the Committee
by Catherine Kasper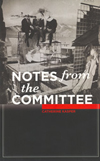 Noemi Press, 2010
Notes from the Committee, Catherine Kasper's slim volume from Noemi Press, begins with a manual-like, elaborate table of contents. The contents might well stand alone as a piece and should be read through. Because if you don't, you'll miss part of what Kasper has done—remember it is a slim volume—and you don't want to be less one single scrap or fragment of her execution. A sampling from the contents:
1.1 The City; Procedure 1: Certified Documents; 1.4 The Cloned Malls; 3.1 The System of Operations; 3.4 Phrases from Meetings taken out of Context; 4.2 Memorial to Dead Pacifists; 5.1 The Committee Concerning Time.
Notes from the Committee is made of prose pieces—all brief, some very brief and sort of poem-like—which work together to describe/outline/pick over/elaborate the inner workings of a nameless, outlandishly bureaucratic, low-tech/high-tech, strangely—almost tenderly—dystopian city state, neither cold nor sleek. The stingy but self–enriching Membership of Merchants appears to be in power and the city is marked by erasure of critical thinking, complete destruction of the natural environment, and a crazy-wild, creepy yet funny, fantastical consumerism. The citizens of the city—victims of the system they haplessly perpetuate—are referred to, though the reader meets no individuals.
Kasper writes a blend of acid satire, acrobatic absurdism, and lyrical sincerity that absolutely rocks the boat in a sustained thrall of vibrating language over the span of the book. She is disgusted, graceful. Witty, loopy. She's never cute, but sometimes she's a little sly. Kasper's is a dark understanding of the poverty of consumer culture, and the book is a densely, perversely, clearly imagined document of outrage. Notes particularly fingers the way consumer culture so dangerously favors we over I.
Hello, Committee.
Oh the Committee! The Compendium Committee, that is, which is charged with the making of the notes, as stated in the section titled, "Procedure ll: Compendium." Here is a bit of it:
Envisioned as a history of our citizens, a city plan, a record of civic events and monuments, even a folktale that captured the spirit of our efforts, the compendium is less a unified portrait and more a fragmentary glimpse at a civilization generating its own decay. Only forty-two and half percent of the Compendium Committee agrees on this assessment.
The Committee's is a varied, switching, interlocking voice of we. There's the bureaucratic-speak, a smug sort of diction (including bizarre extended metaphors) for description of absurd bureaucratic functions belonging to the city. Then there's the manner of the glossy brochure, catalog copy or an advertising mailer, as if selling the city to potential tourists. Who apparently come! And then there's the lapsing into beautiful, rich language, warped observation of twisted phenomena. Here come truths expressed through a witty perversity that is all Kasper's own. She's deadpan, but then trailing out into wistful, wearily sensitive tendrils at the edges.
As "Procedure ll: Compendium" indicates, there is more. More to note. More to elaborate in the way of those themes that have been repeated in the close quarters of the book to reaching effect: reproduction/imitation/replication/mimicry; illusion & reality; erasure of history; decay. In fact, Kasper so successfully implies the full, complex, skewed universe of the city that the book feels far longer and more involved than its thirty-seven pages might suggest. The absence of more is not a deficiency but a space in which the book lives and works. Still, I cannot hide a small yearning: the absence of more in Notes could be a smaller absence. What, in their intricate specificity would those missing, free-of-print pieces be? Topically or otherwise? This is an unpredictable work. This is an original work.
Not to suggest that it can't have companions:
Hello you, Kafka, yes you with all those novels declining to end: come visit Kasper's city—bring Calvino for his fabulism and Yevgeny Zamyatin for his dystopic vision. It'll be fun to walk through the dire absurdism of the city's heights and bowels described by Kasper's pointedly singular we. Pointedly singular and very surely reminding us that we (and the dreaded they) can only be made from a me and a me and a me…
+++
Catherine Kasper is the author of Field Stone (Winnow Press), A Gradual Disappearance of Insects (Pecan Grove Press), and Optical Projections (Obscure Publications). She is an associate professor at the University of Texas in San Antonio and a co-editor of American Letters & Commentary.
+
Evan Harris is the author of The Quit ( Simon & Schuster). Her short fiction has been published in various magazines, including Fence, The Brooklyn Rail, and The Fairy Tale Review. Harris is a regular book reviewer for The East Hampton Star and contributes periodic pieces about being a non-cook to Edible East End (you can also visit her at pickygrouchynon-cook.com).