Book Reviews · 05/30/2016
Not a Self-Help Book: The Misadventures of Marty Wu
by Yi Shun Lai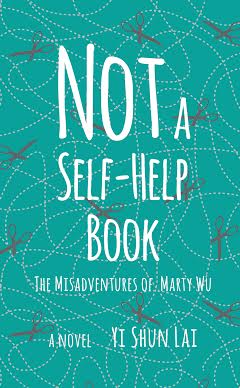 Shade Mountain Press, 2016
Yi Shun Lai's Not a Self-Help Book: The Misadventures of Marty Wu is the story of a young Taiwanese-American woman living in Manhattan seeking her place in the world through self-help books. Marty, the story's protagonist, quickly learns that personal sovereignty often follows in the wake of misunderstandings, destruction, and loss. Through Marty's poor choices and bumbling antics, she finds that the price of self-definition is finding the courage to liberate herself from the expectations of those closest to her, especially her mother.
Not a Self-Help Book uses an epistolary structure, focusing on four months of Marty's journal entries. She started keeping the journal because:
The Language of Paying Attention to YOU (Strand Bookstore, used-book section, $1.25) says I'm supposed to write down everything that annoys me in a sharp little notebook, with neat ruled lines, the better to stay on-task, or something.
Since she was instructed to "write down everything that annoys" her, the journal lacks contemplation and Marty moves closer to personal destruction. She spirals into self-pity, alienates friends and family, and runs away to Taiwan. That Marty uses a journal to address the issues in her life, while at the same time fleeing from the circumstances she creates, helps define her character. Yet her lack of reflection and ownership over her choices force those closest to her, as well as the reader, to become frustrated with Marty rather than rooting for her.
Marty's troubled relationship with her mother is at the center of the story. Although Marty dreams of becoming a costume designer, she takes a job in sales trying to gain her mother's approval. The story slowly reveals that what at first looks like a cultural divide between an American daughter and the high expectations of a first-generation immigrant mother has a more insidious history of emotional and physical abuse. Marty recalls that when she was eight years old, her mother:
…threw a plate of eggs at me and then told me to eat them off the floor, like the dog I was. And you know, I did it, too, until my cousins, who'd been in what I think was a shocked silence, said, "Okay, okay. You've made your point. We think that's enough. She knows you think she's a dog."
Like many children of troubled parents, Marty struggles to maintain peace in the shifting landscape of her mother's erratic behaviors and harsh words, believing that if she makes the right decision or behaves in a certain way that her mother will accept her and show her love. To compound the betrayal, her extended Taiwanese family is aware of the abuse she endures and does not intervene.
Lai's skill as a writer shines when Marty leaves behind her apartment, friends, and potential love interest in New York to visit family in Taiwan. The high-energy capers Marty created in America are unnecessary in her extended family's home that is known in the community as The Compound. As Marty slows down, Lai's writing becomes detailed and rich in imagery:
The quiet in this house is soothing, though. Outside I can hear the bats and the crickets, and if I turn on the lights in here I'll see the silhouettes of geckos as they rest up against the cooler glass of the windowpanes, every detail, right down to their little suction-cup toes. It's so peaceful here.
Even when Marty leaves The Compound, her focus on the beauty around her is in contrast to her negative mindset that plagued her in Manhattan:
I love the marketplace. The level of activity is outrageous. Everything is bright and cheery and there are lots of people around all looking happy, buying and selling and trading and shuffling along the narrow spaces between the stalls and the slow-moving traffic, bicycles and scooters and even the occasional cars. There are always little old farm ladies dragging carts full of fruit or vegetables, and lovely clothing of all different fabrics and types. In this part of Taiwan, merchants selling vegetables and fruit still wear the conical field workers' hats, and it's not unusual to see the older people in traditional dress, of gray or blue cotton, straight-legged pants that look like they might be pajamas but that are really just everyday wear.
In her new surroundings, Marty's dream to be a costume designer, which was opaque to the reader and, seemingly, to Marty herself when she was in New York, begins to become clear:
No, for the first time in a long, long time I was paying attention to the beading, the cut, the fine chatter of the sewing machine in the back as it worked its way through cloth. I paid close attention to the stitches, to the appliqués, if there were any, to the intent of each work, checking back and forth between the watercolors and the mannequin and finally, the swatches of fabric pinned next to each sketch, and the photographs that were pinned near the sketches, too, the ones that showed the costumer's primary inspirations, perhaps.
As each entry is added to her journal, Marty learns more about herself and her family's history, and begins to understand that accountability, clarity of purpose, and forgiveness are the keys to true liberation. Self-help books are created to teach readers to explore and solve personal problems. They offer new insight and different ways of perceiving universal struggles. Interestingly, Not a Self-Help Book does the same by showing how one young woman maintains an open and receptive heart as she clumsily moves closer to who she is meant to be.
+++
Born in Taiwan and raised in the U.S., debut novelist
Yi Shun Lai
has written everything from copy for lingerie catalogs to articles about the great outdoors. She lives in Southern California with her husband and dog. Visit her online at
thegooddirt.org
.
+
Lisa Heidle
is a writer and editor. Her book reviews and short stories have appeared in
Sabal Literary Journal, the Chattahoochee Review, Rebecca's Reads,

WOW

! Women on Writing, Scratch Anthology, Flash Fiction Magazine
and more. Lisa will be releasing a short story collection in 2016. You can follow her blog at
moderndayscribe.wordpress.com
and Twitter at
@lheidle08
.