Book Reviews · 04/30/2018
Monte Carlo Days & Nights
by Susan Tepper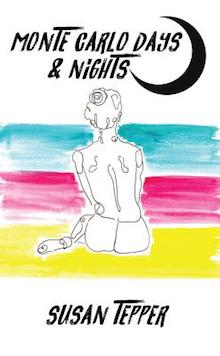 Rain Mountain Press, 2017
Susan Tepper's seventh book, Monte Carlo Days & Nights, is a slim novel about two individuals on a weeklong holiday in Monte Carlo.
It is not a love story, and there is very little romance involved. What is involved is a lot of lust, or sex, beautiful clothes along with beautiful food, expensive hotels and of course the glittering backdrop of Monte Carlo.
It is not a whirlwind tour of the place or even a whirlwind affair. Instead, Tepper manages to feed the reader with slow, simmering details in each of her twenty-two very short and concise chapters that weave a tale of how money equals power, and how often it is the woman who is the one with the least power.
The readers take the journey with Tepper's protagonist much like voyeurs peering into the intimate workings of her week. We get a first-row seat to their daily routine of breakfast in bed at their posh hotel, followed by sex, then we get to dine poolside with the ultra-elite, then more sex before dinner, followed by a quick drive to one of the many exquisite restaurants in "Monte" — all the insiders just call it Monte, we are told. There are lavish shopping trips too, and all the while the readers are treated to a first-rate view of Monte Carlo with its cobblestone streets, and the ever-present deep turquoise sea. After dinner, always a walk through the casino to show off the flight attendant's lovely youthfulness and impeccable wardrobe and then the nightly before sleep sex.
But even though her lover is wealthy, he puts her in her place and shows her she is not completely worthy of his attentions with subtle reminders. Like the time he admonishes her for always ordering the very expensive foie gras before dinner. "I am addicted to the foie gras," she tells him, her cheeks reddening, and yet he thinks nothing of shopping for gifts for his staff at Gucci, buying them all watches, but he doesn't buy one for her.
Underlying all this lust and sumptuous lifestyle, is the main theme that is woven throughout the story, one of separateness and the unbalance of power.
Tepper also tells a tale of sadness. In each chapter we lurch forward hoping our unnamed protagonist, who we know only by her profession as a flight attendant based in New York City, is trying to claim the love of her unnamed lover, a rock star manager based in L.A. But not only are they living on opposite coasts, it's also apparent that they are living two very different and unequal economic lives.
This is a story of haves and have nots, and the flight attendant, despite her beautiful wardrobe (which we come to understand she has bought at deep discounts around the world on her layovers) cannot compete with her very wealthy one-week lover. The message is clear: money equals power, and without that power, most of us would be reduced emotionally and intellectually as the flight attendant is throughout the story. She finds herself unable to hold her own in this rock star manager's glittering world of money. "I'm afraid of most men who have achieved a pinnacle of success that I will never reach," the flight attendant says.
Tepper's tightly written prose provides precise detail of an uneven exchange of intimacy and the uneven balance of power between two lovers from very different worlds. Her short chapters are able to stand alone and in fact, many were first published in literary magazines as flash fiction prior to the book's publication. However, the chapters flow in smooth transition, linking each moment to the next. It's as if one were watching a film as it follows the two lovers while they wander the streets of Monte.
The book is full of lush imagery of Monte Carlo and its surrounding tiny villages, the setting for the week-long love affair. This is the backdrop of the sumptuous meals taken by the seaside in the late summer evenings while the sun sets its orangeness on the crystal-clear waters of the ever-present sea. "The restaurant is about a twenty-minute drive from Monte. He takes the lower corniche. I can't take my eyes off the gorgeous deep turquoise sea. I've never seen water like this," she says.
However, there are fleeting moments when we get to root for Tepper's protagonist alongside her lover, like the time they find themselves walking with Gucci shopping bags in hand and are accosted by some street men who threaten them. He is frozen, not knowing what to do. She stands up to them in a scrappy way and defuses the scene. He is in awe of her for that one moment, but she deflects his praise and belittles what happened by saying that she has dealt with worse people on the airplane. Here we see her power that is somehow not equal to the power of his money.
In the end, Tepper's protagonist realizes that her beautiful clothes can't cover up the fact that she can't compete economically with her wealthy lover. She sleeps on a pull-out sofa in her rent controlled apartment in New York, while he sleeps on a custom-made mattress in L.A. She compares his "great life" to hers and reminds herself that just a month ago she was cleaning the toilets of the airplanes during a union strike.
This is a story about power, cleverly disguised in a novel about lust and excess set against the drop-dead beauty of Monte Carlo, a place most of us will never experience firsthand. That this enchanted place is out of reach for many is not lost on our protagonist. In the end, you may agree with the flight attendant when she says, "Being here with him is fabulous and terrible at once."
+++
Susan Tepper
has nearly outlived her nine lives, which have included working as an actress, singer, flight attendant, marketing manager, interior decorator, tour guide, TV producer, rescue worker, and finally as a writer. Tepper is an award-winning author, with hundreds of stories, poems, interviews and essays published worldwide.
Monte Carlo Days & Nights
is her seventh book. To know more you may visit her online at
www.susantepper.com
+
Cynthia Teramae is a writer living in Pittsburgh, Pa. She is currently working on a novel and a collection of short stories.