Book Reviews · 05/27/2019
Miss Jane: The Lost Years
by Kat Meads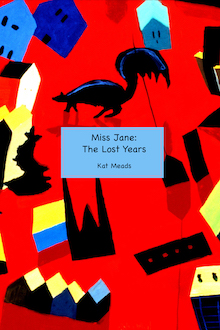 Livingston Press, 2018
In a happy postscript to Kat Meads' novel, Miss Jane: The Lost Years, the female chorus celebrates a fact often lost in stories about sexual predation: victims manage to escape their abusers and "defeat every tiny tyrant." Meads focuses her story of sexual misconduct by reconceiving the genre of the college novel through structural and thematic innovation. Employing a female chorus to serve as the point of view from which the story is narrated, Meads animates the situation of one Miss Jane's travails in college as a first-generation "scholarship" student from the boondocks. Voicing an unsparing critique of power politics in academia, which produces misogynist posturers like Prof. P., the chorus unabashedly supports Miss Jane through an ultimately victorious flight from a serial predator who happens to be teaching women's history.
Meads' female chorus obviously benefits from hindsight, sounding at times like voices from the Me-Too Movement, but also recalling feminist icons from the 1970s such as Kate Millet, whose Sexual Politics radically changed the ways literary texts are read, exposing the institutional measures taken to support unequal relations between the sexes, whether it be in the family or the school. Indeed, Meads examines the nexus between class status and higher education in both trenchant and wickedly humorous ways. Situating her story in the midst of second-wave feminism of the mid 1970s, Meads exposes the ugly underbelly of academia: male professors who serially abuse college coeds, illuminating both the institutional cover such men have been afforded and also the telltale signs of abusive behavior.
Let's begin with Jane. The appellation "Miss Jane" signifies her southern heritage and her rural upbringing. Meads brilliantly brings to life the virtues and vulnerabilities a young woman like Jane brings with her to the "public university, South Atlantic region." As Meads explains, Miss Jane is a "farm-bread, Cracker chick, under-schooled in books and life, overly susceptible to ridicule." Add a dose of Southern reticence, Calvinist leanings, and steady but understated support from her brother and sometime boyfriend, Seth, and you get a recipe for protracted abuse by the likes of Prof. P. and "his ilk." Coming into the university, students like Miss Jane have not benefited from their parents' reading habits, and like many working-class students, feeling culturally illiterate and underprepared.
While Miss Jane has yet fully to connect with a literary or biographical heritage of strong Janes — Eyre, Brontë, Austen, or Addams — her learning will take place amidst an academic setting rife for abuse of young women by perpetrators who choose vulnerable women to control. Miss Jane's history professor, divorced husband of two children, unremarkable and unaccomplished (but tenured and salaried, as Meads clarifies), sets his sights on someone he thinks he can control. By turns serious and humorous, what follows in Meads' novel is Miss Jane's long year's journey into abuse and depression. Submitting to a sexual relationship with Prof. P., Miss Jane's missteps are intimately connected to a family tradition to "avoid confrontation at all cost;" yet a host of other reasons underlie how Miss Jane gets caught in this web, reaching down deeply into unexpressed feelings of ignorance, class anxiety, and, perhaps unbeknownst to her, body shape, ridiculed by her abuser, before he beds her. In extreme contempt, the chorus offers the multiple reasons undergirding such situations, but they clarify that only one person is responsible in this scenario of abuse: "a middle-aged hippie poseur."
After Miss Jane moves in with her professor, Mead's chorus catalogues the abuse heaped upon her with ritualistic persistence: verbal and physical harm; attempted sabotage at work and home; and repeated attempts to undermine, criticize, and devalue her. Unable to release herself from a bondage harmful to body and soul, Miss Jane continues to be "hemmed in, surrounded, in a dark, dark place. Lost, our Miss Jane," the chorus explains in the chapter presciently called "Interregnum." And all this before Miss Jane reaches her nadir, detailed in the final chapters of the novel. Adding a virtuoso visual cue, Meads incorporates Miss Jane's doodles during and after sessions with a therapist "chosen" by her abuser. Of the three panels drawn, the third portrays a thicket of what once were trees and now are forest. Miss Jane's modern Dantean woods, Meads suggests, will take more time and some help from which to emerge scathed but alive. Small measures add up. We learn that Miss Jane disobeys in quiet ways: she gets a cat and then a dog; joins a book club, lands a job at a kennel (hired by a book-club woman who is an expert dog trainer!), slowly making her way out. As the chorus summarizes in a list: "She has her dog. She has her books. She has her bro nearby. She has her job with Margaret D." Meads follows this up with a doodle drawing by Miss Jane, showing some space in that forested place.
Lest we as readers be too hopeful or impatient, Meads reminds us that emergence from domestic abuse takes time. Thus, the final pages of Miss Jane depict the protagonist falling into a deeper depression wrought by another vicious act of sabotage committed by you know who in front of Miss Jane's parents. In an act of desperate reaching out, Miss Jane calls her book club leader to apologize for her absence upon which she receives life-saving advice: "The hardest hours are five to eight, . . . Just focus on getting from five to eight."
She got there. In a scene reminiscent of Celie's leaving Mr. in The Color Purple, Miss Jane acts in a way worthy of her Cracker-girl style, leaving readers holding their breath and clapping out loud simultaneously. Witty, inventive, and very funny, the author provides us with a razor-edged response to unchecked male power in the academy. Kat Meads' Miss Jane: The Lost Years is a terrific novel in its retelling of a ubiquitous story of sexual exploitation.
+++
Kat Meads
is the author of
For You, Madam Lenin
and other books of prose and poetry, including
The Invented Life of Kitty Duncan, Born Southern and Restless,
and
Little Pockets of Alarm
. Along with Cris Mazza, Gina Frangello and Stacy Bierlein, she edited
Men Undressed: Women Writers and the Male Sexual Experience
. Her short fiction and essays have appeared in
Drunken Boat, American Letters & Commentary, Gargoyle, The Missouri Review, Crazyhorse,
and
Chicago Quarterly Review
. She has received an
NEA
and writing residencies at the Fine Arts Work Center in Provincetown, Yaddo and the Millay Colony for the Arts. Her story "The End of Something (Maybe Love)" received
Chelsea
magazine's fiction prize, and her essays have received the Dorothy Churchill Cappon Essay Award from New Letters and Notable citations in the Best American Essays series. Her short plays have been produced in New York and Los Angeles. Born in North Carolina, she currently lives in California and teaches in Oklahoma City University's low-residency Red Earth
MFA
program.
+
Mary Jo Bona
(
@MaryJoBona3
) is professor and chair of Women's, Gender, & Sexuality Studies at Stony Brook University. Bona is the author of a book of poetry,
I Stop Waiting For You
, and her most recent monograph,
Women Writing Cloth: Migratory Fictions in the American Imaginary
, examines the relationship between cloth-working women and migration in multiethnic literature.