Book Reviews · 04/22/2013
Maverick Jetpants in the City of Quality
by Bill Peters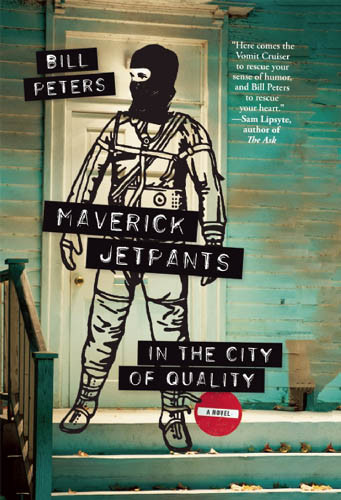 Black Balloon Publishing, 2012
I've always wanted to read a book that inhabits the place where I no longer live and would never live again, that region of Western New York I will always call home. So of course I wanted to read Bill Peters's Maverick Jetpants in the City of Quality which is set in Rochester, near where my childhood was set, and my high school years and some of my graduate school years. Every crappy restaurant and parking lot these characters visit, I've probably visited; I've been drunk in the same places they were drunk.
People who read this book and do not know this place are going to see its decay, its decay under fluorescent lights, pronounced and ugly. But when you're from this place, and Bill Peters is, you know better. You know that we almost feed off it, those of us who are from there and know what four consecutive Super Bowl losses feels like in a town where half of the people root for your rival, the Miami Dolphins, or what it feels like when Kodak leaves, and every other place that employed your grandparents and parents and uncles and aunts heads to sunnier, more prolific pastures. In many ways, this book makes this crumbling region universal; finally we of the 585, 315 and 716 area codes aren't the only ones to bear its teeming baggage, because Peters connects it, the city, and leaving it, to the experience that we all have felt: when you have to strip off the musty cloak of childhood and head naked into the cold unknown of being an adult.
There were times, while reading Maverick Jetpants, I thought: This isn't a book. It's a panic attack. In a good way. In the way where everything about it is frantic and urgent.
Its characters, Nate, Toby, Lip Cheese, Necro, and the others, are in that post-high-school-child age, on the other side of that new year's when we all sang that Prince song, and they speak in their own language. There's the Sadness Custard Montage, the Colonel Hellstache, the Holy Grail Points, the inside jokes that are explained in a way that only makes them stranger, and then there's moments like when Nate's "chest turns into sealed tupperware," that make the kind of sense you don't question why you understand.
In many ways, navigating the private language of this book is like going to see a Shakespeare play. While that may seem like a weird comparison for a book that is narrated by someone who thinks he might be a sociopath, with a plot that involves hippie dudes screwing moms, Rambo Cream, and neo-nazis who may or may not be exploding bombs around the city, led or not led by someone named Necro who reminded me of The Best Page in the Universe's Maddox, and anyway it's mostly about not wanting to lose the friends and life you knew when life seemed safe, it works. Because this is how going to see a Shakespeare play works: the language, it's distancing at first, you can't understand a goddamn thing, maybe even all the way through the first act, but you stick with it, and then suddenly, the second act begins, and something in your brain has been rewired and then SPARKS! It all makes sense.
Of course, it's not like you have to "stick with it" in this book. Maverick Jetpants rushes forward so fast, in many ways like life feels when you're 20 and everything is terrible, and then the book, what happens in it, slows down enough so you can watch the car accidents of these characters' lives, of their own making, in exquisite detail.
Like most novels, to describe "what happens" is to castrate the experience of reading it. But here goes: desperate to maintain his friendship with Necro, Nate attends the taping of a public access television show that sells relics from the wrong side of World War II. As they're leaving after the show finishes, the building explodes. One of Nate's friends, "Wicked John," is seriously wounded, and the others, all except Necro, are left wondering, as other buildings explode around the city in the next days, how everything might be connected. All of this is exacerbated by the fact that Necro has a website, where he's posting drawings of buildings being blown up. And while this is happening, and as the boys investigate Necro's involvement, parents are lived with, jobs have to be found, girls are clumsily pursued, hangovers are had, and everyone becomes different and changed. So much so that when conversations happen near the end of the book, conversations that aren't spoken in code, they seem unnatural and you know the boys are growing out of their present and even out of the book itself, just as the reader is coming down off the same high the boys have been riding the trails of.
In many ways, it's hard to quote anything from this book. Because it is so alive and weirdly pulsing in a certain moment in time, in a certain place. And while I highlighted about half of it, I can't bring myself to quote anything, because the quotes won't work, plucked and out-of-context from their very specific, oddly engaging world. But I promise you: you've never, or at least its unlikely that you have, read a coming-of-age novel that feels as inventively ugly and uncomfortably familiar as Maverick Jetpants in the City of Quality, and I also promise you don't have to know what a white hot is or hate the Miami Dolphins to appreciate it.
+++
Bill Peters grew up in Rochester, New York, and has received fiction fellowships from the Massachusetts Cultural Council and the University of Massachusetts. His work has previously appeared in Pleiades. This is his first novel. He currently lives in Gainesville, Florida.
+
Jess Stoner is the author of the novel, I Have Blinded Myself Writing This (Short Flight/Long Drive Books (Hobart), Feb 2012). Her choose-your-own adventure chapbook of poems, You're Going to Die Jess Wigent (Fact-Simile), came out in the summer of 2011. Her prose and poetry have appeared in Alice Blue Review, Everyday Genius, Caketrain, Juked, and many other handsome journals. Jess currently lives in the sweat and brisket of Austin.