Book Reviews · 12/21/2020
Marlene
by Philippe Djian
Translated by Mark Polizzotti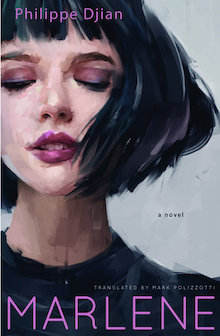 Other Press, 2020
Philippe Djian's 2017 novel Marlene, translated from the French by Mark Polizzotti, is a tragedy centered on three ex-army veterans in their late thirties who have returned from service together in Iraq, Afghanistan, and Yemen and are trying to pick up the pieces of their lives. The action takes place in a fictional geographic space, untethered to any continent, filled with the post-traumatic stress of its returning military. Within this frame, the author tackles the question of normality: How can they get back to normal? What is normal life? What is normal behavior now?
Djian contrasts the three veterans and their families. Richard runs on anger — at life, the world, society — and heads into trouble like a charging buffalo. His wife and daughter cannot temper this violence or assist his reinsertion. "At 37, he still led the pack with his handsome bad boy looks. That thought comforted him as he gazed after Dan … If he had to choose, he'd rather be in his own shoes than in that guy's. Be half alive rather than half dead." Richard scorns Dan's approach to life.
Richard's comrade Dan flies under the radar, sensitive to every movement, action, and reaction, while trying to fit into a society he does not necessarily believe in. He copes through order, cleanliness, routine, and exercise, to excess. He has a job in a bowling alley and lives on a quiet residential street, next door to a dentist, in a community that's as close as he can imagine to normality. Dan is determined to succeed at reentry into society, but it is tough.
He'd been weak enough to think that his return to civilian life could never be as hard as the hell he'd been through, but that only showed how naïve he'd been. Had he found peace, forgetfulness, fulfilment. Had he even found rest, some decent sleep. Had he known boredom, the soothing and delicious ordinary. No, obviously not, nothing of the kind.
Djian's trademark style is abrupt, not always indicating a change of scene or acknowledging a speaker. There are no quotation marks around what might be direct speech, no question marks, no additional line spaces or indentation for paragraphs, making the text tight and dense. The translated prose shows no sign of a previous existence. It is as transparent and alternatively opaque as the original French. And as dark.
Of the three, Ralph, who lost both legs in conflict, best adapts to his return. He and his his nurse wife Gisele receive the least attention in the novel, because they are seen as the most "normal": "Ralph wheeled his chair outside and showed the new loops his drone could do, making it flutter in the clear sky with a blissful smile on his face." This is the closest anyone in the novel comes to happiness.
Who among the characters in their entourage behaves like a typical civilian? Nath, Richard's wife, runs a dog-grooming salon and has had a series of affairs during Richard's absence: "The hardest thing is to be a woman on her own. Either you become easy prey or you stay home and climb the walls." She is under no illusions about life with Richard home: "The man the army had sent back to her was not the same one she'd first met." In addition, her estranged sister Marlene reappears.
Marlene, the title character, is an outsider, the disturbing element, and the catalyst. She is shifting, crafty, stronger than her somewhat fragile appearance, pre-judged as promiscuous and unlucky, and newly pregnant. When she arrives, having lost the key to the station locker where her suitcases are stored, "she seemed kind of flaky" to Dan. She also faints regularly. Marlene determinedly pursues Dan, whom she identifies as potentially a good father for her child. Yet she is not totally unsympathetic. She claims to believe their relationship is also good for him.
Even as he struggles to live a normal life, past obligations are strong for Dan, who masterminds a commando operation to save Richard from further trouble.
Safeguarding Richard's life during all those years when they'd slaved to get by was the only thing that kept him going, a sufficient, redemptive reason that gave meaning to his own life, to feel his spirit merging with his body.
The success of this action helps him psychologically, as does his relationship with Marlene.
He was doing better since she'd been around. And every veteran he knew, without exception, would have killed for the tiniest hint of improvement in their condition, the slightest drop of light that could draw them out of the shadows in their brains.
The story is tightly told, through simple text that belies the subtlety of the characters, their emotions and motivations. The reader's sympathies shift but maintain focus on Dan. Will he manage to overcome his nightmares, to "empty his mind" in a town where veterans are expected to celebrate "the heroes' return" and to attend funerals? The tension around his relationship with Marlene and the irony of his decisions about her form the tough climax of this tragic novel.
+++
Philippe Djian
is the award-winning author of more than twenty novels, including the bestseller
37°2 le matin
, published in the United States as
Betty Blue
. His novel
Elle
was a bestseller in France, where it received the 2012 Prix Interallié, and was adapted into a film.
+
Mark Polizzotti has translated more than fifty books from the French, including works by Gustave Flaubert, Patrick Modiano, Marguerite Duras, André Breton, and Raymond Roussel. A Chevalier of the Ordre des Arts et des Lettres and the recipient of a 2016 American Academy of Arts & Letters Award for Literature, he is the author of eleven books. He directs the publications program at the Metropolitan Museum of Art in New York..
+
Susan Jupp has worked in academic publishing in Canada and France and as an editor and communications specialist in international non-governmental organizations. She lives in Switzerland.