Book Reviews · 10/08/2012
Little Sinners
by Karen Brown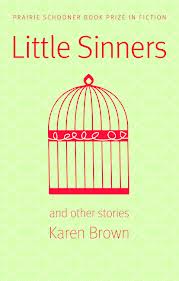 University of Nebraska Press, 2012
Short fiction comes in a breathtaking variety of form and feeling, and each class of short fiction has its own set of strengths and particularities. A particular strength of long-form realistic short fiction is how it can subtly mimic the novel, allowing a twenty-page story to leave the same impression in the memory of the reader as a three-hundred-page novel. Reading a collection of this sort of short fiction can often mean that each story must be taken alone, given its own dedicated reading and enough time to simmer before the reader feels the urge to experience the next piece of the collection.
Such is the feeling of Karen Brown's Little Sinners and Other Stories, out this year from the University of Nebraska Press. This is a collection of eleven little universes—not so separate, thematically, to be divorced from one another entirely, but so whole in their narrative arc and so satisfying in their ultimate emotional resolution that each leads the reader to the same feeling of hard-wrought catharsis we get from a much longer work. After finishing each piece, I found myself surprised to remember that I'd only spent a few pages with the characters and the situation.
Part of this wholeness comes from the way Brown often tells several stories in one. In "Stillborn," for example, which appears at first to be about a single character, Diana—who is pregnant, experiencing marital distress and has found the skeletal remains of an infant in her front yard—but which is actually just as much about Diana's neighbor woman Mrs. Merrick. Brown nestles these two women beside one another, not just spatially in terms of the geography of the piece, but emotionally as well, and the two stories inform one another in a lovely and thoughtful way.
A similar story communion occurs between the two characters in "The Philter," despite their age and experiential difference. A chance encounter in a small town supermarket leads to an evening of uncomfortable revelation between Kit (an unhappy woman with a drinking problem) and Sarah (a teenager who has just lost her mother through a violent crime). These two stories run alongside one another as Kit and Sarah have dinner with Sarah's father and sister. The surfaces of this dinner situation are relaxed and easy, but the evening is infused with a menacing darkness as Kit and Sarah's emotional instabilities feed on their mutual loneliness.
And again in the opening piece, "Little Sinners," which is essentially the retelling of a devastating memory. The story pretends to be about the narrator, but it is just as much about the neighbor girl and the series of tragedies that befall her. In this devastating piece, Brown examines the cruelty of childhood and the way adults can look back on the events of their past with a mixture of shame and disorientation:
I lay in bed listening to the crickets, the frogs in the brook, the pinging of beetles against the metal window screen, sounds that I can still imagine, that make me think of the child I was, and the woman I am now, and how little I understood of my life, and how little I still understand.
Despite the mini-novel feel to each of these stories, when looked at as a collection there are several themes linking throughout—one I especially enjoyed was Brown's explorations of infidelity, and in particular, the feminine side of marital betrayal. First presented in the collection's second piece, "Swimming,"—a dark and delightful recasting of John Cheever's classic "The Swimmer"—several of the stories in the collection tell of women (of all ages) who cheat on their partners or spouses. It isn't ever the story's main preoccupation but a kind of subtle side-story, a detail of a life turned upside down, and it could be the cause or the result of that upset.
These sketches of infidelity are just one of the reasons it is easy to label what Brown does in Little Sinners and Other Stories as suburban noir. Here is a world of restrained but lethal dysfunction, of suburban decay. Particularly effective is "Housewifery" with its first-person plural chorus of bewildered discontent. The story begins quietly enough with the discovery of a pond and a neighborhood change in routine for a summer, but as the story builds, holes begin to fall away from the façade of this perfect upper-class world, revealing the emptiness and despair lurking beneath.
We suddenly see the trampled-down grass, the pond's dull reflection, the scattered toys and paper cups. We instinctively cover our stretched-out suits and our bug-bitten legs, smooth down our unruly hair with its neglected roots. How can it be almost fall? The cicadas wind up and die down, the silence something no one can bear. We long for their whir, the treachery of the sound.
Without a doubt, one of the greatest strengths of Little Sinners and Other Stories is the way Brown ends each piece. She has a knack for the backhanded reveal and just the right emotional pitch, something between despair and anxious resignation, a feeling that aptly fits her characters and settings. Her endings are complicated moments, revelations of the tension between wanting to give in or wanting to give up in the face of one's interior darkness.
+++
Karen Brown's
first collection of short stories,
Pins and Needles,
won the Grace Paley Prize for Short Fiction, and her stories have been included in The
PEN
/O. Henry Prize Stories 2009 and The Best American Short Stories 2008. Her first novel,
The Lost Girl,
will be published by Atria/Simon & Schuster in 2014.
+
Michelle Bailat-Jones is a writer and translator living in Switzerland. Her fiction, translations and reviews have appeared in various journals, including Ascent, The Kenyon Review, Hayden's Ferry Review, Atticus Review, Necessary Fiction, The Quarterly Conversation, Cerise Press and Fogged Clarity. She is the Reviews Editor here at Necessary Fiction.